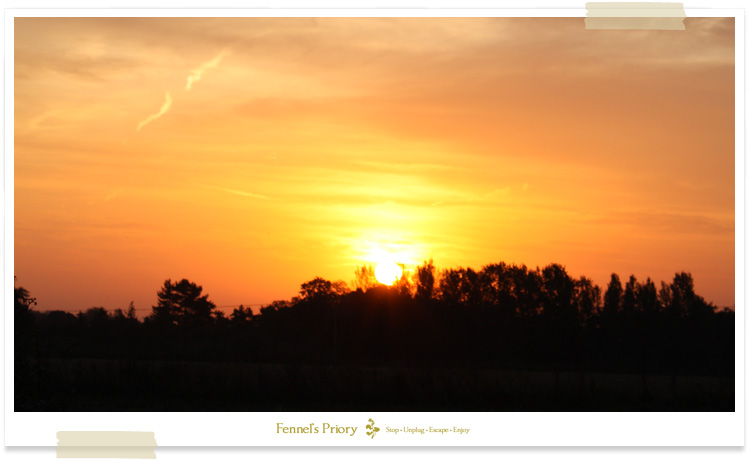 Beyond the Dawn
"When you see someone putting on his Big Boots, you can be pretty sure that an Adventure is going to happen."
A.A. Milne

It is 6am on Saturday 23rd July. The sun is up, blazing the sky with golden promise, but the air outside is cool and dew has yet to lift from the leaves in my garden. How do I know? Because I'm standing outside, barefoot upon my lawn, scrunching my toes into a cold, wet, tangled mess of meadow grass and clover. There was a time when this lawn was closely mown, immaculately-striped and the envy of its neighbours. Not anymore. It's been allowed to grow long, wild and free. Like the beards, hair and minds of retired businessmen, it has been allowed to relax and reveal its true nature.
It's usual for me to be up and outside at this early hour, before my family wake, standing amongst the families of plants, birds and animals. With cup of tea in hand, and while still wearing my pyjamas, I take in the new sights, sounds, scents, tastes, and 'feel' of the day. Each day is different, with its unique conversations. Some days are happy, like playful infants, with birdsong and bright sunrises; some are brooding, like grounded teenagers, with air thick and muggy as storms build; some are relaxed, like seaside holidaymakers, when the dawn light seems to last forever and the sun spills forth like molten metal as it rises; some days have mid-week blues, wishing they'd not bothered to get out of bed at all, as overcast skies and drizzle dampen their spirit; and some are like Narnian fawns, locked in frost and breathless air as though a White Witch has passed by in the night. Today is happy. I know, because a blackbird woke me at 4am to tell me the good news.
I'm celebrating good news, too: my ten-year plan to rebuild my life is complete. Mrs H, Little Lady and I have followed our hearts to a greener place and more relaxed pace of life. We've found our haven amongst the rugged mountains, wooded valleys, silver streams, slate cottages, and vast panoramas of North Wales. In our new home on the border, where the Cheshire Plain rises to meet the Clwydian Mountains, we've found our haven. It's a bricks and mortar, plants and sky, smiles and heartbeats, manifestation of our hopes and dreams. And now that we've reached our destination, we can put down our roots. No wonder my toes are wriggling so much.
I'm excited by the prospect of family times together in Wales, also by the potential for the weekend ahead to be very different to normal. With my wife and daughter away for the weekend (they're enjoying a summer holiday with Nana and Grandad), I have a window of opportunity to do anything I want. The thing I yearn to do, more than anything, is explore the woodland close to my new home. I can see it from here: a mixture of oak, beech, sycamore, ash, horse chestnut, larch, pine and birch. It's only a hundred yards away, at the end of the lane next to the postbox where I send handwritten letters to my friends. I have a feeling that this wood will become my friend, too. It has 'bolthole' written into its every leaf and branch. And I know the owner, who has given me permission to visit it whenever I like. Where better for a weekend's Nature Escape?
I first discovered the appeal of Nature Escapes when I was at school. I'd find myself running to a wood at the edge of the school playing field in attempts to escape the fists of 'Mungo Chutney' – the school bully. There, amongst the safety and concealment of hawthorns and nettles, I'd sit quietly while Mungo shouted obscenities at the wall of green that was protecting me. He might have been a brute, but he cowered before the wilderness of the school's nature reserve. I, on the other hand, cherished every cowardly opportunity to be there. I'd hold leaves to the light, studying their veins and textures; I'd cup handfuls of leaves and bring them close to my nose, smelling humus-rich life-giving soil; I'd close my eyes so to hear birdsong and leaf susurrations more vividly. Eventually, I'd run to the wood regardless of threats. It became my special place, where I yearned to be during my six hours of schooling each day. My natural history classes in that wood provided a lifeline that's threaded its way to today. It's tugging me forward, towards those trees and to a weekend of woodland wonderment. 
I shall go indoors, get dressed, collect some supplies, put on my Big Boots then head out in search of sylvan harmony. I'll spend twenty-four hours there, 'alone' in that wood. I'll write about the experience so that, when the words are published, we'll always have an escape – day and night – to once again 'be' there. I'll collect some leaves, too, so that we can 'bookmark' our return visits. And, to make the writing extra-special, I'll use walnut ink in my pen. This will be an experience, and book, made by the presence and allure of trees.
"Books made of paper; paper made from wood; wood from trees, that grow in a wood. Feel the page. Touch the tree. You'll soon be there, being free."
Here's to our first Nature Escape together. 
---
This blog is a sample chapter from Fennel's book Nature Escape. If you like it then you might also like to subscribe to Fennel on Friday, where you'll be sent a blog, video or podcast in time for the weekend.