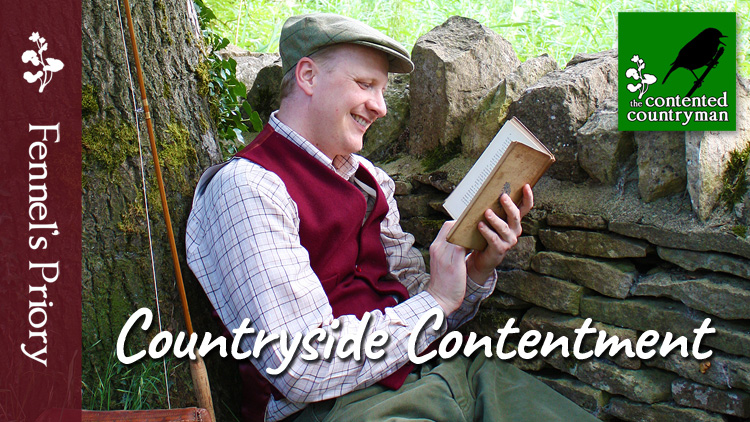 Season 1, Episode 3: Countryside contentment – a 'hygge lagom cwtch' thing?
Fennel Hudson explores the fashionable terms 'hygge, lagom and cwtch' to see how they compare to the countryside's ability to make us contented.
---
Transcript of The Contented Countryman Podcast
Episode 3 – 7th April 2017 – Countryside Contentment
'The momentary cosiness of hygge'
Last year it seemed impossible to ignore the phenomenon of 'hygge' (pronounced 'hue-guh' not 'hoo-gar' or 'higgie'). It's a Danish word used to acknowledge a feeling or moment that is cosy, charming, special or nice. 
It's origin comes from a Norwegian word meaning 'well-being' and whilst it's been in use in Danish writing since the 19th Century, it's a new word in the English vocabulary. Only just added to English dictionaries, it's described as:
"A quality of cosiness and comfortable conviviality that engenders a feeling of contentment or well-being."
Hmm. Seems that our contented lifestyle is becoming very trendy.
The word 'hygge' has become immensely popular. The Collins English Dictionary named it runner-up as 'Word of the Year' in the UK in 2016, second only to the word 'Brexit'. But it's not just a word. Hygge is a way of living that appeals to many.
As the autumn nights drew in last year, the hygge social media frenzy began. Over 1.5 million pictures were uploaded to Instagram with the hashtag '#hygge'. And what did they show? People snuggling up on a sofa, drinking hot chocolate by candlelight while warming their fluffy-socked feet in front of a real fire. How very 'cosy, charming, special and nice'. Exactly the sort of moment I love, and the sort of emotion I seek to capture in my writing – albeit with an outdoors twist.
The trend was mirrored on Pinterest, which reported a 285% increase in the number of hygge-related images. The most popular? Hand-knitted Nordic-style jumpers popularised by the character Sarah Lund in Nordic Noir TV series The Killing; also scarfs, cosy-looking blankets, bowls of soup, home-baked bread, slow-cooked casseroles, and a host of 'mood lighting' ideas.
The hygge frenzy had begun. Driven by our need to 'close the door to the world, and retreat back to the hearth,' as one journalist put it, we sought warm and fulfilling times either alone, with family or with friends.
All thanks to the UK publishing industry.
Whilst our need to be present and appreciate the moment is very real, and the necessity to escape from the ever-growing pressures of life makes our 'safe dens' more appealing, the hygge trend in the UK was skilfully marketed by publishers intent on selling books on the subject.
There were 20 hygge-themed books published in the UK last year, topped by Meik Wiking's best-seller The Little Book of Hygge. Published on 1st September 2016, Wiking's book sold 46,000 copies in the UK alone before the end of the year. (For context, that's 40,000 more than titles in my Fennel's Journal series.) These hygge books met and encouraged a demand, for sure, but did they really create it?
Whilst we may not have known the word 'hygge' before, we sure felt the need for the cosy and appreciative state it represents. You only have to look at how children behave in a wood. Once they've stopped running about and shouting, they'll soon want to make a den. It's in their survival DNA. No wonder, then, that as adults we seek the protective calm of a so-called 'hygge' nook in which to snuggle down and feel warm.
Hygge and the Fennel's Priory lifestyle
I remember sitting at my kitchen table one morning in 2006, writing the words 'Stop – Unplug – Escape – Enjoy' into a notepad. (I wrote about this in a chapter entitled 'Home for Breakfast' in my book A Meaningful Life) These words have since become the Fennel's Priory Mantra and a registered trademark. They define everything I do. Why? Because I genuinely believe that, as adult responsibilities become more demanding and the modern world becomes 'instantly impatient', we have to slow things down to deeply appreciate the beauty of the world around us.
'Stop – Unplug – Escape – Enjoy.' How very hygge, don't you think?
My thoughts were validated when Friend of the Priory John Summers bought me Wiking's book for Christmas. It includes a 10-step hygge manifesto, as follows:
Atmosphere. Turn down the lights. Light a candle.
Presence. Turn off the phones. Free from distraction, be present in the moment.
Pleasure. Indulge in comfort food such as chocolate, cookies, cakes.
Equality. Share the moment and the tasks. It's about 'we' rather than 'me'.
Gratitude. Take it in. This might be as good as it gets, and it's probably better than you'd have thought if you were racing for 'the next thing'.
Harmony. We already like you, so no need to brag about your achievements.
Comfort. Get cosy. Enjoy your break. It's all about relaxation.
Truce. No drama. Politics and issues can wait.
Togetherness. Build the narrative, saying 'do you remember when…'
Shelter. There's safety amongst your tribe, and in your place of peace and security.
Ten steps that capture the process and magic of the lifestyle I've been writing about for the past ten years. (Only that I captured it in a four step process, such is the British desire to 'get on with it'.)
The book also explains that hygge is about atmosphere and an experience, rather than about things (how ironic that all the social media pictures showed pictures of 'things' that help to create the moment). Also that it's about being with the people we love (a warm welcome to all Friends of the Priory), and about a feeling of home: that we are safe, shielded from the world, and can allow ourselves to let our guard down. The book also discusses how, although hygge captures the moment, it's also a lifestyle.
This lifestyle appeals to me (indeed I've been living it for most of my life), as it champions DIY and handcrafted things, textural and tactile things made from natural materials, casual style and dress, vintage things, candles, books, cushions, blankets, and – I'm most pleased to say – a nature-based lifestyle.
Hygge as a contented countryside lifestyle
Hygge as a nature-based lifestyle reassured me, as my initial concern with the whole hygge phenomenon was that it appeared to be a predominately indoor-based activity. (Not surprising as it originated in Denmark, where the Danes experience up to 19 hours of darkness in winter.)
As a contented countryman, I seek my pleasures outdoors. This is okay, said the book. Indeed it informed me that hygge style creates a blurring between indoors and out.
Firstly hygge brings nature into the home, furnishing it in a non-uniform way with tactile wooden furniture and decorations such as logs, twigs, pinecones, nuts, leaves, sheepskin rugs and reindeer hides. "It's about the way that objects feel to your touch and add a variety of textures to your home," said Wiking, "a distinctly different feeling from being in contact with something made from steel, glass or plastic." Oh how I like that quote. I reminds me of my love of traditional country cottages with their oak beams, exposed stone walls, timber floorboards, quarry tiles, heavy curtains, roaring fires, hops strung up above the kitchen range, and cut flowers in vases.
Secondly the adjective of hygge is 'hyggeligt', and that 'hyggeligt' moments can be achieved outdoors. Ignoring the semi-outdoors of log cabins, sheds, tree houses and boats (which are all great hygge places), hygge can be experienced while stargazing, cycling, hiking, sailing a boat, climbing trees, fishing, sitting on a beach, camping, foraging, cooking over a campfire, indeed anywhere or doing anything that encourages us to 'be' in the present moment. As Wiking says: "On [our] camping trip, there was nowhere else we needed to be. We were offline. No phone. No email. We were surrounded by simplicity, by nature and good company, and able to fully relax and take in the moment."
What better way to sum up the values that define a modern-day contented countryman? 
It's me for sure. Indeed I wrote about such moments in my book The Quiet Fields, where I said: "The Quiet Fields are wild places, quiet corners of the landscape left untouched, where Nature is free to do her own thing. They are places in which we can observe wildlife and, by sitting quietly, find the time to look inwards to find the answers to our questions. They're where our heartbeat slows to a more natural rhythm, where we can breathe, forget our troubles and, for a while, rejoice in being properly alive."
Examples that make me feel 'properly alive' relate to times of day, changes of the weather, or joys of the season, such as:
Sitting quietly at dawn and dusk, witnessing the majesty of sunrise and sunset.
Seeing morning mist roll across the surface of a pool, and returning at night to see stars reflecting in the water.
Seeing the first shoots of spring appear on the hedgerows, or hearing the first cuckoo of the year, or seeing the first swallow or swift swooping overhead.
Lying in a summer meadow looking up at clouds drifting overhead; or resting in the shade of a tree, reading a book on a hot summer's day.
Listening to woodpigeons cooing at dusk, and waiting for the first clicking of bats.
Hearing the pattering of raindrops on a tent or umbrella, or smelling the richness of humus-rich soil after rainfall in summer, or becoming intoxicated by the salad-like smell of freshly cut grass.
Seeing the crystalline-like blanketing of hoar frost in winter, and hearing its almost 'electrical' crackle as it thaws.
Breathing deeply and taking in the vast panorama to be seen atop a mountain.
And my favourite: listening to the crackling of timber upon a campfire, breathing in the aroma of woodsmoke and looking upwards to see it furling into nothingness on a windless day, or glancing down to lose ones thoughts in the glowing embers of a nocturnal fire.
All free, all sensual, all hugely rewarding, and exactly the imagery I seek to capture in my writing.
But it's not just about my view. We country-folk are a family, so I sought the opinions of my friends to gauge their view on the subject. They responded, as I knew they would, with quotes that resonate.
Kate McKinley from America was first to respond, with a quote from John Muir that said: "Thousands of tired, nerve-shaken, over-civilized people are beginning to find out that going to the mountains is going home; that wildness is a necessity."
She added a quote by Henry David Thoreau, from his book 'Waldon': "We need the tonic of wildness...At the same time that we are earnest to explore and learn all things, we require that all things be mysterious and unexplorable, that land and sea be indefinitely wild, unsurveyed and unfathomed by us…We can never have enough of nature."
Sounds like an artist's view? Well, how about one from a scientist? Albert Einstein said: "Our task must be to free ourselves...by widening our circle of compassion to embrace all living creatures and the whole of nature and it's beauty." 
Wow. Now there's a call to action. But with contentment being a state of appreciation, I like Thoreau's other famous quote, which is: "Live in each season as it passes; breathe the air, drink the drink, taste the fruit, and resign yourself to the influence of the earth."
My thoughts were supported by Bradley Hodge, who shared Mark Twain's famous quote: "Good friends, good books, and a sleepy conscience: this is the ideal life."
Nice, eh? Very much in the vein of Vincent Van Gogh's thinking, that: "I have nature and art and poetry, and if that is not enough, what is enough?"
Interesting, isn't it, now nature contentment and literature go hand-in-hand. As Roman philosopher Marcus Tullius Cicero wrote: "If you have a garden and a library, you have everything you need."
Talking of books, Natasha Larsen sent me more than just some quotes; she sent me a box full of natural history books written by Richard Jefferies. They included Jefferies' all-time classic quotes about nature, the countryside and the beauty of life. I'll read three of them to you now.
The first reads: "The bird upon the tree utters the meaning of the wind – a voice of the grass and wild-flower, words of the green leaf; they speak through that slender tone. Sweet­ness of dew and rifts of sunshine, the dark hawthorn touched with breadths of open bud, the odour of the air, the colour of the daffodil – all that is de­licious and beloved of springtime are expressed in his song. Genius is nature and his lay, like the sap in the bough from which he sings, rises without thought."
The second reads: "I must stay under the old tree in the midst of the long grass, the luxury of the leaves, and the song in the very air. It seems as if I could feel all the glowing life the sunshine gives and the south winds calls into being."
And the third reads: "O beautiful human life! Tears come to my eyes as I think of it. So beautiful, so inexpressibly beautiful! The song should never be silent, the dance never still, the laugh should sound like water which runs forever."
How absolutely lovely, in words and meaning, and testament to our common understanding and appreciation of the countryside.
It's true then: our country life, with all the pleasures it brings, is a hygge one. It's about being present enough to acknowledge and appreciate an act, moment or feeling when ordinary things seem extraordinary. 
But I challenge conventional authors such as Helen Russell (author of The Year of Living Danishly), who said: "The rest of the world seems to be slowly waking up to what Danes have been wise to for generations – that having a relaxed, cosy time with friends and family, often with coffee, cake or beer, can be good for the soul." Whilst the word is new, the experience is not.
I remember the author Maurice Wiggin saying in his 1969 book A Cottage Idyll: "I am writing this on my own hearth, in a quiet room, at the end of the day. Tonight we lit the first ceremonious fire of autumn. It is dying now, but not long ago logs blazed and crackled under the black canopy and threw a ruddy dancing light on the whitewashed walls of the inglenook. I sat in a high-backed chair with my feet to the flames and savoured the smells of tobacco and wood smoke, and Kay sat sewing by lamplight. And now all is done, the work of the day and the pleasure. Pleasures so various…Food eaten together in conviviality, blessed by friendship; the long trudge on the riverbank; the sweating and the reading; the talking and the singing."
How very contented. How very hygge.
But it seems that hygge might be a 'momentary' phenomenon, too. Because of all the hype, the hygge trend appears to be short-lived. Indeed, hygge as a momentary pleasure seems insufficient to satisfy public tastes. We don't want momentary states of bliss; we want a holistically contented lifestyle. Cue the buzzword for 2017: lagom.
'Everything in balance' with lagom
Lagom, (pronounced 'lar-gomm') is a Swedish word translated as 'just the right amount'. It comes from the Viking ritual of sharing a horn of mead around the campfire, where everyone sipped 'just enough' so that everyone could drink. These days it relates to the Swedish culture of being frugal, fair and creating balance. In other words, lagom is about 'a lack of excess' andavoids the negative connotations of 'enough'. It's just what we need given our urgent necessity to create a more sustainable existence, and to save pennies by living more frugally.
The definition of lagom reminds me of Elizabeth West's 1977 self-sufficiency classic Hovel in the Hills, where she said: "For nine years we have been living in comparative isolation and with very little money upon a windswept moorland in North Wales. What effect has this had on us? We are very much more aware of natural things – the feel of the wind, the direction of the sun and the movements and sounds of other living things…We have our own interpretation of Gandhi's philosophy of 'enoughness'. We want enough money to live our sort of life – we don't want more than enough. And in living the 'simple life', it is time we are usually short of, not money."
It's so easy to get caught up in the never-ending cycle of 'more' – the race where we crave materialistic comforts yet often yearn to 'splat the rat' of the job that funds them. We start off by working to live, and then end up living to work. Why? Because the sacrifice of 'less' and the ironic fear of 'loss' of life quality keeps us racing along until we've forgotten how little we need to be happy. But, as Coco Chanel said:
"The best things in life are free. The second best things are very, very expensive."
Like with New Year's resolutions, we know when we've overindulged. The sudden desire to lose weight, save money, be healthier and happier, spend less time at work and more time indulging our passions and being with family and friends. We use the start of the year to reset the balancing scales and refocus our perspectives. Perspectives that underpin the principles of lagom – that happiness does not come from 'things', rather experiences. And, fundamental to it all, is 'everything in moderation'.
If you've read my book Fine Things, you'll know that I make a shameless case for surrounding ourselves with special sentimental things that please us and remind us of who we are. You'll also know how much trouble I got into by living such a materialistic and indulgent lifestyle. I couldn't afford it then, and I wouldn't justify it now. Some very funny stories came from it, and fine things sure help to communicate our personality to the world, but these days I'm much more 'lagom' in my outlook.
Being contented with less means we need to endure fewer discontentments to achieve it.
Why reach for our wallet or purse when we can 'make do and mend'. These days, like Elizabeth West, I value time over money. I could spend my cash, but I prefer not to. Not just to keep myself afloat, but because making things and savouring experiences brings me more pleasure. For example, I recently found myself needing a gilet to wear whilst gardening. I was cold, and my jackets were restricting my movement when I attempted to reach up to prune branches. So instead of buying a gilet I simply cut the arms off my collectible 1964 Barbour Solway Zipper wax jacket. The materialistic person would cry in despair that I would do something to such a rare and pricy garment, but the act was worth the 'sacrifice' of removing arms that were, to be honest, too short for me anyway.
More time, more flexibility, but nothing in excess. That's the lagom way. So no matter how much I'd like to spend all my time lazing outdoors, this would cause an imbalance. Everything in moderation. The Swedish way.
Lagom is so very Scandinavian. Just think of how minimalist and practical they are. Nothing fussy or showy. Lots of contentment and quiet confidence. Understated design and fashions, simple meals, values of modesty and wholesomeness, and emphasis on community over individuality.
It's the lack of individuality and showiness of lagom that prevents me from embracing it wholeheartedly. It conflicts with my belief that we should be as individual, maverick, risk-taking, and proud of our creative output as possible. Lagom has its origins in The Law of Jante, a Nordic version of Tall Poppy Syndrome where taller showier flower stems get flattened by the wind. (It's the same caution as 'If you stick your head above the parapet, expect to be fired at.') So lagom is not for the rebel or staunch individualist. 
If you seek not to conform, then steer clear of Lagomland.
Lagom is about consensus and equality, staying within the social norms – achieving a 'middle ground' of not going without but not indulging, of having neither little nor excess. But if you want to be seen to be lagom-esque, then follow Oscar Wilde's instruction of: "Everything in moderation. Especially moderation."
But I'd rather we follow the advice of our friend Al Fawcett, who says: "Make a difference by being different." There's just so much encouragement and strength to be found in these words.
Lagom does have a very British attribute, however, and that is 'modesty'. We Brits are considerably more reserved (some would say repressed) than our US and European friends. We rarely talk about money and often keep our emotions to ourselves. But we're closer to our US cousins when it comes to indulgence – especially overeating – and our 'always on' work culture. The Swedish, on the other hand, have a more balanced approach to work/life, with offices emptying, I am told, at 5pm. Nothing like in the UK where it's common to see a stressed-out executive slaving away in the office at 10pm.
'Healthy balance' then, is the key to lagom – and to life. A Scandinavian lifestyle. But surely we don't need to look overseas for contentment?
'A safe place to cwtch'
There's another word, this time a British one, for our desired sense of cosy contentment. It's called 'cwtch' (pronounced 'kutch') and is the Welsh word often used when inviting an affectionate hug. Again there's no direct translation into English, but it's closest equivalent is 'safe place'. If you give someone a cwtch, you're giving them a safe place.
Living as I do in Wales, and with my wife's maternal family being Welsh, we often use the word cwtch for friendly and welcoming hugs.
"Come here, give us a cwtch" says nanna when she comes to visit.
We also 'cwtch up' when we snuggle on a sofa. And we also use cwtch to describe warm and inviting places – such as the fire-warmed snug of a country inn on a cold night.
It's all about contentment
All these words: hygge, lagom, cwtch, snug, they each refer to our instinctive desire to be warm, safe and close. Just as we 'swaddle' newborn babies to give them the same sensation as being inside the womb, we look for similar experiences as we grow older. Children at heart, and always in a big wide world, we seek moments and environments in which to relax, breathe, heal, and grow. 
That's why I created Fennel's Priory. It was the result of a need to escape and recover. Today it's a place of reverence and quiet reflection that's accessed through the words 'Stop – Unplug – Escape – Enjoy'. It's taken the hygge and lagom principles of gratitude and appreciation further into the realms of 'meaningful' and 'soulful' (and, on occasion, spiritual).  And now it's incorporating what we know as The Contented Countryman with all the associated values and imagery of rural bliss, fresh air, freedom and adventure of the countryside.
And as a lifestyle choice, the route to contentment is a journey that I can sum up no better than by quoting the words of John Seymour from his Complete Book of Self Sufficiency: "Do not try to do everything at once. This is an organic way of life and organic processes tend to be slow and steady." 
He also offered a valuable lifestyle motto:
"I am only one. I can do what one can do. But what one can do, I will do!"
So with that, I will you to spend more time outdoors amongst nature, enjoying your own interpretation of what it means to be 'a contented countryman'.
---
If you like this podcast, then you might like Fennel's books The Quiet Fields and Nature Escape. Please also subscribe to Fennel on Friday. You'll receive a blog, video or podcast sent direct to your email inbox in time for the weekend.