Fennel Hudson: Lifestyle & Countryside Author
Fennel Hudson is a rural lifestyle & countryside author, broadcaster, publisher and editor. He's best known for his Fennel's Journal series of books and as host of The Contented Countryman podcast. (You can see his bibliography here.) He's a naturalist and outdoorsman who, through his travels in wild places, explores the notions of freedom and self.
A nature writer, traditional angler, gardener and country sportsman, Fennel's work has been compared to that of Roger Deakin, BB, John Gierach, Chris Yates, Jack Hargreaves, Monty Don, Jon Beer and John Lewis-Stempel. He writes regularly for The Flyfishers' Journal and has been featured in Angling Times, Trout & Salmon and Classic Angling.
Fennel observes the subtle things – around and within us – that might otherwise go unnoticed. He seeks the rural idyll, values old-fashioned things and champions a relaxing, peaceful, rural life. Much of his writing centres on what he calls 'The Quiet Fields' – the hidden corners of the landscape where time moves slowly and nature exists undisturbed. His motto, and the message in his writing, is 'Stop – Unplug – Escape – Enjoy.'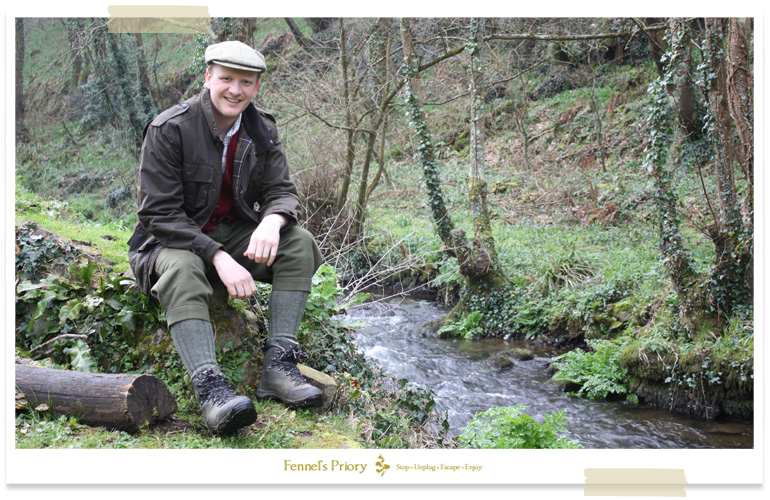 The Contented Countryman
Born in England in 1974, Nigel 'Fennel' Hudson grew up exploring the fields, woods and streams of the Welsh marches. Working as a gardener and estate hand, he savoured a slow-paced and idyllic life. But adult responsibilities and a desire for material things led him down a dark path. He gave up the life that defined him and went in search of gold that "glittered beneath a hangman's noose". Here, grappling with corporate and urban existence, he endured hardships that would change his worldview forever.
From having everything, to losing everything, Fennel eventually reclaimed his identity by restoring the values and lifestyle of his youth. This gave him a unique understanding of the meaning and True Beauty of life, which he shares by reminding us to 'Stop – Unplug – Escape – Enjoy'.
Fennel's beliefs
Fennel passionately believes in individuality, personal identity and life purpose: that we should always know and remain true to ourselves. Because of this, he always champions adventure, freedom, and a meaningful life. His favourite quote is: "Don't do anything that offends your soul".
Born to love the countryside
Growing up on a smallholding on the edge of the 6,500-acre Enville Estate in Shropshire, Fennel spent his early years helping his parents with their self-sufficient lifestyle: growing and harvesting fruit and vegetables and tending to the family's chickens. His maternal family had farmed the Shropshire countryside for over 300 years, so Fennel inherited a sense of heritage and deep-rooted love of the outdoors. Gardening, shooting and fishing were important to his way of life and soon Fennel was adept at preparing food for the table. His love of the countryside developed into enthusiasm for natural history, where studying wildlife – and our relationship with it – became his lifelong passion.
Fennel the nature and lifestyle writer
Fennel's writing has been compared to that of Roger Deakin, Chris Yates, Jack Hargreaves, John Lewis-Stempel and 'BB'. Indeed, 'BB' is one of his biggest influences, hence why his writing centres on what he calls 'The Quiet Fields' – the hidden corners of the landscape where time moves slowly and nature exists undisturbed. 
Fennel's first short story was published at the age of 13. It was a tale about wizards, dragons and dwarves, and was adopted by his school for its Dungeons & Dragons club. He then became Editor of the school newspaper and copywriter for his colleges' brochures. This inspired him to write a book a year about his passions for the outdoors. (See his bibliography here.)
At the age of 23 Fennel was asked by Chris Yates to write a regular feature in Waterlog, the traditional anglers' magazine. He declined due to modesty but privately accepted the challenge, writing more than a hundred articles in secret that have since formed the basis of the Fennel's Journal series of books. 
Since the age of 24, Fennel has earned his living writing sales and marketing copy for businesses. It's creative output, but never competes with the passion, insight and eccentricity in his books, blogs and articles. He has more than 30 million words in print, has written thirty books, and writes for publications such as The Flyfishers' Journal and Angling Times. He also writes the weekly Fennel on Friday blog and – using a vintage fountain pen – sends handwritten letters to his friends every week.
His favourite reader review is:
"Fennel has captured the essence of the countryside – that is, its almost human character. So brilliantly has he compared and contrasted it with the nature of we humans. His writing is not so much a 'balanced study', more a 'study of the balance' that exists between Nature and Man."
Fennel the wildlife artist and illustrator
Fennel studied art at college, developing an appreciation of traditional techniques in oils, pencil, graphite stick, lino cut and etchings. However, it wasn't until he met professional artist and author Bernard Venables in 1995 that his skills were honed and he became aware of the possibilities of a talent that had previously been a hobby.
Bernard taught Fennel the brush and ink technique that he used to illustrate in his books, and encouraged him to broaden his use of mediums and develop greater personal identity as an artist. Fennel was quick to use his skills to build a reputation as a landscape illustrator and designer of corporate logos.
Today, Fennel most enjoys using the scraperboard medium made famous by natural history illustrators Denys Watkins-Pitchford and Charles Tunnicliffe. 
Fennel the gardener
At the age of 11, Fennel persuaded his parents to allow him to take a Saturday job as a gardener at a local country house. The success of his 'hobby job' paved the way for a career in horticulture, where he would study at the respected Pershore College of Horticulture. This enabled him to take up a position as a gardener at the prestigious Rooksnest Estate in Berkshire. Later he would work internationally as a garden designer and then as marketing manager of a leading plant nursery. His career in horticulture lasted for 17 years, which he regards this as the happiest of his professional life.
Fennel the angler 
As the firstborn grandson into an angling family, it was inevitable that Fennel would become a fisherman. He inherited his grandfather's collection of vintage fishing tackle and classic angling books, and so developed traditional values and appreciation of antique tackle such as split cane bamboo rods.
He caught his first fish – a brown trout from a Welsh reserviour – at the age of six, which put in place his love of fly-fishing. Principally a game fisherman, Fennel is also known for his passion for wild carp that he fishes for in overgrown and 'forgotten' ponds. He's travelled the length of the UK – and even to their home river The Danube – in search of the oldest strains of wild and feral carp. (See his book Wild Carp.)
Fennel began corresponding with traditional angler and respected author Chris Yates during the early 1990s. Their correspondence evolved into friendship and so, in 1995, Fennel was invited to join Chris' Golden Scale Club – a select and somewhat eccentric group of traditionalists that included famous anglers such as Bernard Venables, Richard Walker, Maurice Ingham, Peter Stone, Mike Winter and Peter Wheat. It's here that he was given his Club nickname 'Fennel', which has been his nom de plume ever since.
Writing in Coarse Angler magazine in September 1995, Chris wrote: 
"Nigel, who is 21, is one of the generations of younger anglers who gives me faith in the future." 
Today, Fennel mostly fly-fishes for game fish. He enjoys exploring wild waters for wild fish, especially near to his North Wales home (where he fishes for trout and grayling, plus the occasional salmon and sea trout). He still fishes simply and traditionally, often using vintage tackle, always seeking 'unknown' waters that require faith and watercraft to unlock their secrets. He's also a General Committee member of Prince Charles' esteemed The Flyfishers' Club of London.
Listen to Fennel's story
Fennel has recorded a series of films about The Fennel's Journal Story, and Evolution of Fennel's Journal from handwritten letters to books. They're a great way to immerse yourself in his world prior to reading his books.
---
Fennel Hudson is an Author Member of The Alliance of Independent Authors. This global, nonprofit organisation brings together the world's best independent authors, advisors and vetted services, offering contacts and campaigns, education and collaboration.
---
If you like the work of lifestyle and countryside author Fennel Hudson, then please subscribe to Fennel on Friday. You'll receive a blog, video or podcast sent direct to your email inbox in time for the weekend.