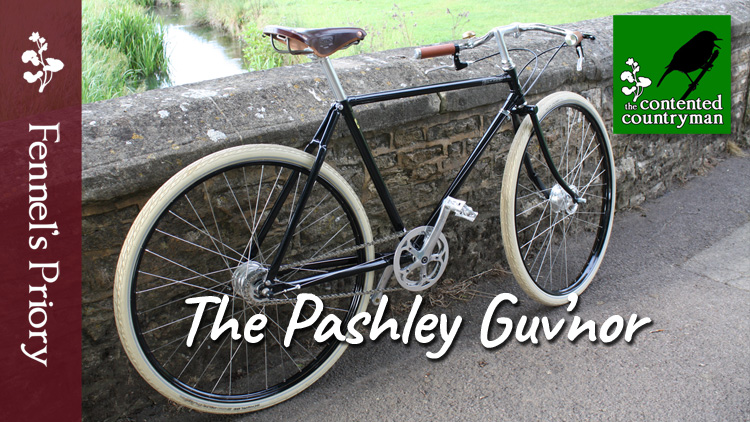 Season 1, Episode 5: Rural Cycling, The Pashley Guv'nor
Fennel describes his love of rural cycling along quiet countryside lanes, and reads the Pashley Guv'nor chapter from his book Fine Things.
---
Transcript of The Contented Countryman Podcast
Episode 5 – 23 June 2017 – Rural Cycling, The Pashley Guv'nor
Through spring and summer, there are few things I enjoy more than a gentle bicycle ride in the countryside. I find that dawn is the best time to do it, when the air's cool and mist lingers in the fields and hollows. I leave my home, push forward on my bicycle, take a deep breath and hear 'the silent roar' of wind passing my ears. The whole experience makes me feel vibrantly and passionately alive.
Alone upon the road, I'm more likely to see foxes, badgers, deer and rabbits running and hopping across the quiet lanes than a human travelling along them. It's a peaceful time, and calming exercise, that makes me realise that two wheels are better than four and that it's all-too-easy to travel too quickly and miss the view of what's around us.
Better, I find, to slow things down, breathe deeply, smell the air, hear the dawn chorus, feel the morning mist upon your face, and feel truly alive. That's the pleasure of rural cycling.
So in celebration of rural cycling, and that we're approaching the summer months, I thought it would be nice to read you a chapter from my new book Fine Things, Fennel's Journal No. 8. It talks about how I came to rediscover my love of cycling when, through a desire to lose weight, I decided to purchase a bicycle. After having the shock of my life in seeing how modern bicycles are now made of carbon fibre and cost a fortune, I decided to look elsewhere – to discover traditionally-styled bicycles and – jaw-dropper that it was – the ultimate ride known as The Pashley Guv'nor. It made me very, very happy indeed.
Here's the story, as read from Fine Things.
The Guv'nor: Fine Things – Chapter 13
There comes a time between friends when certain guards can be lowered and no action, however extreme, can prove shocking. I've shared things with you, so we might as well get closer. With this in mind, I'd like you to calm your thoughts, put your hands on your thighs and picture an up-close image of...my buttocks. To be precise, I'd like you to imagine them moist with perspiration and wiggling purposefully from side-to-side. Slowly.
Can you see them? They're there. Almost within reach. Do you need a little more time to focus? Do I need to clench my cheeks, or are you okay with the image you've got? Would it help if I said, "Jig-jig, jig-jig?" 
C'mon, you're not trying hard enough. Look. Surely they're the best and most pert things you've seen all day? No? Pity. I'd hoped that they might have caught your attention.
What if you pictured the same warm, gyrating buttocks wrapped in black Lycra that clings to all the curves, crevices and dimples, but and sags and flaps in all the places I wish it wouldn't. It's not a pretty sight, is it? 
Now that I've subjected you to the worst image imaginable, and have probably caused you permanent psychological harm, I am poised to make a firm promise to you: that the images you just pictured will never, ever, come true. Apologies if this saddens you, but it ain't gonna happen. There's no more chance of me wearing skin-tight Lycra than there is of seeing a swan paddling a canoe. And yet, as a cyclist, I'm supposed to wear that sort of thing. But it's not me. I'm not of that ilk. I'll never shave and oil my legs, or apply for membership of the Squeaky Cheeks Cycling Club.
Why am I getting so emotional about stretchy fabric and cycling? Firstly, Lycra on a middle-aged man is wrong. Plain and simple. It might be okay on muscular athletes, but on the rest of us it looks as flattering as seeing a man in shorts cutting his toenails in public. (Very pleased to meet you; although I appear to have already met the family gherkins.) Secondly, I've developed a strange perception of cycling after visiting my local bicycle shop this morning. Let me explain.
I've been worried for some time that my midriff is beginning to show signs of me drinking too much ginger beer. All that sugary-fat wobbling about on my waistline. It's not good. To make matters worse, my legs have become spindly from spending too many months sitting at my writing desk. Knowing that I'm a little too close to forty for comfort, I decided to get fit. And as I'm averse to treadmills, I opted, with Mrs H's blessing, to buy a bicycle. I'd managed to save a hundred pounds since the pen fiasco, so would spend all of it on the bicycle if I had to. With no desire for compromise, I expected to get a really good bike.
The last time I got a new bicycle was when Raleigh Choppers were the 'grooviest' things on the street and a BMX could help you fly across the sky. In fact, the more I thought about it, I'd never purchased a bike. They'd always been a gift from Santa. So I didn't really know where to get one or how much they cost. Fortunately for me, a local newspaper advert revealed that there was a bicycle shop in town. I'd pay them a visit. 
The Free Wheel's Bicycle Shop was named apparently for reasons other than the price of its bicycles. As I stood outside, gazing through the window, I could only focus on the price tags and signage: "Sale Now On", "Amazing Bargains", "Prices From as Little as £800". 
Eight hundred pounds? For a bike, in the sale? For that money, I'd want something that came with an engine. 
I reasoned that the bikes in the window were highly specialised and that there'd be something inside that would suit my budget. I was wrong. Once inside I found that the bikes in the window really were in the sale. The first non-sale bike I saw was labelled "£1,500", the second – a garish fluorescent yellow thing – was "£1,800"; and the third was an astonishing "£2,400". Bicycles had either become super-desirable or some marketing man was having a laugh. An assistant approached me.
"Can I help you?" he said.
"Not at these prices," I replied. "Is it usual for bikes to cost the same as a second-hand car?"
"Oh yes. But don't be put off; we're the cheapest around. We don't stock rubbish though. These are all good brands that will last a few years."
"A few years? Don't you mean a lifetime?"
"Not these days, mate; not with carbon."
"What do you mean?"
"Micro fissures."
"Micro what?"
"These bikes have carbon frames and wheels, and they're subjected to lots of juddering and jarring from the road. Over time the knocks can cause microscopic fractures in the carbon fibres which build and build and then, 'BANG!' the whole bike can explode."
"Explode?"
"Yeah, actually, the guy over there had it happen to him last weekend." The assistant called to his colleague behind the counter. "Joe, what speed were you doing when your bike blew up?" "About fifty miles per hour," came the reply. Joe then lifted his T-Shirt to reveal a graze that spanned the width and length of his back. "Other than these cuts," said Joe, "all I was left with were two tyres, a chain, and the brake cables. Rest of the bike disintegrated."
"That never happened with tubular steel bikes," I stated.
"Aw, man, they went out years ago," replied the assistant. "When did you last buy a bike?"
"Sometime in the early '80s."
"Jeez, that was before I was born. You don't want something from back then. Those bikes were too heavy. You want something special."
"Okay, I replied. "Impress me."
The assistant pointed to a matt-black road bike with tyres the thickness of spaghetti and a saddle sharp enough to skin a deer. "It's a Shiv Di2 with crosswind-optimized airfoils, OSBB, control tower fit, fuselage integrated hydration system, ceramic bearings, TT chains, nylon balls, 2x10, reversible 12.5 mil, body geometry, blackbelt protector, and full carbon clinchers. Yours for five grand."
"Five thousand pounds? It looks like it could blow away at any minute."
"Whatdya expect? It's top of the range."
"Sorry. It's a little too slick for me. And I have no idea what a carbon clincher or blackbelt protector is. In fact, I have no idea what any of it is. I like things to be classically styled, handmade in Britain, and made of steel. Is it any of these?"
"No."
"Listen. I'm after something with mudguards, a pannier, a gear lever that can be operated by my thumb, possibly a wicker basket and definitely a saddle what won't perform a Jewish operation on my manhood."
"Oh. You want a traditional bike. We don't stock those."
"Suppose you did, and I wanted the traditional equivalent of that helium-filled scythe over there, what should I be looking for?"
"You'd want a Pashley. They're the best. Most stylish they are, and they have the best heritage. Pashley is the oldest bike manufacturer in Britain. Their bikes would be perfect for you. Go and look them up."
I thanked the assistant, winced at the guy behind the counter, and then left the shop with the sole intention of finding out more about this manufacturer of traditional bikes. Two hours later I was standing in The Traditional Cycle Shop in Stratford-upon-Avon having a very different conversation.
"Would Sir be cycling in the town or country?" said the manager.
"Mostly country, though some urban cycling is inevitable." I replied.
"And would Sir favour an upright or crouched cycling position?"
"Upright when taking it easy, with the option of leaning forward when pushing for more speed." 
"And what would be Sir's budget for such a bike?"
Reflecting upon recent events, and wishing to avoid further embarrassment, I replied "About eight hundred pounds".
"Then please come with me. We have just the thing."
The man walked me to an area of the shop containing a line of the most beautifully styled bicycles. Some were Edwardian in fashion, with black frames and tanned leather seats; others looked continental with pastel-coloured finishes, willow baskets and leather pannier bags. These were the type of bikes I sought. The sort one could ride while wearing a tweed suit and a very large grin.
"Sir looks like the kind of gentleman who appreciates quality, who seeks something with refined style. But you're a young chap. You don't want something that creaks and rattles like a vintage pram; you need something with street-cred that looks the business. Am I right?"
"Absolutely."
"Then have a look at this." 
The man pointed to a bike that made my mouth pucker like a chimpanzee requesting a large gobstopper.
"Pashley Guv'nor," said the manager. "Named after the owner of the firm and styled on a 1930s Path Racer bicycle. It's got a Reynolds 531 tubular steel frame, North Road handlebars with leather grips; Sylvan Stream rat-trap pedals, a Brooks 'antique brown' leather saddle, Sturmey Archer three-speed gears, Westwood rims, relaxed forks and cream Schwalbe tyres. And it's made by hand here in Stratford. Which means, when you add them all together, that…"
"It's pure sex. I've got to have it. Monthly payments okay?"
The man smiled, knowing that the bike had sold itself. I didn't need to sit on it, or ride it, or haggle over the price. It was a dream bike. No carbon gizmos, no risk of explosion, just the best looking and most stylish bike I could have wished for. It epitomised one of my favourite literary quotes, that of H.G. Wells in The History of Mr Polly: "He did not ride at the even pace sensible people use, who have marked out a journey from one place to another...He rode at variable speeds…And sometimes he was so unreasonably happy he had to whistle and sing." Which is how, after a day of mixed emotions, I have come to own one of the best Fine Things I've ever seen: a Pashley Guv'nor bicycle. 
All I need to do now is ride it.
---
The Guv'nor is a sample chapter from the book Fine Things, Fennel's Journal No. 8 which you can purchase at this website to read more about the adventures Fennel had on the bicycle.
If you like the work of lifestyle and countryside author Fennel Hudson, then please subscribe to Fennel on Friday. You'll receive a blog, video or podcast sent direct to your email inbox in time for the weekend.