Fennel's Priory Timeline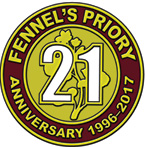 Fennel's Priory was established in 1996 when Bernard Venables bestowed the name to Fennel. The name has featured on Fennel's letterheads ever since.
2017 represents our 21st Anniversary, which we're celebrating by publishing Fennel's Journal in book formats, and through many Friends events.
The Priory has come of age. But let's also celebrate its humble beginnings:
---
Origins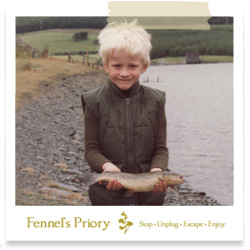 1974: Nigel Hudson is born in Worcestershire, England, into an angling family. Is the son of a school master and a lay preacher.
1980: Catches his first fish, a brown trout from a Welsh reservoir. Begins lifelong love of angling in wild places.
1982: Starts fly-fishing. Is taught to tie his first fly (a Baby Doll) by his father.
1985: Begins a gardening job at a large country house. He will work in horticulture for the next seventeen years.
---
Foundations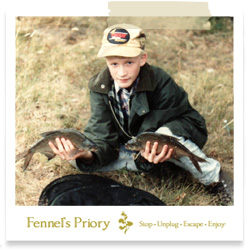 1987: Writes his first book – a fantasy tale about a quest into a seemingly abandoned castle. Stores his writing in a burgundy box file given to him by his English teacher. This is why the Priory branding is burgundy, and why Fennel wears a burgundy waistcoat.
1988: Appointed as fishery manager at his local lake. Goes on to manage a further five fisheries and become secretary of his local angling club.
1989: Appointed editor of school newspaper. Introduced to the writing of BB and Chris Yates. Begins a quest for the ultimate wild carp lake. Compiles a book of his nature poetry.
---
Apprenticeship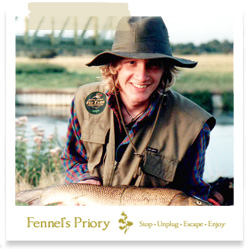 1990: Studies English and Art at college. Develops his love of language, and practises his pen and ink technique. Writes the copy for his college's brochures.
1992: Reads BB's Letters from Compton Deverell. This influences his writing style more than any other book.
1993: Attends Pershore College of Horticulture. Develops his love of fieldsports and farming ways. Begins correspondence with angling writer Chris Yates, later fishing with him on the Hampshire Avon and at Jade Lake.
---
Fennel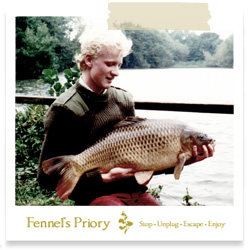 1994: Fishes the legendary Redmire Pool for the first time, catching his first-ever twenty-pound carp – on his first cast!
1995: Joins the famous Jade Lake fishing syndicate in Wiltshire. Cycles 60 miles to fish there on 16 June, the madness of which grants him an invitation to join Chris Yates' Golden Scale Club. Appointed 'GSC Stationer'. Is given the name 'Fennel' by Shaun Linsley.
---
Birth of Fennel's Priory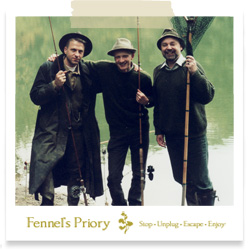 1996: Bestowed the name 'Fennel's Priory' by author and artist Bernard Venables. Begins book illustration and lifestyle mentoring with Bernard.
1997: Working as a gardener during the day and as an artist by night, producing bespoke stationery for fieldsports enthusiasts. Writes and publishes a limited edition booklet about fishing a historic lake for carp.
---
Growing Up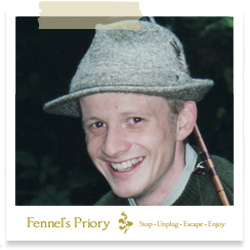 1998: Fennel is loving life, but is declared financially insolvent by his bank manager. Responds by getting a job in a garden centre and going back to college.
1999: Working closely with Mike Winter to search for the oldest strains of carp in the UK. Understanding spirituality and his unique voice with Peter Wheat. Learning brush and ink illustration technique with Bernard Venables.
2000: Working as marketing manager of a plant nursery at Worcester. Begins studying marketing at night school. Ultimately achieves a master's degree in marketing.
---
Devastation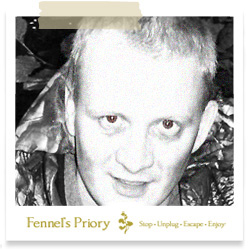 2001: Death of Bernard Venables hits him hard. Abandons his Fennel identity. Shaves off his hair, forgets his values and lives for the moment. Puts on three stone due to alcohol abuse.
2002: Ceases working in horticulture. Becomes a marketing and business strategy consultant. Leads an indulgent and reckless life.
2003: Loses everything, has a breakdown. Crippled by debt and depression, he retreats "to a place of safety, found in the darkness behind my eyelids". It takes him six months to function again, and a decade to recover.
---
Recovery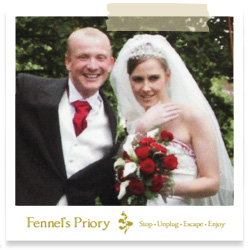 2004: Starts dating Mrs H-to-be, readopts his Fennel identity, begins defining the Priory, and sets out a ten-year plan to rebuild his life.
2006: Shares a monthly handwritten letter with twenty Friends of the Priory. This becomes known as 'Fennel's Journal'.
2007: Seeking a quiet place to heal and write, he spends nine months living beside a lake in Worcestershire. Marries Mrs H-to-be.
---
Endurance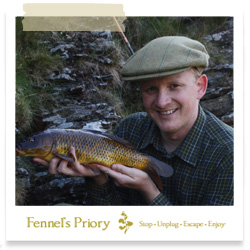 2008: Working full-time as a writer, and living a starkly contrasting life – of quiet rural times at home, and international assignments at work. Balances his work pressures by editing ten years of 'secret' writing into material for Fennel's Journal. 
2009: Completes a twenty-year quest to find a rare and ancient strain of wild carp. His articles on the story are published in Classic Angling, with the full story published later as Wild Carp.
---
Resurface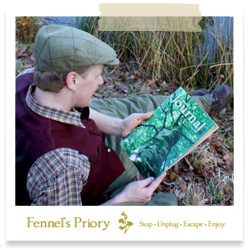 2010: Lawrence Breakspear encourages Fennel to share the 'Stop – Unplug...' lifestyle message with a wider audience.
2011: Launches fennelspriory.com, Fennel's Priory on Facebook and Twitter. Forms Fennel's Priory Limited. Birth of 'Little Lady' Hudson.
2012: Publishes Fennel's Journal as a limited edition magazine.
2013: Fennel's Countryside Diary is serialised, Fennel's Journal eBooks are published. Organises and features in the Angling Times 60th Anniversary celebration at Welbeck Lake. Hosts first Friends' weekend.
---
Public Gaze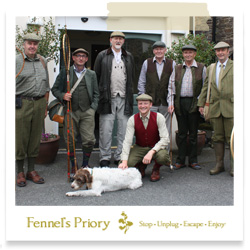 2014: Fennel completes his ten year plan by paying off the last of his 2003 debt and buying a cottage in the Cotswolds. Marks the 80th Anniversary of Redmire Pool with a centre-spread feature in Angling Times. Celebrates his 40th Birthday with a Friends weekend at the Arundell Arms in Devon. Starts writing a regular article for the Flyfishers' Journal.
2015: Completes a two-year project to help the BBC create 'The Big Fish – World's Wildest Waters'. Does a 33-week public speaking tour of Europe, Asia Pacific and America.
---
Double Anniversary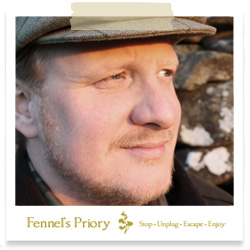 2016: Celebrates 20 years of Fennel's Priory and 10 years of Fennel's Journal by quitting corporate life and moving to North Wales. Hosts a Friends' dinner at the Flyfishers' Club to celebrate. Launches new Fennel's Priory website and 'Fennel on Friday' weekly blog.
2017: 21st Annivserary 'Coming of Age' of Fennel's Priory celebrated with the launch of The Contented Countryman podcast and publication of Fennel's Journal in book formats.
---
If you like the work of lifestyle and countryside author Fennel Hudson, then please subscribe to Fennel on Friday. You'll receive a blog, video or podcast sent direct to your email inbox in time for the weekend.