Fennel's Priory Publishing
Fennel's Priory Limited is an independent publisher of narrative non-fiction countryside and fishing books, magazines and digital media. We also provide editiorial and writing services to countryside and outdoors brands.
Formed in 1996, and as a limited company in 2011, our activities are centred principally on the writings of countryside author Fennel Hudson, though we also publish for other writers and organisations.
We have several brands, including the Fennel's Journal series of books, Contented Countryman podcast, Fennel's Gazette miniature newspaper and Fennel on Friday blog. And on Instagram, we have the Fennel Hudson Author, Fennel on Fire, Fennel Fishes and Fennel's Country brands. 
Based in north-east Wales, on the edge of the Clwydian range overlooking the Cheshire plains, we're ideally placed to appreciate the timeless appeal of our natural heritage. 
Our motto is 'Stop – Unplug – Escape – Enjoy'. As such, we champion a slow-paced pastoral life, savouring as much time as possible outdoors in the quiet corners of the landscape.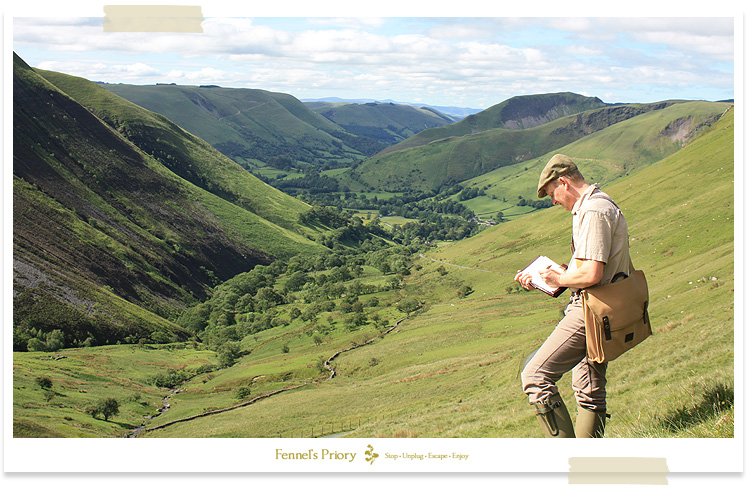 The Fennel's Priory mantra
Stop – get off the treadmill. Right now. Make time to look around; the natural world awaits you.
Unplug – from the artificial world, especially the world of work that keeps you busy, too busy to notice what's really important.
Escape – there's freedom in isolation, being alone with your thoughts, accompanied only by Nature.
Enjoy – the very simplest and smallest of things. There is more joy to be found upon a butterfly's wing than in a town of opulence.
---
The Fennel's Priory logo
The Priory logo was discovered in a 19th century natural history book. It's a marsh marigold – representative of how the Priory grew from waterside places – and tips its hat to the cowslip illustration used in the countryside books written by 'BB' that inspired Fennel's earliest writing.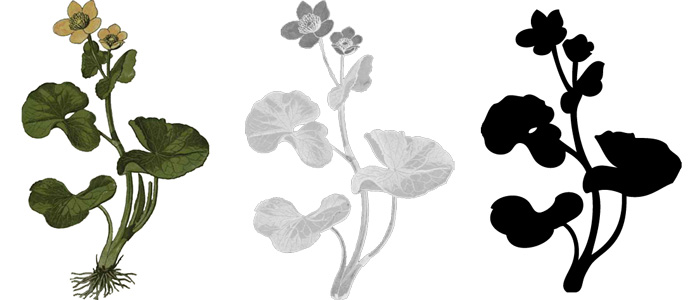 ---
'Fennel's Priory Red'
Imagery is very important in communicating the Fennel's Priory message. Our brand colour is a burgundy-maroon that we call 'Priory Red'. Fennel displays it on his waistcoats and items of clothing, his fishing rods, pens, ink, in fact everywhere he can. Why? Because it represents his origins as a writer.
The colour is taken from an old foolscap box file that was given to Fennel in 1987 by his schoolteacher. The school had just published his first book – a fantasy story entitled 'Escape from Kraznir' – and he was instructed to use the box to store his writing. He's since amassed dozens of box files containing manuscripts and letters, but the original box file remains the one that contains his most precious writing and correspondence. It contains – and signifies – his thirty-year writing career. 
As he says: "When I placed my first piece of writing into the box, I was a child writing for the pure love of words and stories. There wasn't any ambition or plan to be a professional writer. I just loved writing. I would do it regardless. I hoped only to always be able to write. That my creativity would always flow, and I'd live a rich life worth writing about. It's this purity of hope that's made me write every day for the past thirty years. You want to see the passion in what I do? It's there, always, in the Priory Red."
A place of our making
The Fennel's Priory 'escape' can exist anywhere, in places and moments where we can relax and be ourselves, where nobody tells us to hurry along, to conform or grow up. Somewhere we can properly live. If this is to your liking, then we're encouraged. You are a true Friend of the Priory. We may also be on the same path: towards rural living and a home filled with traditional things.
The importance of the natural world
The countryside, with its vast horizons, fresh air and ever-changing seasons, is by its very nature more life giving and adventurous than any amount of modern indoor living.
It inspires a love of natural history – everything from the birds singing in the trees to the quality and richness of the soil beneath our feet. Most of all, it creates desire to exist in a more naturalistic way.
The natural world helps us to recharge our souls. Empathy for living things helps us to become more natural beings, appreciating the balance of life. A rural life can be slow and relaxed; it can also be tough and unforgiving. Such is the way of Nature.
The Quiet Fields
The Quiet Fields are those undisturbed places set aside from intensive agriculture or the concrete sprawl of towns and cities. They are not polluted by the noise and emissions of motorways nor suppressed by the manicured neatness of suburbia. They are wild places, quiet corners of the landscape left untouched, where Nature and us are free to flourish.
As Fennel says: "Whether we live in the countryside or not, there is a primeval gene within us that yearns for the Quiet Fields. Once there, we may discover the inner naturalist or a sense of greater fulfilment. We may rest upon a stile, look out across the fields and woodland before us and feel as if we have finally come home. We may decide to stay. We have escaped the rat race. It is time to enjoy the Quiet Fields, and life itself."
---
If you like the work of lifestyle and countryside author Fennel Hudson, then please subscribe to Fennel on Friday. You'll receive a blog, video or podcast sent direct to your email inbox in time for the weekend.