Wild Carp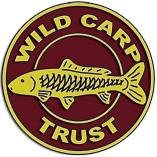 This section of the Fennel's Priory website is dedicated to wild (feral) carp and the idea of forming a 'Wild Carp Trust' conservation body to protect, appreciate, celebrate and champion these very old and rare strains of fish.
Wild Carp Trust website – www.wildcarptrust.org – coming September 2020.
Please also see the Wild Carp Trust Facebook Group, Wild Carp Trust on Instagram and Fennel's book Wild Carp.
---