Friends of the Priory
Friends of the Priory are those who believe in and live the mantra of 'Stop – Unplug – Escape – Enjoy'. They understand the value and beauty of the natural world, they appreciate a slow-paced life and remain individual irrespective of fad or fashion. They trust their instincts and know what they like. Proud of whom they are, they stand tall knowing they are stong in numbers. And of course, because of this, they've discovered Fennel's books and actively share the message.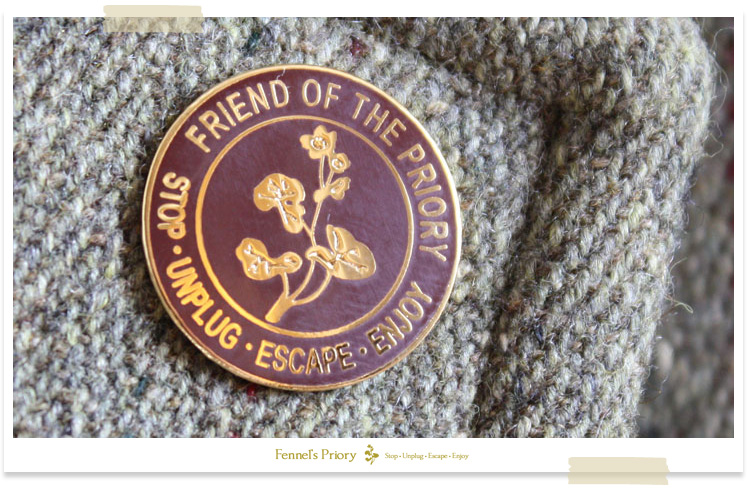 We Friends of the Priory:
love being outdoors amongst nature
seek to escape to quiet 'off the beaten track' places in the wilds of the countryside
enjoy a slow life, living at a leisurely pace
value heritage, traditional and old-fashioned things, believing that the past informs the future
seek fulfilling times, cooking over a camp fire and then gazing into the embers as night falls
always seek to cherish, use and wear, artisan hand-crafted things
like organic rather than synthetic things; we like the touch and warmth of natural fabrics and wood; sensing their 'living' provenance
treasure reflective time, alone with our thoughts, while turning the pages of a real book
are sincere but light-hearted, peaceful folk who wear our heart on our sleeve and a wildflower in our lapel.
Ours is a slow-paced and cherished life; a quiet life; a calm, nature-based, rural life.
---
No need to join – you're already here!
As Fennel says:
"You don't 'join' the Friends. By being here you're already one of us. You know how important it is to stop the wheels for a bit, to unplug from the daily grind, to escape to a happy and peaceful place where you can do the things you love."
The great thing is that, as our friend, you're not alone in your desire to be free. We're always there with you, in fondest spirit, wishing you the greatest success.
You can purchase a Friend of the Priory pin badge here.
---
If you like the work of lifestyle and countryside author Fennel Hudson, then please subscribe to Fennel on Friday. You'll receive a blog, video or podcast sent direct to your email inbox in time for the weekend.