Fennel and The Priory
Welcome to Fennel's Priory, it's about nature connection, the countryside, wildlife, rural living, countryside heritage and traditions, the outdoors, the seasons, and how a 'natural life' helps us to escape, find freedom and have adventures.
It's also the website of lifestyle and countryside author Fennel Hudson. Here you can read his blogs, listen to his Contented Countryman podcast, see his videos, discover his books and immerse yourself fully in his world. It's where you can 'Stop – Unplug – Escape – Enjoy'.
Fennel's writing centres on what he calls 'The Quiet Fields' – those quiet corners of the landscape where time moves slowly and nature exists undisturbed. Everything he does seeks to encourage nature connection and understanding of our place in the natural world. It's about wildlife and rural living, the discovery and definition of self, and championing what's important in life.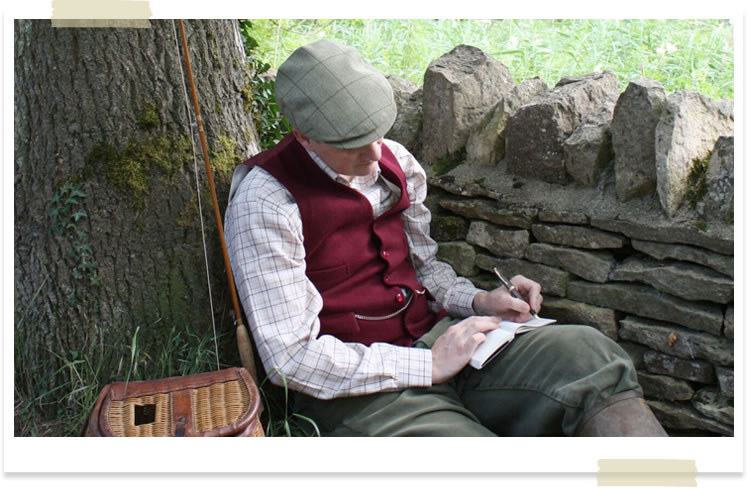 The Big Interview with Fennel Hudson
"An open and honest interview with the creator of Fennel's Priory and Fennel's Journal."
The visionaries' website infinitepie.co.uk – known for its motto 'Connections that Count' – has interviewed Fennel about the series of events that led him to create Fennel's Priory, and the people who helped him to shape it. 
The interview makes for dramatic listening, with Fennel talking openly about the breakdown that forced him to reassess his life and return to the values and identities of his youth. It's about a journey that led to the 'Stop – Unplug – Escape – Enjoy' message of the Priory, knowing the importance of indentity, and seeking the ideals of a slow-paced rural life.
An old head on young shoulders
This is how Fennel was described when, at the age of 11, he started a Saturday job as a gardener at a local country house. He wasn't a normal child of the 1980s. Dressed in a flat cap, breeks and tweed waistcoat, he knew his mind and was determined to spend as much time as possible in the countryside, cultivating the passions and talents that inspired him. By 13 he had published his first short story, by 15 he was editor of his school newspaper and secretary of his local angling club, and by 21 was working as a gardener on a large country estate. Encouraged as a writer by Chris Yates and Peter Wheat, as an angler by Mike Winter, and as an artist by Bernard Venables, his books are a fitting contribution to countryside, lifestyle, and traditional angling literature. Writing in 1995, Chris Yates said: 
"Fennel, who is 21, is one of the generations of younger anglers who gives me faith in the future".
Fennel's writing has appeared in a variety of publications such as Trout & Salmon, The Flyfishers' Journal, Classic Angling, Angling Times, Gardeners' World Magazine, Horticulture Week, and Farmers Guardian. He's lectured extensively about writing, and on subjects as diverse as adventure and free spirit, identity and self, bushcraft fly fishing, traditional angling, garden design, the natural world, and nature connection.
Today, Fennel is a full-time writer and broadcaster, immersed in Priory-related projects and enjoying the good life at his home in North Wales.
---
If you like the work of lifestyle and countryside author Fennel Hudson, then please subscribe to Fennel on Friday. You'll receive a blog, video or podcast sent direct to your email inbox in time for the weekend.