Fennel's Priory Associates
We're very proud to befriend and closely associate with organisations whose values reflect our own. They help us to 'escape and enjoy', so please support them.
---
ProAdventure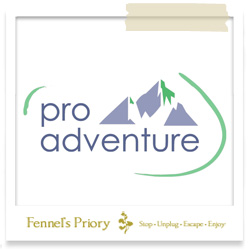 Our friends Lesley and Peter Carol at ProAdventure supply the very best outdoor kit. Based at Llangollen in North Wales, they're ideally placed to understand outdoor adventure. Suppliers of Tentipi tents (Fennel's favourite), Gransfors Bruks axes, Fjallraven clothing, firelighting kit, bushcraft cooking equipment, knives and a host of sundry items, they're our preferred supplier. Please support them by purchasing from their website or shop.
---
Wilderness Pioneers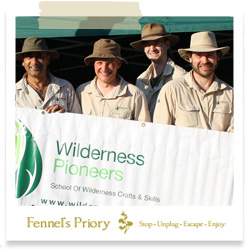 Fennel's been working closely with Mark and Manse at the Wilderness Pioneers bushcraft school since 2012. He helps them at their shows around the country, and they provide consultancy for his bushcraft fly fishing articles and adventures. If you wish to learn bushcraft skills, to get a better understanding of nature or simply to learn primitive skills, then their courses are highly recommended.
---
Nearly Wild Camping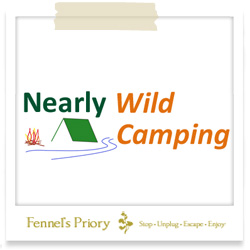 Experience camping as it's meant to be: in beautifully wild and uncrowded places – but with the luxury of having a toilet on site. With locations all over the UK, Nearly Wild Camping provides a way of escaping for quality times alone, with family or with friends.
---
Millican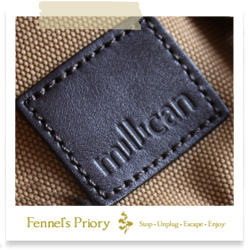 Millican make sustainable bags for the conscious traveller, the deep-thinker, and for personal journeys across the globe. Based on a farm in the English Lake District, they encapsulate everything that we value at the Priory. And, of course, their bags are Fennel's favourite. Please support them.
---
7th Rise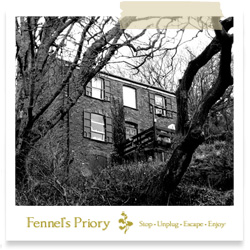 Thom Hunt's 7th Rise at Tregothnan in Cornwall is one of our favourite places to escape for a writing retreat. We love going there, to enjoy the blissfulness of 'digital detox' in the woods and to savour some truly fabulous 'wild cooking'.
---
The Edward Barder Rod Company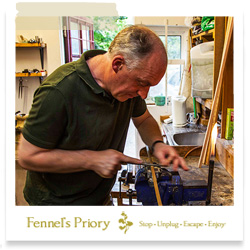 Edward Barder and Colin Whitehouse together make the world's best split cane fishing rods. Fennel's been using them since 1995, and since then has actively supported and promoted their work. He's also been a regular 'biscuit-dunking' fixture at their workshop for many years. If you want the best, and are prepared to make the investment, then Edward Barder rods cannot be beaten.
---
The Ad-lib Design Partnership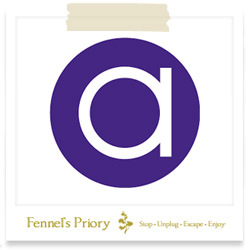 Fennel's worked with John Summers at Ad-lib since 1998. The two of them share a passion for traditional printing techniques, designs and fonts. And John is now Godfather to Little Lady. If you want a brand identiy creating, with all its associated communications material, then please contact Ad-lib.
---
Infinite Pie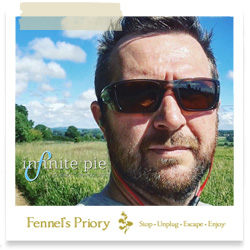 Fennel was interviewed by Alan Fawcett in 2013 for his Infinite Pie Connection Podcast. It conincided with the podcast securing the number one spot in the iTunes chart. Since then, Fennel and Al have been great friends and have worked together extensively – resulting in the Contented Countryman podcast.
---
Hedgerow Creative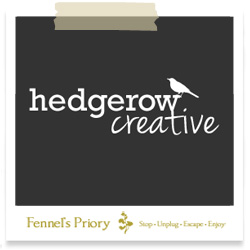 Having worked in marketing for twenty years, Fennel understands how important it is to work with an agency that 'gets it' and understands the audience when they create brand identities and campaigns. Hedgerow Creative is a digital agency that creates websites and online campaigns specifically for countryside and fieldsports companies.
---
The Amwell Magna Fishery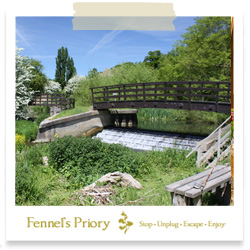 Fennel has been a guest of the Amwell Magna fishery (Britain's oldest fly fishing club still fishing the same water) each year for nearly twenty years. He loves the river and its heritage (it was fished by Izaak Walton) and most especially the company.
---
Tregaron Angling Association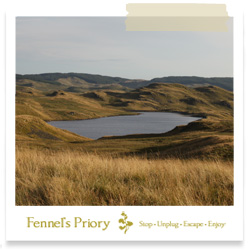 Fennel's favourite fishing association, who control several mountain lakes and many miles of river around Tregaron in mid-Wales. Fennel was honoured to give the after-dinner speech at their awards ceremony in 2014, and has since made their waters (especially the Teifi Pools) his base for wild fishing.
---
Y Talbot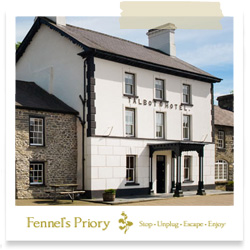 Fennel's favourite fishing hotel. He first visited Y Talbot in Tregaron as a boy and was delighted to be invited back as guest of honour in 2014. Y Talbot is recommended for anyone visiting the area, especially for fishing trips and hiking. It offers everything: great food and real ales, quality accommodation, and one of the best open fires in Wales.
---
If you like the work of lifestyle and countryside author Fennel Hudson, then please subscribe to Fennel on Friday. You'll receive a blog, video or podcast sent direct to your email inbox in time for the weekend.