The Fennel's Journal Story Part 2
In the video above, lifestyle author Fennel Hudson continues his story about the Fennel's Journal series of books. He explains how a life defining moment and a friend in need shaped the messaging and purpose of the series. He talks about the first seven books: A Meaningful Life, A Waterside Year, A Writers Year, Wild Carp, Fly Fishing, Traditional Angling, and The Quiet Fields.
Watch Part 1 and Part 3 of the story. You can also listen to the complete audio at The Contented Countryman podcast.
---
Transcript of The Fennel's Journal Story – Part 2
Life corrupted – 1998-2003
My near-perfect life was shattered in 1998 when a bank manager told me I was too poor and, in so many words, too pathetic to ever amount to much. He withdrew my overdraft facility, put a hold on further borrowing, and told me that – given my current trajectory – I'd never be able to afford a house, a car or new clothes. I was, as he put it, "building a life of dreams on the vapour of nothing".
Fuelled by white-hot anger (that, if I'm honest with myself, still motivates me), I acted out of sheer rage that someone would think me worthless and likely to amount to nothing. I set about proving the bank manager wrong. I quit self-employment, got a job at a garden centre, enrolled at night school and went in search of fortunes laid beneath a hangman's noose. I quit my Fennel identity, reduced my writing output, distanced myself from my friends, and focused on money as I recklessly spiralled out of control, spinning towards a life suffocated by ignorance and compromise. By 2003 I was a workaholic career-man, living on caffeine tablets and vodka, caring for no one and building a life of pretence while being hopelessly in debt.
Darkness and light – 2003/4
This life ended, I'm pleased to say, in September 2003. I won't go into the details, suffice to say that pressures became too great and my mind decided it was time to take a holiday. I lost everything, including my health and six months of memory. 
This is where the Fennel's Journal series begins. It explains how I met Mrs H-to-be, how she helped me to pick up the pieces of my earlier life, how she and I put in place a ten-year-plan to build a meaningful life together, and how I rediscovered and rebuilt my identity based upon a promise to do everything I can to live my life as truthfully and completely as possible.
And this is what shaped Fennel's Journal.
Nature Within – 2005
Of the few possessions I had left, I'd kept the boxes of letters and secret writing. I opened them and spent three weeks reading them. This helped me to remember who I was and would be again, and understand what's important to me. Themes appeared, around self-belief and self-confidence, freedom, adventure, wild places, natural places, countryside traditions and rural living, outdoor hobbies such as fishing and gardening, and a whole section about truth, honesty, integrity, passion, beliefs and striving to live a balanced life on one's terms. And, above all else, my identity as a writer – the thing that most defines me and inspires me.
I decided on New Year's Day 2005 that I would resume my writing, readopt my Fennel identity, and reach out once more to my friends. First, though, I needed to rediscover my voice. So I began writing a weekly 'note' to myself about something I referred to as 'nature within'. It helped me to get thinking and moving forward, building momentum – and strength in my writing hand – so that I could share a monthly letter from January 2006 onwards. Fennel's Journal would be reborn, with me speaking as much from the past as the present.
A Meaningful Life – 2006
I began the new incarnation of Fennel's Journal by sharing The Promise that I'd made a year earlier. It was a sort of New Year or 'new life' resolution. Putting onto paper and sharing The Promise with the friends who'd tolerated (and would hopefully forgive) my recent absence was an act of 'going back to one life, but never back to another'. I wish I'd started it with a simple 'Hello, I'm sorry'. But my gaze was only just widening, and I didn't really consider the communication from their perspective. Still, it was nice to be back doing and being everything I – and they – know to be special.
That's why A Meaningful Life is so broad and deep in its content. It's scoping out the things that would eventually shape and define Fennel's Journal. And it was about looking closer at things, at different times of day and in different lights, so that I could inch my way out of the darkness.
I'm especially proud of this book, as it marks my commitment to a new and better way of living. It's as much about turning my back on recent traumas and growing as a person, as a writer, and as an adult. But of course, it wasn't a book at the time, merely letters to my friends.
A Waterside Year – 2007
My first year of writing helped me to understand what's important and define the future life that I sought to build over the coming ten years. But I was still hurting from so many years of living recklessly, not doing the things I really love. So I felt a compelling need to live intensely – to make up for lost time. To do this, I'd need 'time out' from everything, to find and feed the roots that once sustained me. As an angler, gardener and countryman, being outdoors most brings me to life – especially when I'm near water. So, when an opportunity presented itself to join a fishing syndicate that had recently secured the rights to a remote lake in Worcestershire, I saw my chance for a much-needed adventure. So I packed my tent, grabbed my fishing tackle, binoculars and notebooks, and headed into the wilderness.
With Mrs H-to-be and I due to get married at the end of the year, and a writing job that encouraged 'home' working, I had the spring, summer and autumn months available for me to enjoy an extended camping trip beside the lake. This would be proper 'time out', an analogue existence with no phone or email distractions, where I'd live in near-isolation. Sure, Mrs H-to-be visited me at weekends and I took regular walks to the nearby village for supplies and to post my letters, but mostly it was just me – camping in a wood beside a lake, fishing and writing, foraging and hunting, looking after the camp fire, and doing my best not to be freaked out by the wildlife I discovered. It was a Waldonesque existence, as first championed by Henry Thoreau, but in miniature. A Waterside Year. And I didn't do nearly as much fishing as you'd expect. I was happy to escape everything and be, for nearly a year, totally free.
A Writer's Year – 2008
Spending so long alone in the wild forged my love of isolation. But it also made me yearn to be home and to stop running from my problems. I wrote on the back of my last notebook at the lake: 'It's better to run towards something good, than away from something bad'. I knew, deep down, that I'd been running since Chris Yates asked me to write for him, and since that bank manager crushed my dream in 1998. 
The best way for me to confront my fears was to commit to being a writer – to write professionally, under my name (I'd written on behalf of others for years). I'd been reminded of this in a letter from my old friend Mike 'Prof' Winter. Pleased that I'd returned to the fold, he'd written to me saying 'publish a book before you're too old to read it without glasses'. I knew that he meant, and sensed the frustration in his words. I was, after all, the person he'd described as being the most naturally gifted writer he'd ever met. And yet, for 12 years, I'd kept my writing within my circle of 20 friends. 2008, therefore, was when I decided to champion the writer's art and say, from that moment onwards, that I am first and foremost a writer – and that I would one day make my living from it. It resulted in a writing-themed Journal called A Writer's Year.
Three fishing books, written for a friend
And then something happened that I didn't expect. My friend Mike Winter was taken seriously ill. Struck down with bacterial meningitis, he was suddenly fighting for his life in intensive care. As I visited him in hospital, seeing him lying there in a coma, I became aware of the fragility and finite nature of life. Here was one of the four men who'd most influenced me, trusted me, believed in me, encouraged me; the one who most wanted me to write. And I hadn't yet had chance to show him my writing in print. If he were to die now, I'd never forgive myself for failing him. And so, quickened by recent events, I began writing more intensively than I'd ever done before. And I wrote exclusively for him.
Knowing that Mike's biggest love was angling, I opened up the 'private writing' box files and transcribed the content into fishing-related letters that I sent to him every week. They piled up on his beside table while in hospital, and then when he woke the nurses read them to him. As he regained his consciousness and strength, he was able to read them himself, and then when he returned home (albeit still bedridden) he was able to write back to me.
Wild Carp – 2009
Frustrated by being bedridden, Mike yearned for adventure and time outdoors. He encouraged me to resume a quest that he and I began twenty years ago – to find an old and very rare strain of fish. These feral carp, known as wildies, were our shared love. Mike had explored virtually every lake in Devon looking for them, and I in the counties bordering Wales. We'd found some truly remarkable waters, but we knew that there potentially existed a strain of fish that had remained since Roman or Norman times. My quest led me to discovering the ultimate wild carp water in 2009, and making Mike very happy. This journey is now shared in the book Wild Carp.
Fly Fishing – 2009, Traditional Angling – 2010
I continued writing to Mike every week, always about angling. I spent a whole year writing to him about fly fishing, and then a year about traditional angling for coarse fish. The best of these letters were photocopied and sent to my other 19 friends, and later became the books Fly Fishing and Traditional Angling.
The Quiet Fields – 2011
Spending three years writing exclusively about angling proved to me that as much as I love the sport, it plays only a part in my overall appreciation of a country life. I'm an all-round countryman, very much in the vein of the naturalist-sportsman writer 'BB'. And so, with 2011 marking the 30th Anniversary of BB's book 'The Quiet Fields', I decided to take a rest from writing about fishing and pay homage to BB by theming my letters around countryside subjects. They read more like my earlier writing, very nearly as a follow-on to A Waterside Year, and became the book known as The Quiet Fields.
Watch Part 1 and Part 3 of the story. You can also listen to the complete audio at The Contented Countryman podcast.
---
​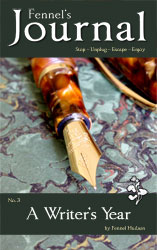 If you like this blog, you'll like Fennel's book A Writer's Year. ​
Please also subscribe to the Fennel on Friday weekly email. You'll receive either a blog, video or podcast sent to you in time for the weekend.