The Fennel's Journal Story - Part 1
In the video above, lifestyle author Fennel Hudson reveals the origin of his Fennel's Journal series of lifestyle & countryside books. He explains how they began in 1996 as handwritten letters sent to his friends in The Golden Scale Club. He gives credit to the influence of his mentors Chris Yates, Bernard Venables, Mike Winter, and Peter Wheat, and notes how becoming a writer defined him and provided the lifeline he needed in later life.
Watch Part 2 and Part 3. You can also listen to the complete audio at The Contented Countryman podcast.
---
Transcript of The Fennel's Journal Story – Part 1
About Fennel's Journal
Fennel's Journal is a series of 14 lifestyle books. It's based upon my quest for a simple rural life: one that began as a reaction to hostile conditions but which evolved into a journey of rediscovery. I retraced my footsteps to build a better life, creating an honest representation of my self that was reflected in the activities I did and the special things around me that helped to achieve a meaningful and fulfilling life.
If you've ever yearned for quiet times where you can breathe and savour the beauty of the world, then Fennel's Journal is for you.
It's about life in the slow lane, away from the pressures and fast pace of modern living. It's about escapism, freedom and adventure in the great outdoors. It's about the discovery and rediscovery of self, being individual, nurturing one's self-belief, and realising one's dreams. It's about defining and living your life on your terms, and keeping the balance by knowing how to 'Stop – Unplug – Escape – Enjoy'. Ultimately it's about having fun. About celebrating the eccentricities of life and maintaining one's spirits amidst the chaos.
That's why each book begins with an instruction: to take time out from the stresses of modern living, to stop the wheels for a while, unplug from the daily grind, escape to a quiet and peaceful place, and enjoy the simple life. And to encourage this, I ask that you read the book in a distraction-free and relaxing place. Somewhere you can savour quality time and, if possible, delight in the beauty of the countryside.
A life retold
In reading Fennel's Journal, you're going on a journey. My journey. The books track a ten-year period in my life where I moved towards progressively brighter things. So, as an autobiographical account, the books are enhanced by their context – to each other and to the bigger picture of where and how they came about. The first book – entitled A Meaningful Life – was written in 2006. But the origins of the series begin ten years earlier. Let me take you back to 1996, where it all began.
A communication between friends – 1996
In 1996, I was 22 years old. I was a gardener on a country estate, living a peaceful outdoor life. I'd tend to my plants during the day, fish or shoot each evening, and then come home to writer letters to my friends telling them about my adventures.
This was a time before emails and text messages were commonplace. People still wrote to one another – with a fountain pen, onto paper, placing it into an envelope and licking a stamp and pressing it onto the envelope, then walking the post box to send it. The whole act was slow and ponderous, but with an undercurrent of excitement that the recipient would enjoy receiving it and might – if you were lucky – send you a response. It was an act of sharing, and of hope. I loved it, so would spend hours every night staying up late, writing by candlelight. I'd write up to a dozen letters a night, often the same letter to multiple people, sending them to friends all over the UK.
This is where and how Fennel's Journal began, and how I developed my writing style. Writing quickly by hand and with little opportunity to correct or edit – I just wrote what was in my head, capturing my thoughts and sharing stories, while seeking to entertain and inspire others. I wanted to make them think and act. And, of course, I wanted them to look forward to receiving my letters.
Twenty friends
The recipients of my letters were mostly members of The Golden Scale Club – a group of countrymen and traditional anglers I joined in 1996. Each appreciated and upheld rural traditions: everything from real ale to what we referred to as 'organic life' where things develop and happen at a natural pace. There was no urgency, and no pressure; just good humour and a great deal of love for the natural world.
And with there being 21 people in the Golden Scale Club, I would send twenty specially crafted letters each month, written in handmade ink on bespoke stationery, with the intention of them being something that the recipient would want to keep. And, as most members were a generation or two older than me, they appreciated reading about how this young man was exploring the world and his sense of individuality, and would share the wisdom of their years with me.
The best of mentors
Four people within the Golden Scale Club inspired and encouraged me to write, mentoring me in how to view the world and how to capture what I see in writing.
The first was Chris Yates, angling author and television celebrity; the second was Bernard Venables, artist and author, creator of Mr Crabtree Goes Fishing and Editor of Creel magazine; third was Mike Winter, journalist and teacher; and fourth but by no means least, was Peter Wheat, author of more than a dozen books, Editor, journalist and very much a professional writer.
They wrote to me as frequently as I to them, and with every letter, I studied how they wrote. Their letters helped to shape not just my writing, but also my future. I've kept every single one of them, referring to them every now and then to keep my message and tone of my writing consistent with the original correspondence between me and my great mentors.
Letters, on a bigger scale – 1997
Writing so many letters can provide tiring to one's hand, especially when it's the same letter written twenty times. So in 1997 I decided to produce the letter, which had become known as Fennel's Journal, as a hand-bound document that a nice lady at the public library photocopied and stapled for me. Most of these were still handwritten, usually with a postscript written in ink by me, and with photographs included. Some were produced as pocket-sized illustrated booklets – essentially self-contained short stories – that I called 'Creel Editions' in the hope that they would be taken in a creel or bag to the riverbank and read during a lazy afternoon outdoors. This is still the intention of Fennel's Journal today, with the paperback version being pocket-sized so that it can go with you on your travels.
An opportunity lost – 1998
Enjoying my regular letters, Chris Yates wrote to me in 1998 asking me to write a regular column in his new magazine Waterlog. Chris was Editor and he wanted my column to be called 'Hudson's Diary'. It should have been the making of me as a writer. I'd never had such an opportunity. But I bottled it. Always the shy writer, I feared whether I could rise to the challenge of writing for a broader audience, or whether I could sustain the commitment of meeting deadlines, or stomach any negative feedback. Ultimately I convinced myself that I wasn't good enough and so declined Chris' offer. I really can be an idiot at times, and this is the one moment in my life that I perhaps most regret. I'd let my friend down after so many years of encouragement, and would never receive the offer again.
Self-sabotage is possibly the biggest threat to a would-be writer. There are always reasons not to do something. You just have to let go of your fears and just write for yourself – for the same pleasure of writing that first caught your passion – and (when the time's right, usually before you're ready) you share it with others. I knew that my writing was good enough, and that I could sustain the regular output (I was already writing thousands of words every day), so to prove that I could do it, I made the commitment to write a monthly article, in private, every month. This I did, storing them in box files that grew in number and weight. This act, as I would eventually discover, was the lifeline I needed to retrace my footsteps back to when I was happiest. Because, much to my horror, everything was to change.
Watch Part 2 and Part 3. You can also listen to the complete audio at The Contented Countryman podcast.
---
​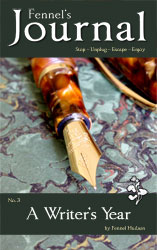 If you like this blog, you'll like Fennel's book A Writer's Year. ​
Please also subscribe to the Fennel on Friday weekly email. You'll receive either a blog, video or podcast sent to you in time for the weekend.