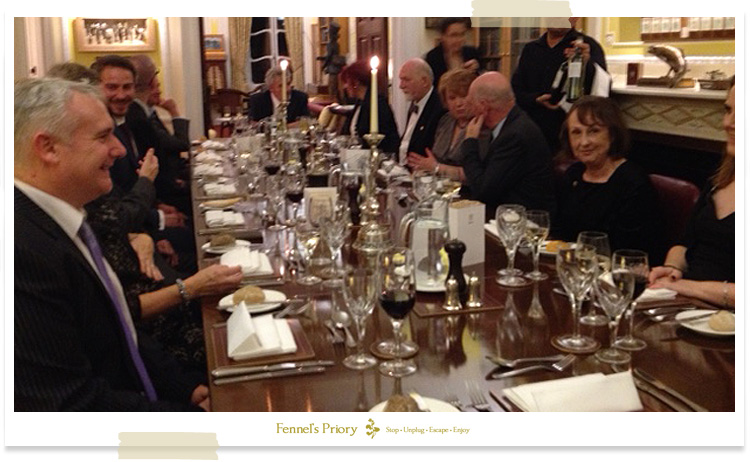 Fennel's Priory Annual Dinner 2016
Fennel's Priory, and especially Fennel's Journal, is built on friendship. What began as handwritten letters sent to friends in 1996 has now grown into something that's connected people around the world in a very special way. The Friends of the Priory bring everything to life, embodying the Priory message of 'Stop – Unplug – Escape – Enjoy'. That's why our Friends events are so important. None more so than our annual dinner.
The first Friends of the Priory Annual Dinner was held at the Red Lion hotel in Herefordshire in 2013. The 2014 dinner was held at The Arundell Arms in Devon, and then we skipped a year in 2015 due to my international travels. With 2016 marking the 20th Anniversary of Fennel's Priory and the 10th Anniversary of Fennel's Journal, the 2016 event had to be special. The venue and meal had to be perfect, as the event would be attended by my closest friends. It was to be a celebration of Friendship.
Friendship, as you may have guessed, is the edition of Fennel's Journal that came out last year. The one whose collectors' magazine edition – which was limited to 600 copies – sold out in 24 hours. Unlike other Journals, Friendship was written mostly by the Friends of the Priory. The writers whose contributions were published were treated to the promise of a complimentary ticket to a Priory event. No surprise, therefore, that all were invited to this year's dinner, which made it a select gather for contributors to the Journal. 
The event was, indeed, very special. 
Mrs H and I decided to hire the Flyfishers' Club in London, whose Patron is Prince Charles and whose premises are situated within the uber-luxurious Savile Club in Mayfair. 
The motto of the Savile Club is "Sodalitas convivium", which means 'convivial companionship'. The motto of the Flyfishers' Club is "Piscator non solum piscatur", which means 'It is not all of fishing to fish'. Such rich history and tradition, too, with the Savile Club having been formed in 1868 and the Flyfishers' Club in 1884. Where better, therefore, to celebrate the company (and contributions) of friends, all of whom were traditional anglers?
The event was held on Friday 25th November, meaning that everyone could 'make a weekend of it' in London: taking in the sights, seeing some shows, and doing some Christmas shopping.
15 Friends attended: Spencer and Diane Simmonds (Mrs H's parents), John and Slavica Haynes, Andy and Janette Roberts, John and Annette Summers, Les Darlington, Ronn Thwaites, Mrs H and me, Dan Malin, Tim Pike and Thom Hunt (who flew back from America to attend the dinner).
Everyone was dressed in their finery, and proudly displaying their 'Friend of the Priory' pin badges. Good thing, too, as our surroundings were very impressive. From the oak panelled reception room and bar, sweeping staircase and ballroom, gilded dining room with its polished marble pillars and Parisienne styling, through to the ever-comforting open fires, cigar terrace, and 'sandpit' room containing drawings of famous past members, which served as the reception area for our friends. And this was just the Savile Club.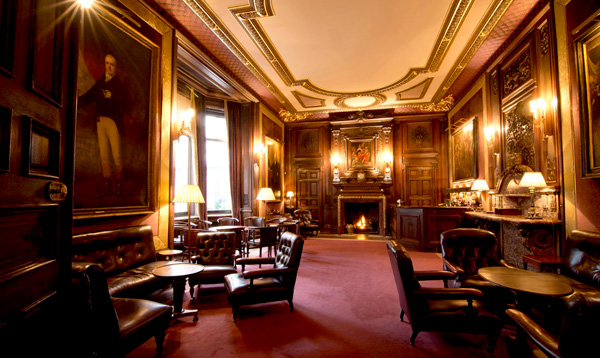 The bar at the Savile Club, where we Friends gathered beside the fire.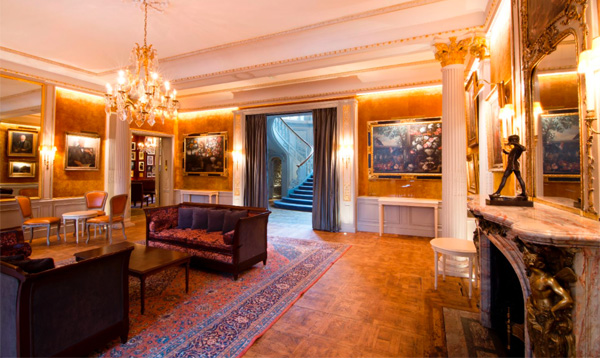 The Drawing Room, where guests mingled prior to acending the sweeping staircase into the ballroom above.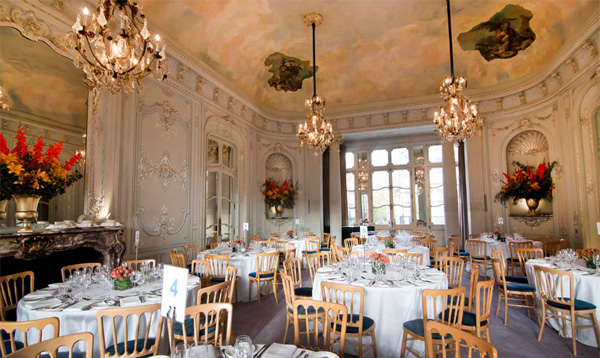 The Savile Club Ballroom. The location for a future Friends dinner?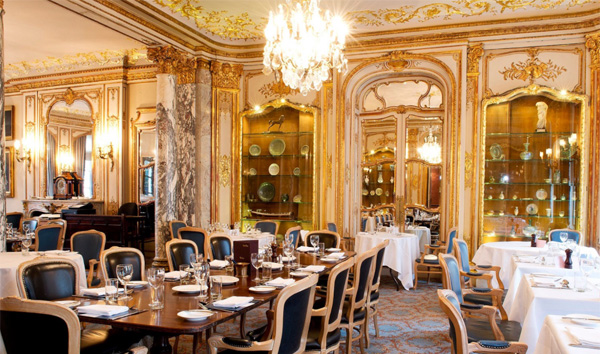 The gilded styling and polished marble pillars of the Savile dining room. It's one of the best examples of Parisienne architecture in Britain.
We friends were in the company of greatness. Past literary members of the Savile Club include J.M. Barrie, Thomas Hardy, Rudyard Kipling, A.A. Milne, J.B. Priestley, Robert Louis Stevenson, H.G. Wells and W.B. Yeats. Ultimately, however, it wasn't about place or heritage; it was about us. The Friends of the Priory. It was a celebration of Friendship, at a time of double anniversary.
Still the greatest thing known only to a select group, the Priory and Fennel's Journal would remain, for the entirety of the evening, our special discovery. For us, by us. And so the Friends gathered at the Savile Club at 5pm, all dressed in their finery, to enjoy drinks at the bar and receive a heartfelt welcome from Mrs H and I. Some also managed a quick tour of the Savile Club, taking in the delights of the ballroom and Club library.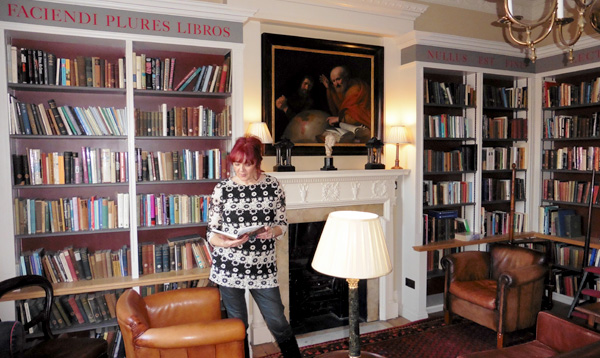 Slavica Haynes enjoys the comforts of the Savile Club library before getting ready for the Priory event.
We headed upstairs to the Flyfishers' at 6.30pm. It was an impressive and inviting 'retreat', a much coveted museum of fly-fishing's most historic artefacts and – with over 3,000 books – one of the world's best fly-fishing libraries. Far more impressive than their modest 'favourite fishing hut' reputation, but much cosier than the grandiose and slightly overwhelming interior downstairs.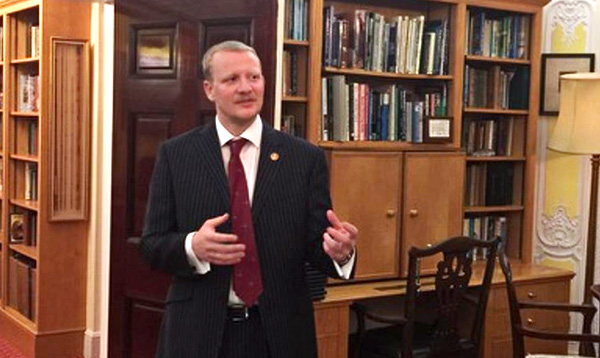 Fennel welcomes the Friends as they arrive at the Flyfishers' Club.
We were greeted by Marcella our hostess and her staff, who served canapés and drinks while we pored over the museum of artefacts (such as Izaak Walton's creel, rods owned by Halford and Skues, flies tied by their creators – such as President Eisenhower, Richard Walker, John Goddard, and Canon Greenwell – Cooper cased fish, fine paintings, and historic tackle) and 'authors own' signed copies of the best fly-fishing books ever published, many of which were leather-bound volumes).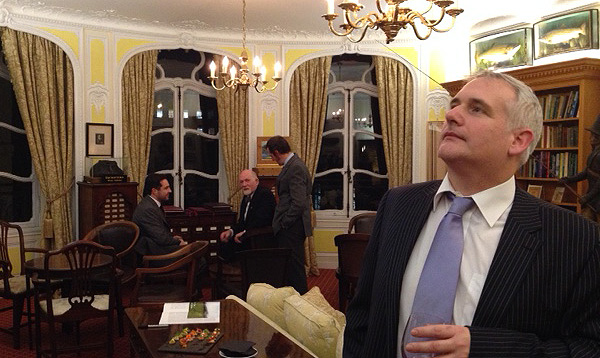 Andy Roberts marvels at the cased fish on display; while Tim Pike, John Summers and Dan Malin inspect Frederick Halford's entemology collection. Izaak Walton's creel can be seen on the left of the centre window.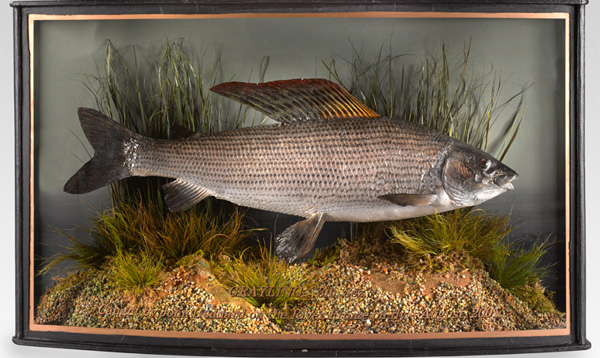 The 3lb grayling that caught Andy's attention.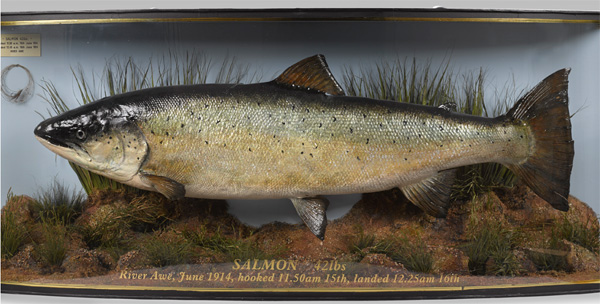 A 42lb salmon, which took over 12 hours to land, proudly displayed in the Club library. A relic of a grand time before the outbreak of war in Europe.
Past members of the Flyfishers' include its founders F.M. Halford, William Senior and R.G. Marston, also Lord Grey of Falloden, G.E.M. Skues, Francis Francis, H.T. Sheringham, Arthur Ransome, Eric Taverner, Hugh Falkus, Donald Overfield, Fred Buller, Richard Walker, Peter Lapsley and John Goddard. (Current literary members of the Flyfishers' include Brian Clarke, Neil Paterson, Andrew Herd, Charles Jardine, Tom Fort, Theo Pike, Tony Hayter, John Knott, David Beazley…and me!) It was reassuring to know that a bust of Francis Francis (known for his fine eating while fishing) watched down over us during the evening.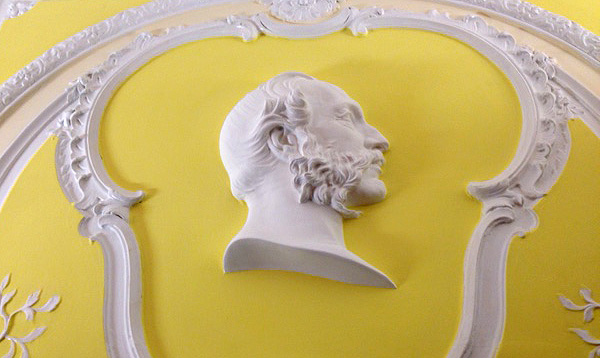 The bust of Francis Francis watched over us. That's a fine moustache!
The three-course fine dining menu was served from 7.30pm. The starter was apple-wood smoked fillet of wild salmon, with broccoli and almond veloute and salted ladies' fingers. Main course was smoked fillet of beef, with potato fondant, buttered spinach, fricassee of wild mushrooms, and baby carrots. Dessert was warm chocolate and hazelnut torte, with winter spiced cream and lemon balm garnish.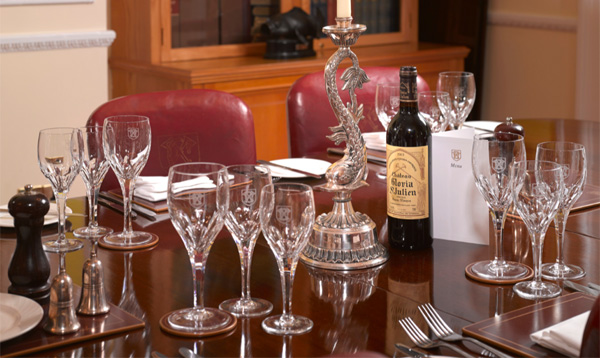 The table was laid ready for us at the Flyfishers' Club. Note the FFC emblems on the wine glasses. Nice touch!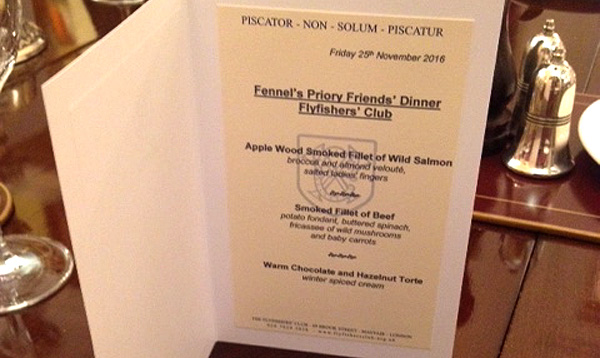 Fine dining, in the finest of company.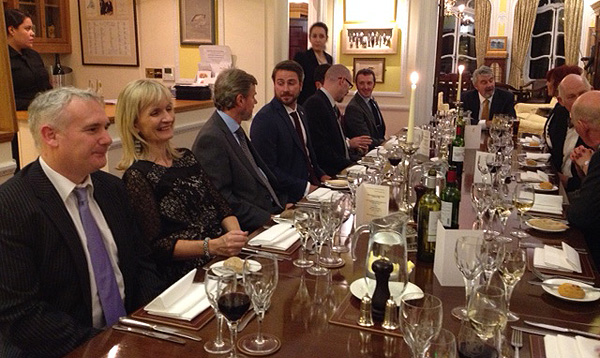 Left to right: Andy Roberts, Janette Roberts, Les Darlington, Thom Hunt, Ronn Thwaites, Dan Malin, John Haynes, Slavica Haynes, John Summers, Spencer Simmonds.
We finished the meal at 10pm, then spent a leisurely half-hour chatting and studying the Club's treasures.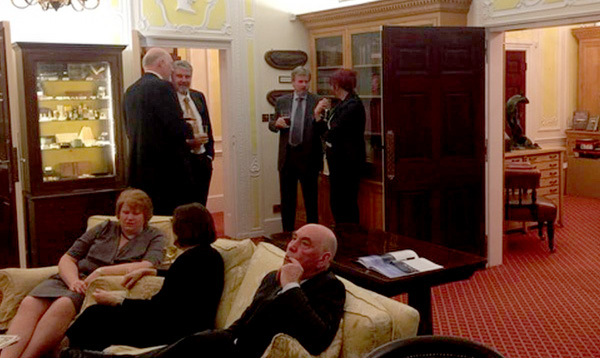 The Friends relax after their dinner.
Those of us who contributed chapters to Friendship then signed copies of the Journal, before we all headed down to the Savile Club for whisky nightcaps. Sitting beside the fire, we talked of out adventures and made plans for next year. Those who had to catch trains home left at 11pm, while those staying at the Club remained in the bar until the early hours.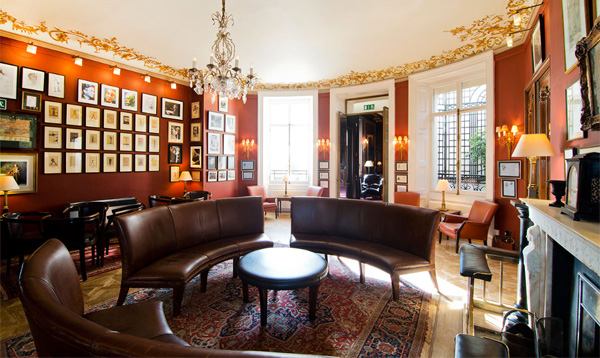 The Sand Pit, where we retired after the dinner.
Conversation flowed from the beginning of the evening to the end, a true sign of shared interest and most delightful given that most of the Friends had not previously met. It was encouraging to see so many smiles, hear so much laughter, and feel so much happiness in the room.
We talked of our adventures to date, especially how the Friends were responsible for helping the BBC bring 'The Big Fish' to our TV screens, how we helped Angling Times to celebrate its 60th Anniversary, and how we marked Redmire Pool's 80th Anniversary with a special fishing trip. 
But we also noted how the Priory has long-since grown beyond the world of angling, and now represents our much broader rural lifestyle interests. This was reflected in our discussions and ideas for future events, which talked of Victorian sporting lodges, birdwatching in Northumbria, punting in Cambridge, moorland and coastal walks in Cornwall, whisky tours of Scotland and leisurely times in Ireland.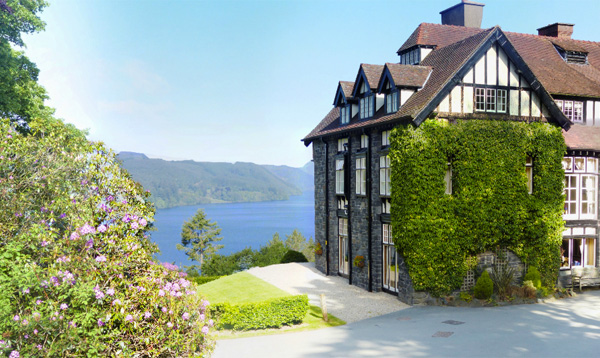 Lake Vyrnwy Hotel in Wales – a potential venue for next year's Friends dinner and sporting weekend.
Our coming together, to experience life's adventures, was what appealed most. Queue Mrs H and I pulling together a list of potential events, and realising that our current achievements are only the beginning of a much bigger Priory world – for everyone.
And, of course, there were endless requests for updates about my writing and broadcasting activities. With me having gone so quiet for the past two years, it was understandable that our friends wondered what I'm working on. I responded by giving them advance viewing of this website, introducing them to the 'extended and themed' book versions of the Journal, and a sneak peek of the 'Fennel on Friday' weekly blog, videos and podcast. I've been a busy chap, on the quiet.
The Friends are great at helping to sustain and evolve the Priory. I was asked and encouraged to think about extra things for the Priory Shop, such as different collectable versions of the Friends pin badge, a Priory tea blend, a custom Priory tweed, gift cards and limited edition prints bearning my best-loved quotes, plus Priory ink and writing journals. Loads of ideas that made my head buzz with excitement. 
With so much life in the room, this year's Fennel's Priory dinner was a true celebration of friendship. But it didn't feel like an anniversary dinner, 'celebrating what was'; rather it was focused on what is to come. We agreed therefore that 2017 will be the celebration year: the 21st Anniversary and 'coming of age' of Fennel's Priory – where I will push our message to a wider audience. The Friends, I'm pleased to say, would not have it any other way. But on that special night in November, it was just us: 15 friends who've supported Fennel's Journal from the beginning, who share its values and the Priory philosophy, enjoying a mightily fine meal together.
I'm so proud to be part of the Priory, none more so than when I'm with Friends.
---
To stay updated with the work of lifestyle and countryside author Fennel Hudson, then please subscribe to Fennel on Friday. You'll receive a blog, video or podcast sent direct to your email inbox in time for the weekend.