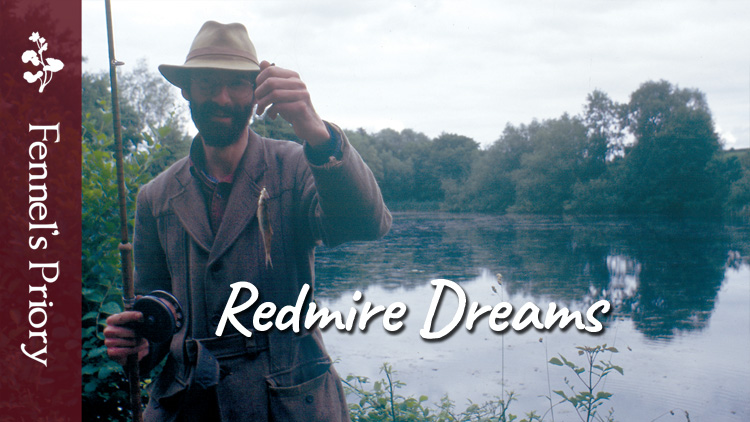 Redmire Pool, Fishing for Dreams
Last week I recorded a video about how I'd secured the most historic carp water in Britain. People thought I was joking when I revealed that I'd 'only' bought a jam jar's worth of Redmire water. But I had secured its magic, at least some of it. And in doing so I was able to share it with 20 friends, writing letters to them (which you can read here) using ink made from that special water.
But, Redmire Pool being what it is, the water could be so much more...
Redmire's history proves that you don't need a big water to grow something special. By selecting the right strain of fish, and limiting anglers to one rod each while fishing the water on a strict rota system, it 'could' be possible to turn my jam jar of Redmire water into a viable fishery.
Think about it: we could create a 'Roving Redmire' that could be sent via courier from syndicate member to syndicate member, allowing them to fish it from the comfort of their living room. Sure, there wouldn't be much mystery, but one can always dream.
It's all about dreams
My shock in seeing the new format Angling Times, and discovering that Redmire is up for sale, may have obscured last week's underlying message: that both Angling Times and Redmire are vessels for our dreams.
It doesn't matter that Angling Times is no longer a newspaper (the new format is a good move that will benefit its circulation) or that Redmire Pool no longer contains record carp. It's what they represent that counts. They inspire us to follow our dreams – be they in search of specimen fish, or large catches, or to follow in the footsteps of our heroes. 
So, just like that jam jar of water and the ink I was able to make from it, the medium carries a promise: that, when inspired, we are encouraged to pursue our dreams.
The most important dreams are those of a child. They shape future lives. When I was a child, I dreamed of fishing at Redmire. It was a dream that became real, in dramatic and life-changing fashion.
Dreaming of Redmire Pool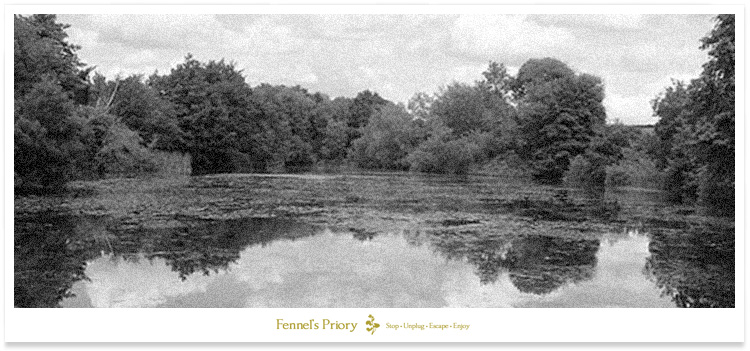 Redmire Pool as viewed from the dam. It's grown more large carp than any other water its size.
Any carp angler with a hint of sentimentality will know the name 'Redmire Pool'. It's the birthplace of modern carp angling, having produced three consecutive record carp.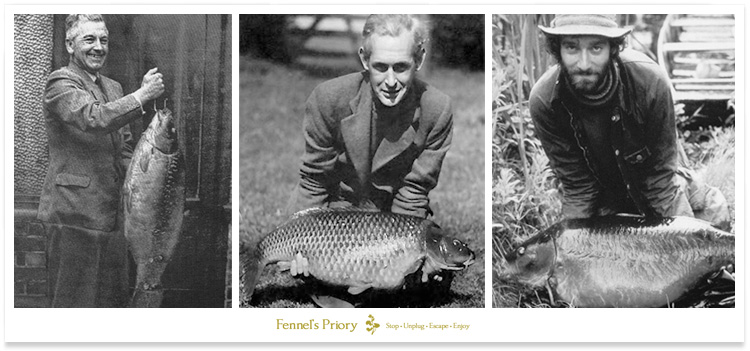 Redmire Pool's three record carp: Bob Richards with his 31lb 4oz mirror, Richard Walker with his 44lb common, and Chris Yates with his 51lb 8oz mirror.
There was the 31lb 4oz mirror carp caught by Bob Richards in October 1951, which brought the three-acre lake in Herefordshire to the attention of 'those in the know'. Then there was Richard Walker's hugely famous common carp of 44lb caught in 1952, that proved his theory that is possible to catch big carp by design. And then there was Chris Yates' 51lb 8oz mirror carp caught in 1980. 
Chris held the record until June 1995, so that's 43 years when Redmire Pool reigned supreme. And it would have been a great deal longer, and possibly still so today, if the biggest fish in Redmire – reputedly 'as big as a man' – had been caught.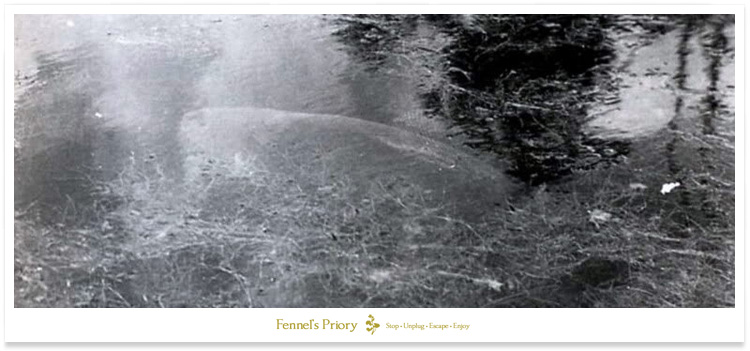 The King of Redmire Pool, a fish 'as big as a man' that was reputed to weigh as much as 100lb.
As the monarch of all carp waters, Redmire Pool is the original, best, and most mentally challenging carp lake imaginable. Such status. Such huge fish. Such 'presence'. All from a pond that looks barely large enough to house a few ducks.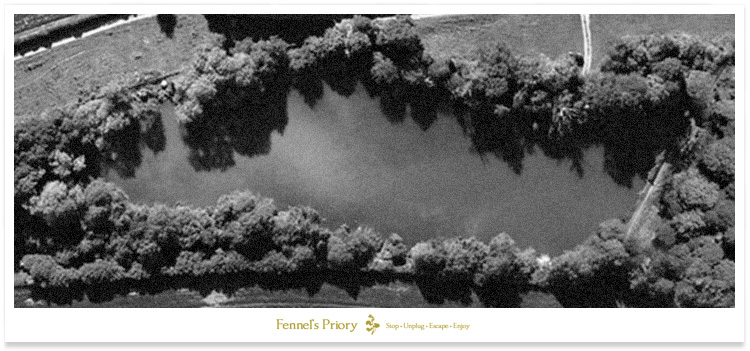 Aerial view of Redmire Pool. At just three acres, and with depths no greater than 12ft, it's staggering that so many huge carp could have lived there and avoided capture.
But Redmire is rich. Very, very rich. Rich in aquatic life, rich in weed and strain of carp (they were stocked in 1934, having been imported from Europe from a fish farm that had selected them for their high growth potential). It's also rich in ambiance and atmosphere.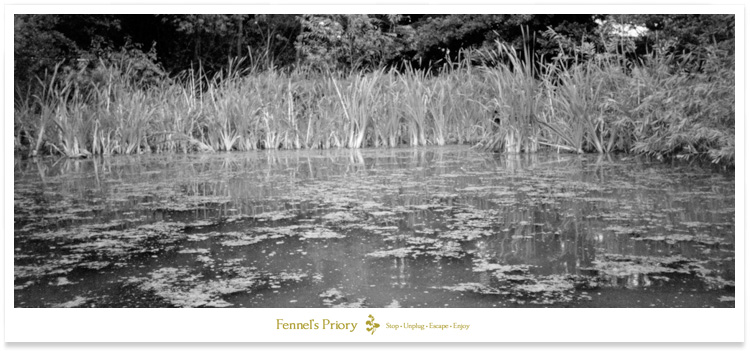 The weed at Redmire Pool – it's such a rich environment for growing big carp
Bold in its modest appearance, it looks unassuming. But this hides a fearsome opponent.
Redmire Pool in the 1950s: the classic years when it was fished by the Carp Catchers' Club. Note the wooden rail along the dam: it's one of carp fishing's most iconic images.
Redmire Pool has the ability to strip anglers of their confidence. Smug grins don't last long at Redmire, unless you're fortunate enough to land one of its carp or visit there with no urgency to catch. If it welcomes you, great; but it's just as likely to reduce you to insignificance if you fail in your quest. Such is its reputation.
Redmire a beautiful, gentle seductress; and badass, bruising siren. Fish there in hope, wish for mercy, cherish everything, and pray she likes you.
Golden dreams
Back in 1989, when I was 15 years old, I was a pupil at the High Park Secondary School in the Black Country area of Birmingham. I was in love with literature, art, gardening and fly fishing. A classic dreamer, mine was a world of romantic poets, landscape artists, spring blossoms and angling ideals. My head was in the clouds, and my body would seek to follow – especially into the cloudy mountaintops of Wales where I would find freedom while fishing for trout.
My school physics teacher, Mr Hackney, learned of my love of fishing. He too was an angler, so he lent me two fishing books: Confessions of a Carp Fisher by BB, and Casting at the Sun by Chris Yates. These two books – which are probably the best books ever written about carp fishing – completely transformed my angling.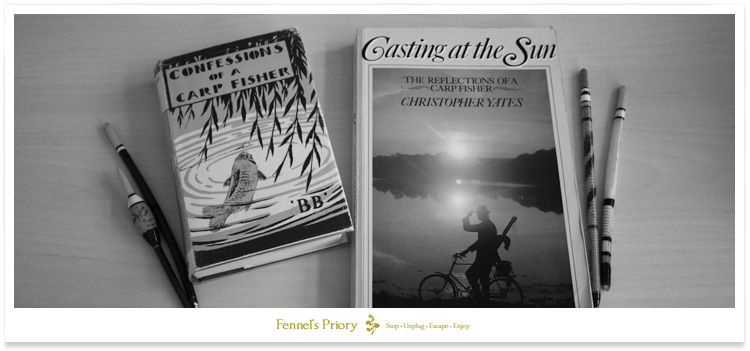 Confessions of a Carp Fisher by BB, and Casting at the Sun by Chris Yates. The best books ever written about carp fishing.
Mr Hackney's gift was truly life-changing. He could have lent me a book on fly fishing, or a carp book by Tim Paisley or John Bailey (the prolific authors of the time) but he didn't. He lent me books that principally captured the atmosphere and romance of carp angling: the perfect way to inspire a boy who would normally be found reading Keats, Wordsworth, Coleridge or Milton.
The discovery of carp and 'carp hunting' proved bedazzling. It outshone all other interests, all other fish. Suddenly my teenage world took on a golden hue and every dream contained carp. From wildies in old ponds and moats, to monster carp in elite waters, I yearned to find and connect with these magical creatures. All thanks to a brilliant and generous teacher. If it wasn't for him, I wouldn't have gone in search of my dreams. I wouldn't have met like-minded enthusiasts. I wouldn't have become known as Fennel. Fennel's Priory wouldn't have been born and you wouldn't be reading these words.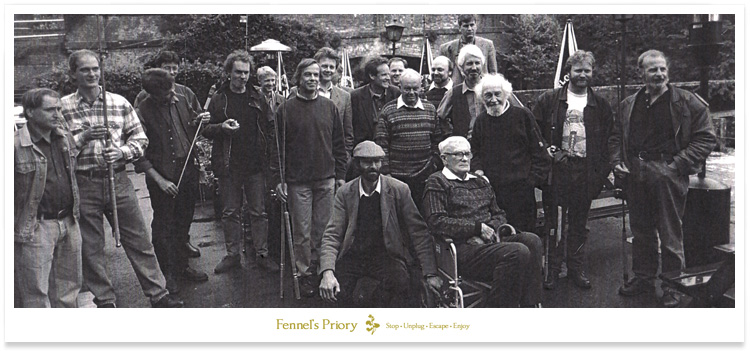 The Golden Scale Club AGM, 1996. That's me at the back, standing in awe of carp angling legends Mike Winter, Chris Yates, Gerry Berth-Jones, Maurice Ingham and Bernard Venables. If I hadn't read Confessions and Casting, I wouldn't have been there.
Carp atmosphere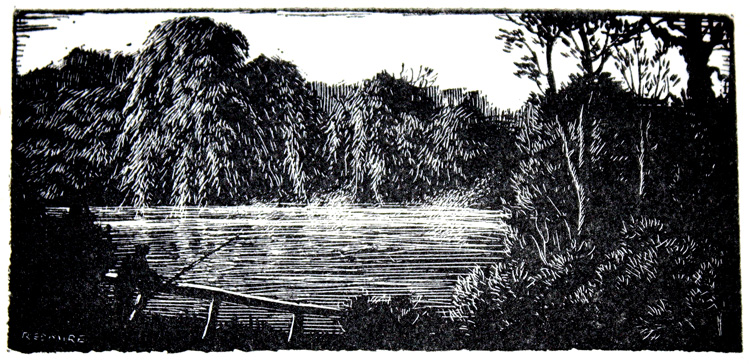 Scraperboard illustration of Redmire Pool by Denys Watkins-Pitchford (BB), as featured in Confessions of a Carp Fisher.
In Confessions, BB says: 
"This book is for those who know the hush of a summer night, when every bush, reed, and tree takes on a watchful shadow; when the mist wreathes across the black mirror of the pool, and only the owls, rats, and foxes are awake…No nervous individual should ever go after the giant carp, no sufferer from a weak heart should risk it. For if that glimmering float does disappear, or that floating flake suddenly gyrates as in a whirlpool and vanishes, then only great skill and nerves of steel will ever bring a triumphant conclusion to the long-drawn-out battle in the dark. But win or lose, should this happen to you, you will be a changed man." 
In Casting, Chris Yates says: 
"Creatures from another world, then, didn't just reputedly haunt the water, like a tale in any boys book of adventure, they actually haunted it and, what is more, is was possible to connect with them."
But when it came to Redmire Pool, both authors spoke in awe of the pool and the angling challenge.
BB's now infamous lines read:
"In the heat of noonday I have cruised in a punt upon the surface of that small fathomless pool and looked down among waving weed cables at broad netted backs stirring there in those mysterious depths. I have looked and marvelled and been made to feel that no skill or patience on my part will ever bring such cunning monsters to the bank."
And Chris Yates wrote:
"Redmire Pool was the inner sanctum of the carp-fisher's credo. It was the place where our high priests had their visions and performed their miracles. Fabulous creatures dwelt in its depths. It was a place that out-monstered Loch Ness…I had been thinking of my first official visit to Redmire in much the same light as a village cricketer thinks of Lords: he dreams about wielding a bat at a Test match, but never believes it will actually happen. But what if it does happen? What if he suddenly finds himself setting out from the Lords pavilion, bat in hand? The pitch is in view and as he approaches he thinks, 'You old phoney. Now you're going to get your head bowled off!'"
But Chris is an incredibly good angler with expert watercraft. He eventually connected with the lake's giants, catching a common carp just a few ounces shy of the record and then a mirror carp that finally broke it. He proved that, through belief and persistence, one's dreams can be realised.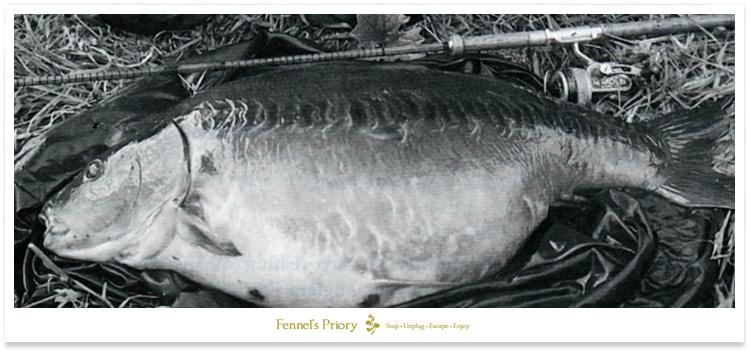 Chris Yates' 51lb 8oz record carp from Redmire Pool. Caught on a soft-actioned MKIV Avon split cane rod, Youngs Ambidex reel loaded with 6lb line, and a freelined size 8 hook holding two kernels of sweetcorn, the fish proves that dreams can be captured in the simplest of ways.
Fishing for an image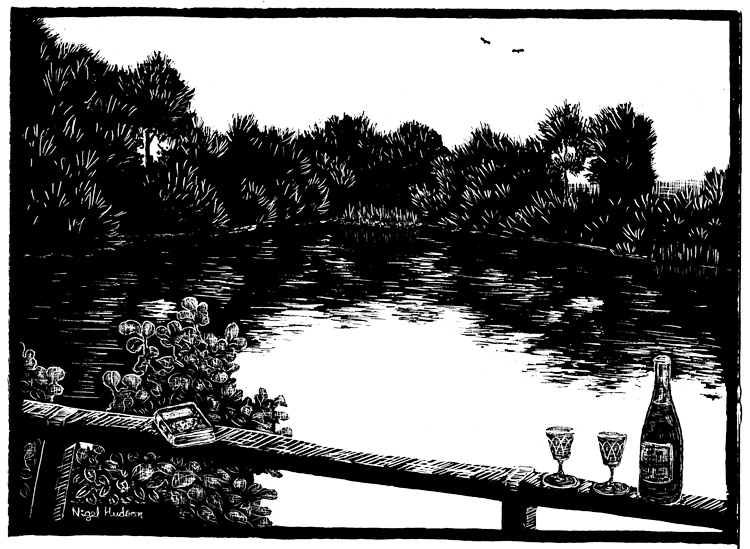 I drew this scraperboard of Redmire Pool while dreaming of fishing there some day. BB's writing and artwork had a massive influence on me.
Many people read Casting as a 'hunt for the monster' story, much in the same way that they might read Moby Dick. But not me. I was mesmerised by the imagery of lost pools and mysterious fish. And I was pleased to discover that Chris views it like this, too. In the final chapter of Casting he says, "After more than a quarter of a century I've suddenly realised that I'm not fishing for a fish that's a biological parcel of bones, tissues, blood, fluids, muscles, nerves and flesh: I'm fishing for an image."
It's the image, the magic, the adventure, the mystery, that compels us. It compelled me to drop my fly rod and go in search of carp.
Chris Yates and BB made the quest for one's angling ideals seem real: that undiscovered record-breaking fish still lurked in some forgotten pool and – through careful planning and wishing – that they could be caught. Their words made the impossible seem possible, and the unknown seem even more mysterious and alluring. Experts in capturing the atmosphere of carp fishing, they wooed us with the ultimate romance: that we, by the simple act of believing, could recreate their adventures.
And, of course, this was a time (in the late 80s) when Redmire Pool was still the record-holding water. It was the ultimate water. The most desirable. The benchmark by which all other pools, and all other carp, would be judged.
Redmire quest
The true excitement of Redmire Pool lies in its mystery and secrets. How excited the Carp Catchers' Club must have been to do the pioneering fishing there in the early 1950s? Theirs was a time of discovery: of Redmire's fish and a new form of specimen angling – pushing the boundaries of belief to redefine the art of the possible. They were the wizards and dream catchers, whose spells enchant us today.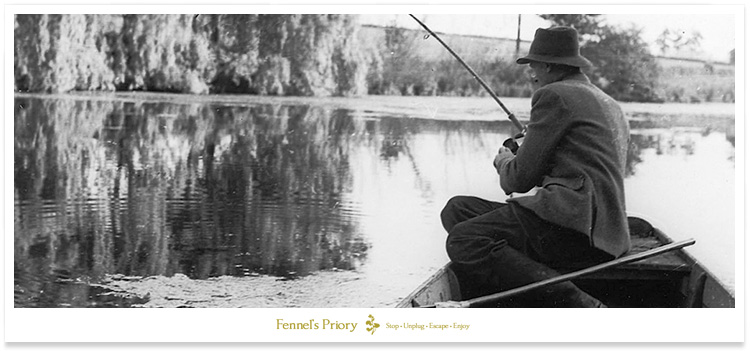 Richard Walker playing a 34lb carp from Redmire's punt. This was a time of pioneering – not just at Redmire, but in carp fishing.
This is what I sought. I wanted to be a pioneer, discovering new waters and unlocking their secrets. But ultimately I just wanted to catch 'a carp'.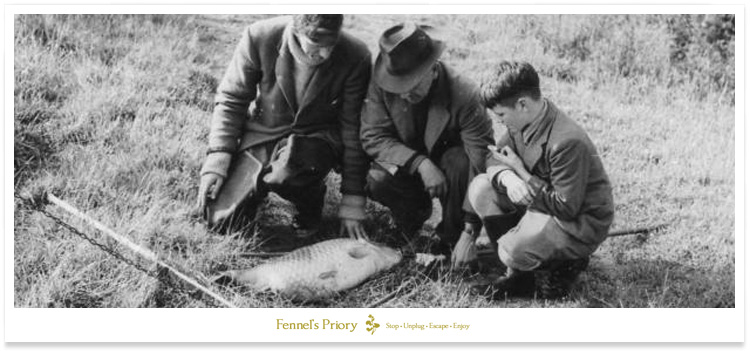 Richard Walker and Pete Thomas from the Carp Catchers' Club marvelling at an early success from Redmire. Their catches inspired a generation of anglers.
I'd never caught a carp, so I needed to find a water that contained one. I needed the tackle with which to catch it, and a great deal of self-belief to attempt the seemingly impossible. I found my grandfather's coarse fishing kit from the garage and went in search of my dreams.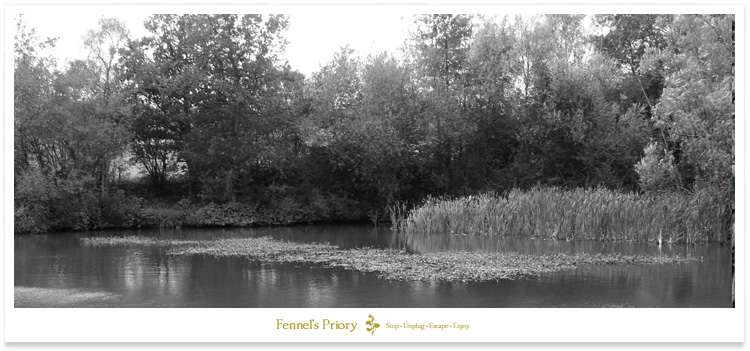 The Cottage Pool, a two-acre lake near to my childhood home. It was here that I made my first casts for carp.
The search led me to discover some lovely local ponds, that contained small feral carp – and a great number of skimmer bream.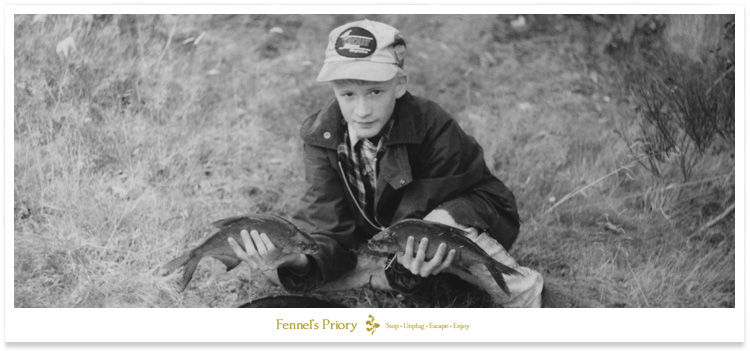 Fifteen years old and catching something other than trout for the first time. But, they weren't the wild carp I was after.
After catching several hundred bream (all of which I returned to the lake), I finally hooked a carp. I was float fishing sweetcorn close to a weedbed; the float wobbled and glided slowly to the right. I struck, and the fish surged forward – lifting the weedbed in a dramatic bulge of water. The reel handle spun as the fish surged towards open water. I foolishly clamped down on the reel. The line hissed through the water, rising upwards. The carp rolled on the surface, the rod kicked, and then everything fell slack. The 6lb line had snapped.
This was to be my fate for a whole season. I just didn't know how to play a big fish. Having mostly caught 1lb brown trout, the fierce pull of a comparatively 'huge' carp was terrifying.
1990 arrived and, still catching bream, I eventually learned that if a fish is running towards open water, then it's best to let it run and tire itself out. Also that the rod could be used as a shock absorber to 'pump' the fish back in again when the appropriate time came.
Catching the impossible
I caught my first carp – a 5lb wildie – one morning in high summer. It was the result of twelve months of failed attempts, and a dogged belief that carp 'could' be caught. The fish was beautiful. My 'first'. The one I will always remember...
And then, one evening that autumn, I caught a double-figure carp. It seemed enormous. Twice the size of anything I'd previously caught. And it fought so hard and for so long. I remember netting it and shaking so much, and being so drained of energy, that I struggled to hold the weighing scales still enough to get an accurate reading. But when the scales settled on 10lb 4oz, so did my nerves. I felt like I was a proper carp fisher.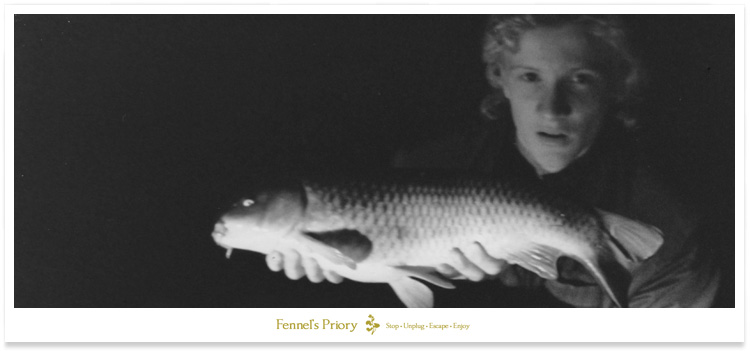 My first specimen wild carp – it would remain my biggest fish until I visited Redmire four years later...
Catching wildies led to me becoming obsessed with wild carp. I began a 20-year quest to discover the ultimate wild carp water (chronicled in Wild Carp, Fennel's Journal No. 4). But while all this was going on, I was still dreaming of Redmire and the king carp that, to quote Arthur Ransome, gave a man "a strange look in his eyes".
Farewell to BB
1990 was the same year that I left school, when I said goodbye to the physics teacher who'd inspired me. It was also when I learned of the death of 'BB'. The news of his demise was reported in the angling press, and it made me feel like I'd lost the mentor I'd never met but known so well. Such was the direct connection I'd made with him through Confessions.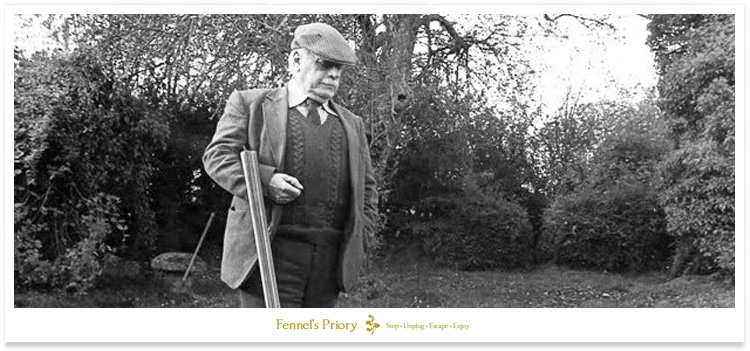 Denys Watkins-Pitchford, also known as 'BB', was the archetypal countryman. His books are must-read classics.
Strange, but I'd never properly appreciated BB's age (that he was 69 years my senior) or that Confessions had been published 24 years before my birth. To me, BB's stories and influence were 'immediate' and 'of my time'. Knowing that time had moved on, and that I was seemingly alone in my special discovery of carp, quickened me. I had to find others with my passion.
The carp record holder
The angling news also reported that my other hero – Chris Yates – had recently filmed a carp video at Redmire Pool, and that it might form part of a new TV series.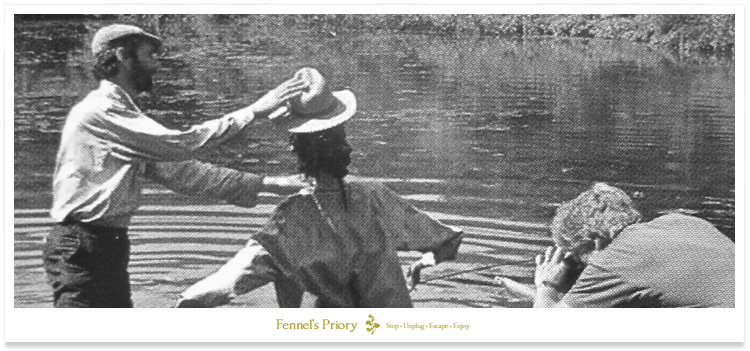 Chris Yates and Hugh Miles filming 'A Passion for Angling' at Redmire Pool
Reading once again about Redmire encouraged me to make contact with Chris. I wrote to him via Improve Your Coarse Fishing magazine (in which he wrote a monthly article) and, about 12 months later, I got a reply. It led to regular correspondence, mostly about nature and writing. And then, in 1993, Chris encouraged me to fish at Redmire.
Chris wrote to me, informing me that The Carp Society had secured the fishing rights, so any member could fish Redmire Pool if they were lucky enough to secure a booking during the annual 'telephone free for all'.
I joined the society, attended the annual conference with Chris, got the phone number of Les Bamford who controlled the bookings, and on the allotted day in February 1993, started dialling. Each time I was met with the dreaded engaged tone. I tried for a whole day, dialling and redialling, but was unable to get through. 
I would have to wait another year to try again. Or would I?
An unofficial visit to Redmire Pool
Undeterred by failure, and wild carp pioneer that I was, I decided to visit Redmire anyway. A sneaky visit, with no fishing rod, while no-one was looking…
I persuaded my brother-in-law to join me. He's an angler, was equally enamoured with Redmire Pool, and…had a car. He's also much bigger than me, so could protect me should anyone take a dislike to our presence.
We visited during a warm evening in July 1993. We parked the car a mile from the lake and walked across farm fields until we could see the water. Our plan was just to glimpse it and then walk away. But upon seeing it there, so peaceful and hypnotic in the distance, we just had to get closer. And as we walked further, we knew we had to actually touch the water.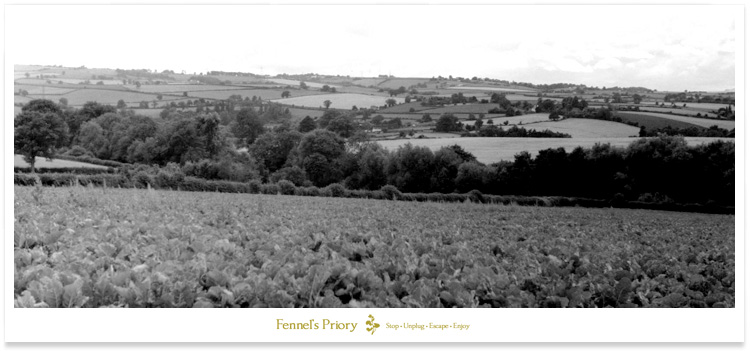 First glimpse of water. Redmire Pool's down there in that valley, just beyond the turnip field.
We arrived at the top end of the pool, near to the Greenbanks swim. The sun was setting and this area of the lake was bathed in amber sunlight. With the rays warming our faces, we sat quietly and discreetly beside the lake. We were there. At Redmire Pool.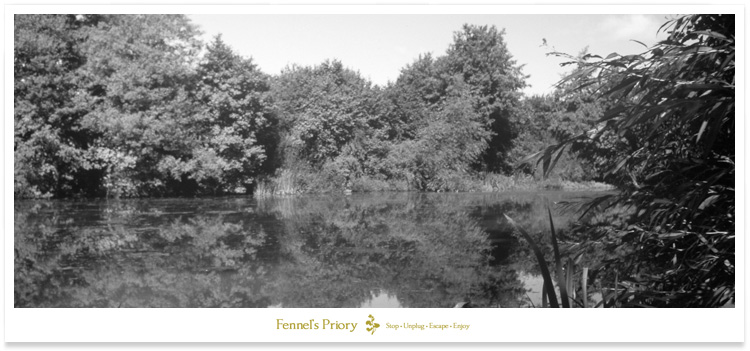 Our view of Redmire as we sat relaxing in the evening sun.
The whole experience was enchanting. Redmire was magnificent. So calm, so clear, so lush and filled with weed. And, oh carp gods on high, so many carp. So many big carp. All cruising about the shallows and close to the surface. Bow waving, leaping, churning up the bottom, almost waving to us.
It was like no carp pond we'd ever visited. The fish were twice the size of anything we'd encountered, and yet they were obviously 'just' carp – exhibiting all the carp behaviours we were familiar with. Legendary fish, they looked so…catchable!
But, alas, we hadn't brought a rod – being terrified of getting caught ourselves. So we took a slow walk around the pool, bypassing the anglers dozing in their bivvies, taking our photographs as we went. We captured everything in black and white photos and on cine-film.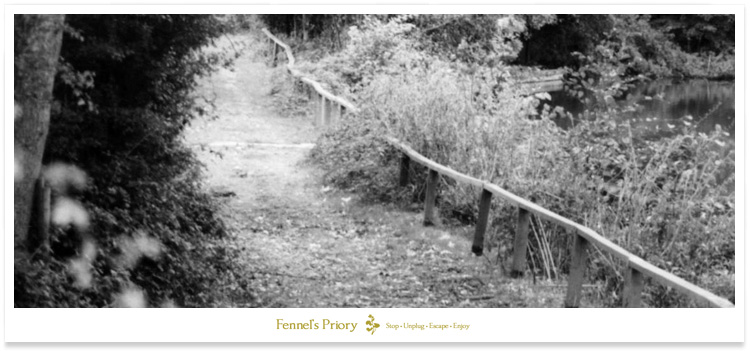 First glimpse of the famous Redmire Pool dam rail.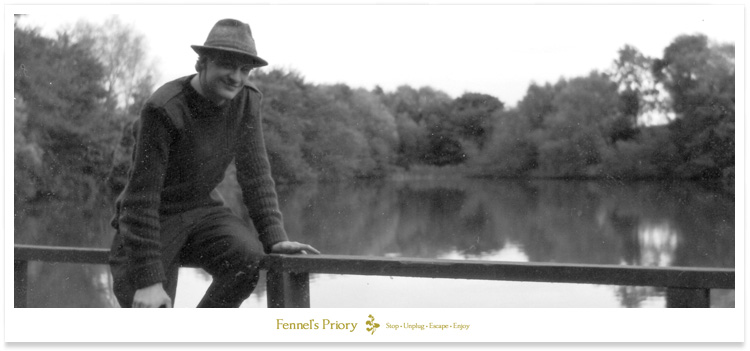 'Finally there', sitting on the dam rail at Redmire Pool.
In all, we were at Redmire for an hour or so. Eventually we withdrew and walked in a dazed state back to the car, marvelling at the red soil that was sticking to our boots. We promised ourselves that we would fish there.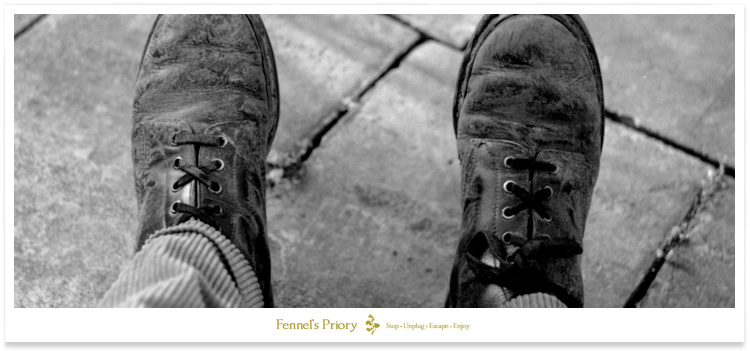 Authentic Redmire mud. How could I possibly clean my boots for college? Oh, the benefits of being an art student...
Redmire Pool was the the ultimate dream – in reputation and presence. It was our vision of perfection. Fishing there would be a dream come true.
Redmire secured
1994 arrived and with it another opportunity to book the fishing at Redmire. On the allocated day, my brother-in-law and I both phoned, each facing the agonising engaged tone before redialling again.
After four hours of ringing, my brother-in-law got through. Les Bamford informed him that there was a weekend available – from the 23-25th September – so he booked it straight away. Five years of hoping, and we'd done it. We were going to fish at Redmire!
Guidance from the master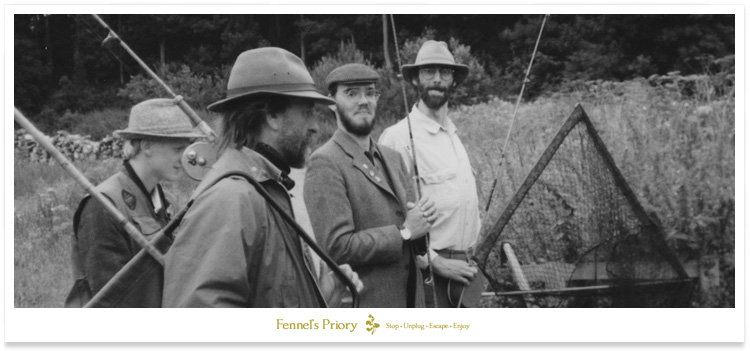 I first fished with Chris Yates in 1993. Here we are at Jade Lake, with Demus Canning in the foreground and my brother-in-law striking a pose next to Chris.
I wrote to Chris, telling him the good news. He invited me over to his house, for a chat about carp fishing at Redmire Pool. We met and, over a cup of Ceylon Orange Pekoe tea, talked fondly about Redmire. Chris explained that when he filmed there with Hugh Miles, he'd noticed how spooky and 'line shy' the carp had become. "Slack lines are required," he said. "You can almost see the carp hunching up their shoulders in fear as they 'tip-toe' past an angler's rods. I hear that braided hooklinks work, too, but there's no need for hair rigs, no matter how 'riggy' the carp may seem. It's mostly about fishing simply and doing things differently to everyone else." 
Chris continued, "Always follow the wind at Redmire, especially a new, warm, 'big' wind. The carp will follow it too. And use natural baits. A worm resting gently upon the weed will work, hempseed's good, but curried red maggots are the best by far as hardly anyone uses them there. Don't skimp on the curry powder – a whole tub of madras in two or three pints of maggots is about right – but don't over-bait. Every angler who visits Redmire feels compelled to bait up their swim, when really the bottom is littered with bait. Far better to find your fish and cast to it."
"What about tackle?" I enquired, explaining that I only had a 9ft split cane stalking rod and a 10ft fibreglass carp rod. "You'll be fine with those," replied Chris. "A mobile approach will favour your stalking rod, but two rods will double your chances if you stay put. Though remember: it's not about the odds, it's about being receptive to the signs when Redmire reveals them to you." 
Chris assured me that the use of 'non-cane' rods at Redmire was okay. "I used to have a pinkish-coloured fibreglass rod that I used at Redmire. 11ft if I remember correctly. Sadly it broke when I used it to rod the drains…" 
Chris's advice seemed so straightforward, so reassuring, so helpful. Simplicity and watercraft were the ways to unlock the secrets (if not the toilet) and overcome the sense of intimidation one feels when fishing at Redmire.
"But I only have a weekend," I said, "how do I position my rods discretely?"
"Eh?' replied Chris, half wondering whether I'd painted them bright yellow.
I clarified: "BB advises that, when visiting a new carp water, one should inch one's fishing rod over the edge of the water over several days, so to make the carp think that it was merely a bramble growing at the water's edge. I've been doing this for the past five years."
'Oh, don't worry about that," said Chris, "Things grow quickly at Redmire. Give it an hour, maybe two, and you'll be fine to cast in." He then winked at me and poured another cup of tea.
First fish
Friday 23rd September 1994 arrived and with it a storm of fierce proportions. Overcast skies were darkening by the hour and, by the time my brother-in-law and I arrived at Redmire, rain was falling heavily. The wind, which Chris had instructed me to follow, was hacking into the dam. Waves were crashing into the dam's walls and spray was flying into the air. The trees next to the lakeside carpark were creaking, and we wondered whether we'd be better leaving the car in the field away from the lake.
But we kept our gaze on the lake, where carp were leaping everywhere. We'd never seen so much fish activity (and I've have never seen so many carp visible at Redmire since). There were carp jumping every twenty yards, all across the lake but especially off the dam.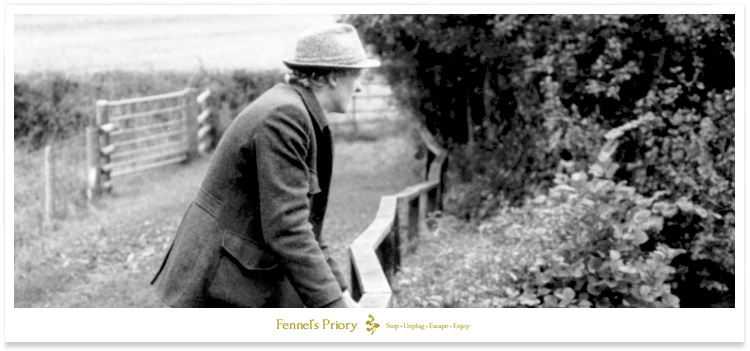 Marvelling at the number of carp crashing at Redmire. They were leaping just ten feet out from the bank.
Two other anglers were present, the appropriately-named John Gill and Mark Fisher, both from Hayes in Middlesex. They'd set up camp in Pitchfords and the Stumps swims, so my brother-in-law opted to fish from the Evening Pitch and I followed the wind to the Willow Pitch – the famous swim where Richard Walker caught his record – from where I would cast tight to the dam.
A big carp had leapt just off of the dam, adjacent to an overhanging alder near to the boathouse. I decided to bait this spot with hempseed and maggots. Standing on the Redmire dam, I attempted to catapult the bait to the spot, some ten feet away. But the wind was too strong. 
I could just about reach the area with hempseed, but the maggots kept flying back into my face. So I returned to the Willow Pitch and catapulted the maggots high up into the air in front of me and let the wind carry them to the baited area.
In typically inexperienced fashion (but classically relaxed fashion for me), I then decided to leave the free offerings to 'do their thing' while I set up camp. And, once my tent was erected, I went off to explore the lake and 'adjust' myself to its mood. Chris had said 1-2 hours, so I couldn't possibly cast in yet.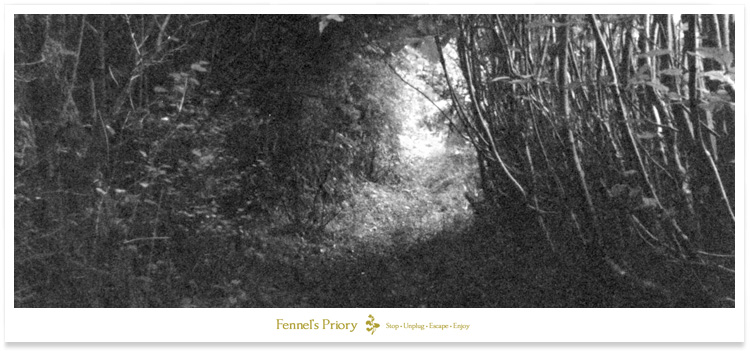 Exploring the Redmire hedgerow, with path lush with green growth. I often think that holloways are like portals through time.
I spent the 'waiting time' collecting blackberries, leaves, and a quart of Redmire water, deciding it would be nice to make Redmire jam from the berries, bookmarks from the leaves, and wine, ink and tea from the water. 
I very nearly forgot that I was meant to be fishing. It was only when John opposite caught a 15lb common that I remembered what I was meant to be doing. I returned to my swim, baited my rods, and cast to the prepared spot. My first cast into Redmire Pool. My...first...cast...into...Redmire! I kept saying the words over and over, trying to comprehend the significance of the moment.
And then I waited.
I waited all night, and a good time into the following morning, without any activity. I didn't recast or rebait, as I was content to be sitting in my tent reading Confessions and drinking claret.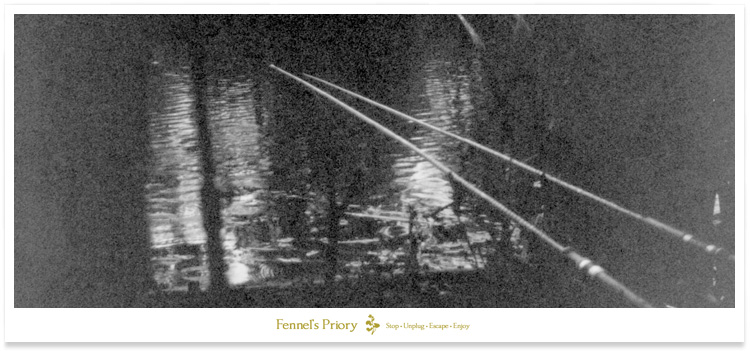 The view from my tent. Watching over the rods. Would it be the cane rod or fibreglass rod that would go first?
And then I noticed something. My right hand rod was bouncing in the rest and the silver foil indicator had disappeared. And then the reel handle began to spin.
I leapt up, spilling wine everywhere, and dashed to the rod. The line was cutting through the water, 'zipping' away from the dam. I picked up the rod, leant into the fish, and felt a kick that jarred me to my boots. It felt like nothing I'd hooked before.
The fish – obviously a carp – thumped hard on the line and then circled slowly in front of me, sending up great fizzes of bubbles as it made its way to the middle of the lake.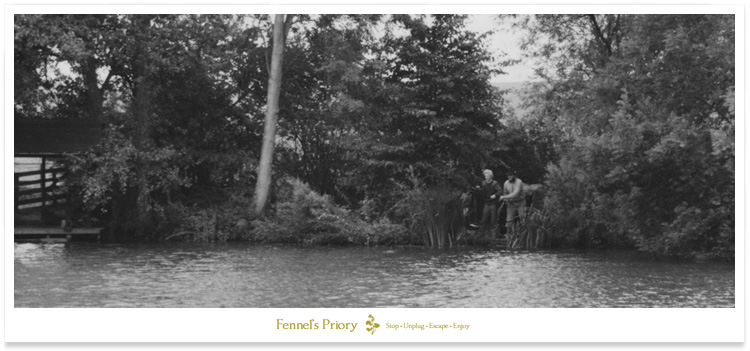 The carp ploughs hard and deep into the centre of Redmire Pool.
The Redmire weed was already in its autumn decay, so it gave way as I pulled the carp towards me. The fibreglass rod coped with the carp's lunges and, after an adrenaline-blurred age, I was able to coax the fish towards me – just in time for my brother-in-law to arrive with the net.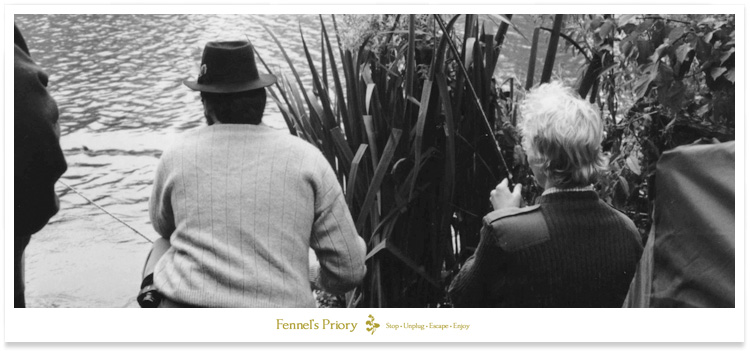 My brother-in-law arrives just in time to land my first fish from Redmire Pool.
And there it was: my first Redmire Pool carp, caught on my first cast into the legendary pool.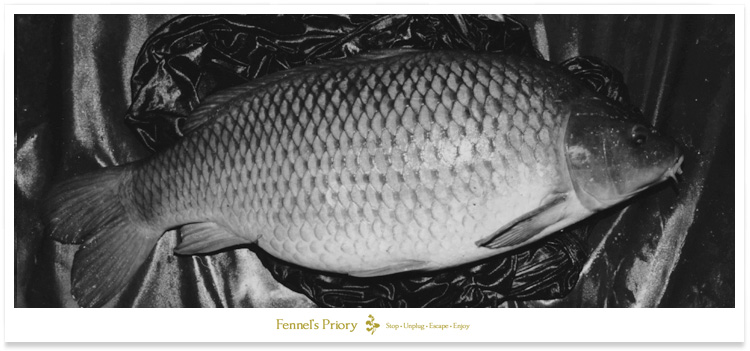 Safely on the bank. Twice the size of anything I'd caught before, and my first king carp.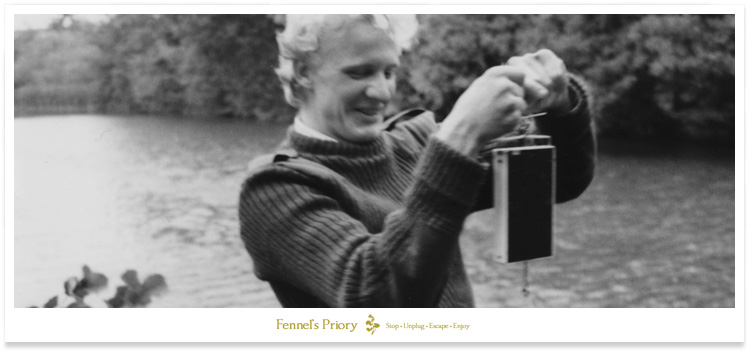 Struggling to lift the scales to weigh my first Redmire carp. How much would it weigh?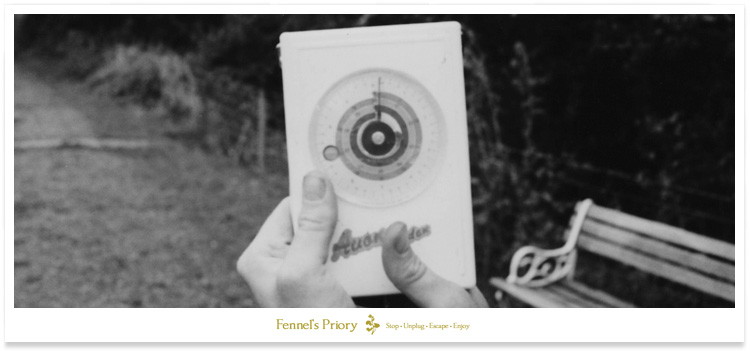 With Mark steadying the scales, we were able to record a weight of 20lb 2oz.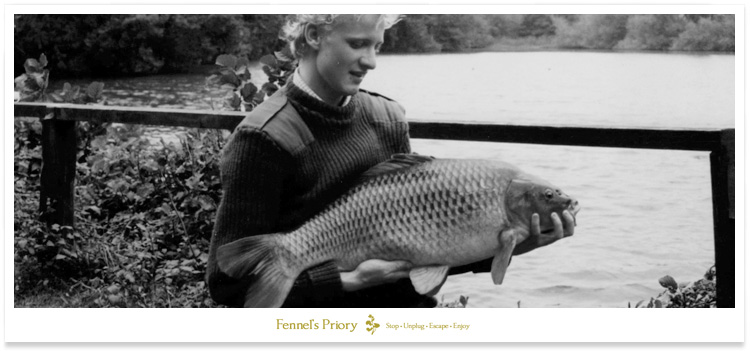 My first-ever twenty-pound carp, caught on my first cast into Redmire Pool.
20lb 2oz. Twice the size of anything I'd previously caught. Twice as hard-fighting, and twice as perfect. Absolutely everything had gone as I'd hoped. It was a dream come true, in classic Redmire style. A child's dreams realised, with the help from the man who'd inspired me to fish there in the first place.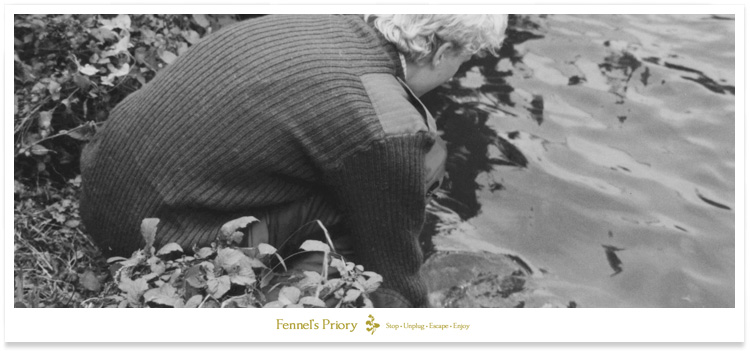 Returning my first twenty-pound carp to Redmire Pool.
As I returned the fish I said, in hushed tone, "Thank you Chris, for everything."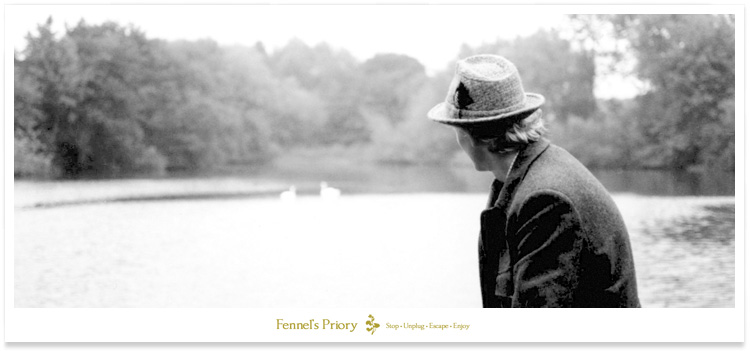 I couldn't cast in again after catching such a life-defining fish. I just gazed in disbelief, comprehending my journey.
---
Postscript: Redmire's End?
I fished Redmire Pool every year for ten years, but I never bettered my first fish. I caught a hard-fighting 17lb common that required me to wade up to my waist in the water to land it, and a beautiful 4lb linear mirror. And my brother-in-law caught an immaculate 18lb common carp while gudgeon fishing close to the bank in Pitchfords. (Landing it on a 1lb hooklink and size 18 hook, the feat remains one of the best displays of angling skill I've witnessed.)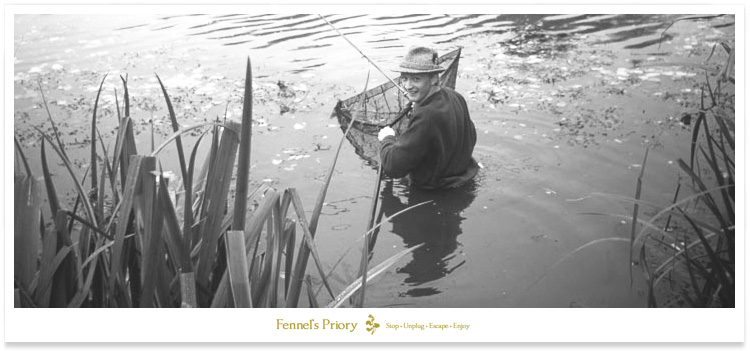 A dip into Redmire Pool to land a carp that gave me one of the best fights of my life. Hooked in the shallows, it ran the entire length of the pool before I could turn it.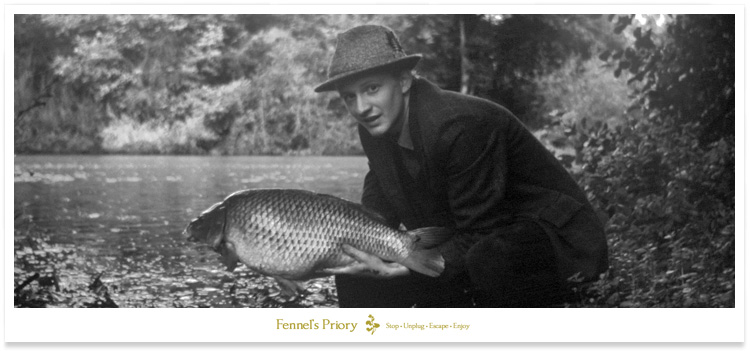 The 17lb Redmire Pool common carp caught in 1996 that gave me a dunking.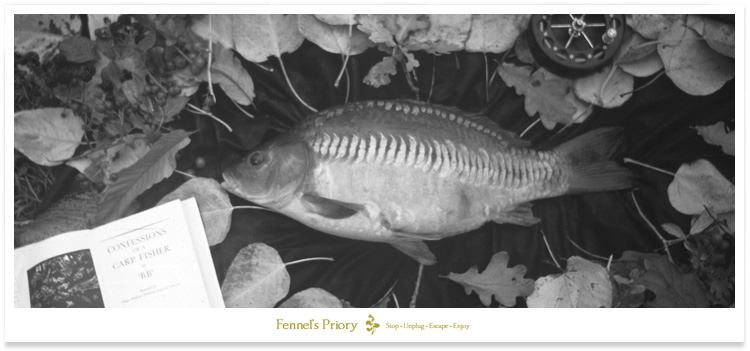 A Redmire Pool linear mirror caught in 1997 while reading BB's Confessions of a Carp Fisher. It was the perfect addition to an already wonderful autumn day.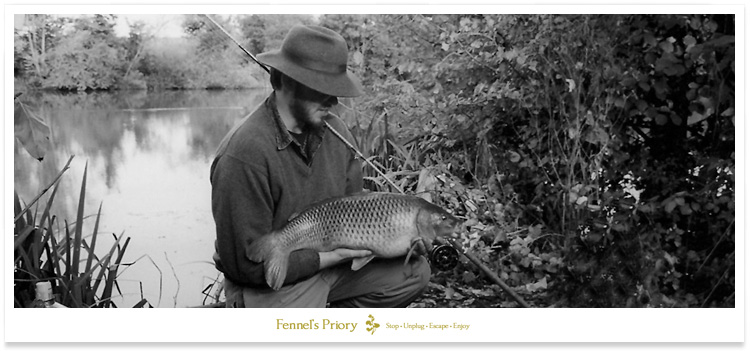 My brother-in-law's Redmire Pool 18lb common caught on 1lb line, size 18 hook and single maggot while gudgeon fishing.
Not many specimen fish, by Redmire's standards, but my visits to Redmire Pool became more of a social affair. I had the pleasure of fishing there with Chris and fellow members of the Golden Scale Club, where we angled for gudgeon off the dam, and with Pete 'Overend' Watts from Mott the Hoople who showed me his pink rods, named Pinky and Perky.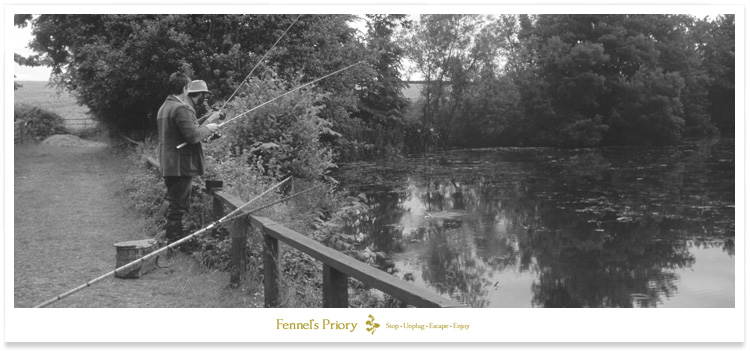 Chris Yates and Jeff Green from the Golden Scale Club fishing for Redmire gudgeon in 1998.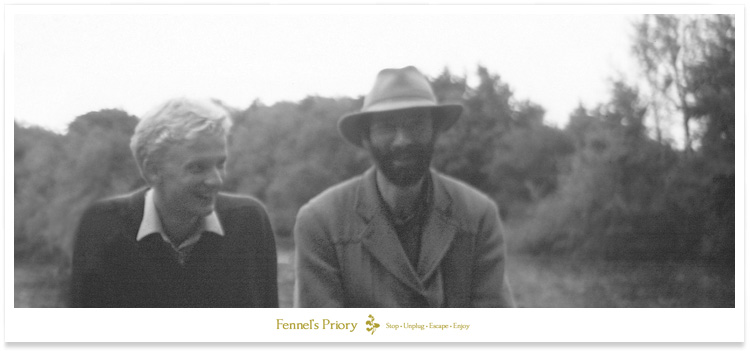 Me and Chris Yates at Redmire Pool in 1998 during a break from the gudgeon fishing.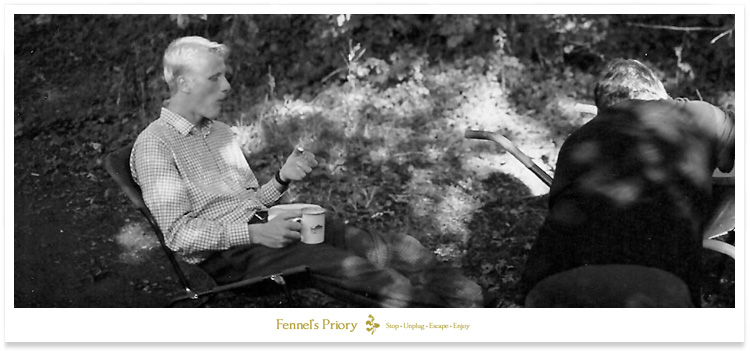 'Social fishing' at Redmire in 1999. I spent more time drinking tea and eating than I did fishing. No change there then...
In the end, I found myself spending most of my time at Redmire taking cuttings from fallen trees and branches, collecting acorns and doing whatever my gardener's fingers could do to preserve the place. I was able to propagate Redmire poplars, oaks, willows and osiers, replanting them at the lake and elsewhere – all in an attempt to keep the magic of Redmire alive.
Why? Because Redmire was noticeably ageing.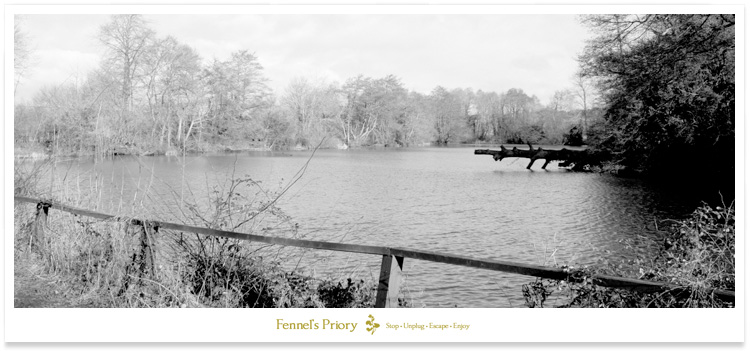 'Redmire winter' showing the fallen oak tree and bare bones of this famous pool.
The twin poplars of Pitchford's Pitch and the oak tree of the Evening Pitch had fallen in a storm; the lake was silting up rapidly, the water was muddying and weed growth was less, otters were threatening the fish, and the banks were worryingly bare. In an attempt to restrict further erosion, gravel paths and square box-like swims had been built to corral the anglers' movements. Redmire was ceasing to look like a timeless mecca, and more like an over-fished day ticket water.
Redmire's future
And now Redmire Pool is up for sale. Who knows what its future holds? I pray that whoever buys it will restore it to its former glory, fish it in a sensitive and respectful way, and allow nature to care for her child.
As Howard Marshall, the co-founder of Angling Times, wrote in 1955,  angling is about the "green meadows and running streams and the benison of quietness."
It's in the quietness that Redmire will heal and recover. And when she does, I dream that she'll return – to astound us with her renewed beauty.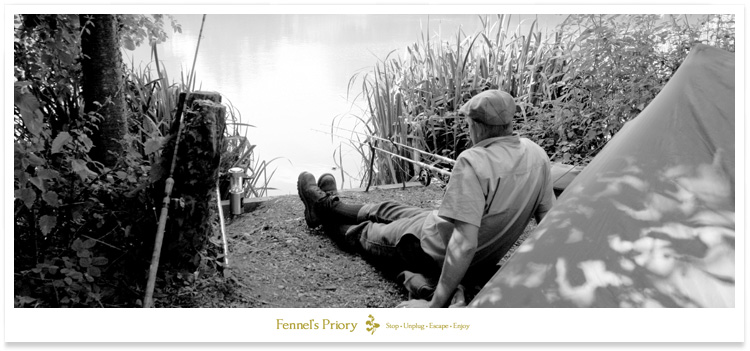 Fishing at Redmire Pool in high summer – when you can savour the 'benison of quietness'.
---
If you like this blog, then you might like Happy Anniversary Redmire Pool!, where I made a joyous return to Redmire in 2014 to celebrate its 80th Anniversary. You might also like Wild Carp, Fennel's Journal No. 4 and Traditional Angling, Fennel's Journal No. 6
To stay updated with the work of lifestyle and countryside author Fennel Hudson, then please subscribe to Fennel on Friday. You'll receive a blog, video or podcast sent direct to your email inbox in time for the weekend.