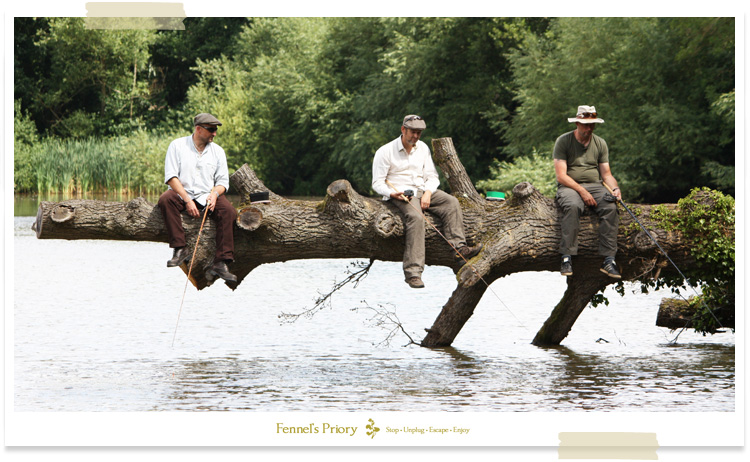 Happy Anniversary Redmire Pool!
2014 marked the 80th Anniversary of when the carp were stocked into the legendary and triple record breaking Redmire Pool. Angling Times sent me and three friends there to capture the magic of Redmire in its anniversary year. Here's the story:
Redmire Pool: the most famous and historic carp water in the land, scene of record carp captures that shaped the sport as we know it, where dreams are born and fulfilled, and where the best carp anglers have plied their craft. It's magical, legendary, appealing and yet intimidating, being one of the best known, hardest fished and difficult carp waters in the land, where the carp have seen every rig, bait and tactic developed during the evolution of carp angling. But with carp angling being all about the challenge, fishing at Redmire – and catching a Redmire carp – presents the ultimate goal for anyone wishing to take their place in carp angling history. Whether you appreciate the origins and traditions of carp angling or not, it's somewhere to test your mettle. It sorts out the men from the boys, the carp catchers from the tea drinkers, and the lucky from the unlucky. But at just three acres, it's somewhere that responds equally well to stalking and watercraft as rigs and applied thinking. Do things right, and fish will be caught.
Knowing this, do you fancy your chances there? If so, the very best time to visit is in high summer when the carp are most active, the lake looks its best, and the atmosphere is most intense. It's when you're most likely to feel the romance, adrenaline and addictiveness of carp angling. In fact, you'll experience all the things that compel us to pick up a rod and go fishing. But this year is extra-special. 2014 marks the 80th Anniversary of when Donald Leney stocked the carp into Redmire, and the 25th Anniversary of when Chris Yates, Bob James and Hugh Miles filmed the Redmire Legends episode of A Passion for Angling. It's also a special year for me, being the 20th Anniversary of my first visit to Redmire: when – on my first cast into the water – I miraculously caught a fish. At 20lb 2oz, the common carp was my first-ever twenty pounder. So you'll understand why I just had to be back there this year:
a triple celebration, honouring so many anniversaries. As a traditional angler, there could be no better place to experience the very best that carp angling can offer.
And so last week, four of us made our visit to Redmire courtesy of Stu Harris who'd successfully booking all four places. Stu and I were joined by our friends Martin Herrington and Jon Berry – making the party an exclusively retro affair, with all of us using vintage tackle. There were no carbon rods, stainless bank sticks or bivvies present; only split cane rods, 'real tree' rod rests, canvas tents and an unhealthy stockpiling of homemade cakes. It's not just the ultimate form of tackle-tartism (I was wearing Maurice Ingham's carp fishing jumper – it's first return to Redmire in sixty years – in high summer) but an attempt to create a sense of timelessness that we might, in the twilight, sense the presence of the great anglers who'd gone before us. From Walker and Hilton to Hutchinson and Yates, we would walk in other men's shoes, playing out the fantasy of past meets present. And, if fate was on our side, we might catch a carp or two and have yet more reason to celebrate.
We arrived at the pool on a scorching hot Sunday afternoon. (Just what a jumper-wearing traditionalist needs…) With temperatures exceeding thirty degrees and with blue skies overhead, it wasn't long before we spotted carp basking in the sunshine. We stood by the dam rail and watched these fish until, on the far bank by a fallen willow, we saw and then heard a huge common leaping from the water: its splashes rocked the water at our feet.
The fish – which must have weighed 25lb – was both a welcoming salute and tormenting challenge. A sort of, "Welcome, boys; now come and have a go if you think you're hard enough…"
With house martins, fledgling swallows and kingfishers swooping the water, buzzards circling overhead and the scent of honeysuckle and poplar balsam on the breeze, we made our way to our swims to very much 'be' at Redmire in summer. All of us, that is, except Stu who grabbed a stalking rod and headed to the shallows. And while we were setting up our tents and wrestling with the dilemma of whether to eat lunch before we cast in, Stu crept up to the margins, spotted a basking fish, and presented a freelined dog biscuit onto its nose. The fish – a mirror carp of about 15lb – was quickly muscled out of the way by a bigger common carp. It took Stu's bait, the water erupted, and Jon and Martin looked up and shouted, "What the..? You jammy so and so!" Hearing the commotion, I went running to assist with the net – and not just any net. We had with us John Carver's carp net, the one used to land Chris Yates' record. Within a minute, the carp was cradling in 'the' net and Stu and I were were punching the air and whooping with excitement. The carp, which weighed 21lb, had been caught within thirty minutes of our arrival. So much for the intimidation of Redmire! 
And so the week continued, with Stu displaying excellent angling skills. He caught another six carp to 19lb 4oz, while the rest of us caught scamp-sized carp, gudgeon and eels and watched the big carp ignore our baits. On two occasions Stu had to plunge chest deep into the water during the middle of the night to play and free snagged fish. His battles were epic and his results impressive. So what was he doing differently that made him so successful?
Traditional anglers often cite Bernard Venables as being their guiding light, noting his purist approach and artist's eye. And yet Bernard wrote, "There should be a happy marriage between what is old and what is new and helpful. Such has been the case throughout angling's history".
And so Stuart, like me, represents a new breed of traditional angler who isn't afraid of mixing old and new. We might use sixty-year-old rods and reels, but what goes on under the water is as modern as can be. Stuart had the edge at Redmire, with smaller baits, lighter leads and surgically sharp hooks tied to wickedly efficient rigs. It was this attention to detail, combined with his watercraft and restless high energy that ensured he was always 'on the fish'. Fishing with him was an education and privilege: a demonstration of the best of 'past meets present', and very much a case of 'right place, right time, right approach, right company'.
But Redmire was the star of the show. She was utterly and truly magnificent, with rainbows curving into the pool, starlit nights, misty dawns and brooding dusks. Everything you could want from summer carp fishing in this, Redmire's anniversary year.
---
If you like this blog, you might like Redmire Pool Dreams, about how I first came to fish the legendary carp water. You might also like Wild Carp, Fennel's Journal No. 4 and Traditional Angling, Fennel's Journal No. 6
To stay updated with the work of lifestyle and countryside author Fennel Hudson, please subscribe to Fennel on Friday. You'll receive a blog, video or podcast sent direct to your email inbox in time for the weekend.