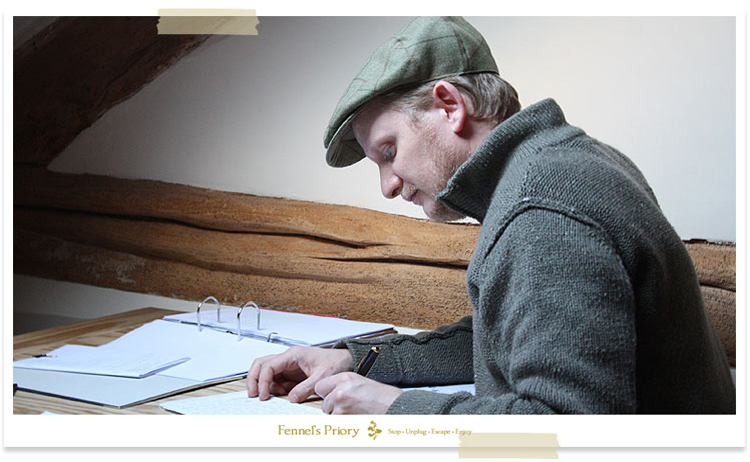 To Be an Author
Each of us has a secret room in which we write. It exists in our mind every time we close our eyes. We sit there, encouraging the flow of words and ideas to pour forth. It's a dream, but as with all dreams, it's as real as we want to make it. My dream, the one that most encourages me, is that someday I'll see my writing in print. By this I mean a proper book that bears the name and messages of my choosing. Actually, not just a book, but a whole series linked by the themes of freedom, identity, nature, creativity, and adventure. And, ideally, they'll be books that people buy and read. Publishing them would mark my transition from being a writer to an author. Oh, the joys of being a proper author.
If, when I am older, I shall wear purple, then if I write a bestseller I shall wear fine tweeds and a silk cravat. I shall spend all day lounging in a padded leather chair, sipping expensive wine and dictating my thoughts to an army of personal assistants. My pens will be warmed in the heaving bosoms of nubile students eager for me to teach them my craft. Critics will clamour to read and love my work. My life will be a blur of book tours, celebrity interviews and cocktail parties. 
Yeah, right.
The reality of being a successful author, I would imagine, is far from the stereotypical image of someone in tortoiseshell glasses who publishes a bestseller every year. It's still a job. Deadlines would have to be met and books sold. Pressure to perform would, perhaps, be greater than many day jobs. There'd be no excuse for writer's block. Publishers would demand a sense of urgency and self-discipline that could crush someone with a nine-to-five mentality. Personal sacrifice would go with the job. One would write, get paid, and then write some more. Life would be an endless barrage of words, editor's remarks and critics' flailings. Then, if word spread, one might connect with a reader or two. It would be a hard life. But we writers crave it anyway. For the recognition, the lifestyle, the legacy, and – sometimes – the money.
As I see it, there's a difference between being a writer and being an author. A writer has to write. The creative spark keeps igniting ideas that wake him or her in the night and results in notebooks being left in every room of the house. To be an author is to have that writing published, which triggers all the usual production, sales, marketing and commercial activities of a business enterprise. Being an author, therefore, is to have a toe in the creative pool and a foot in the vat of commerce.
Being able to make a living from writing, at least from book sales, is not easy. Many of my author friends exist on less than the minimum wage. But what they sacrifice in earnings they gain in lifestyle. Being able to work when and wherever they choose – be it a study, garden shed or park bench – gives them the flexibility to exist in a way that matches the mood of the day. How nice it must be to lie in bed each morning and think, "Hmmm, I wonder where I shall write today?" Sunny days might be spent outdoors, lying on a picnic blanket, chewing on a grass stalk and scribbling away; wet or cold days might be spent inside beside an open fire in the quiet corner of a pub, writing on a beer mat. Where the writing takes place doesn't matter to a publisher, but it matters a great deal to the author.
An artist friend of mine spends every summer in the French Riviera, selling his paintings to tourists. He earns enough to return to his native Wales each winter, where he lives a simple life in a cottage by the coast. He's worked and lived like this for thirty years. His life is the perfect balance of productivity, commercial success and time for himself. Often I have seen him in his front garden in Wales, sitting in the sun with his feet up, smoking a cigar and drinking a mid-morning Martini. It's all part of his daily routine that helps him to keep things real. His mantra, which he imparts to passers-by, is: "I like to start slowly, then ease up as the day progresses". It's had a lasting impression on me, proving that one can be productive and successful by pacing oneself while still making time for the niceties of life.
Life doesn't have to be a relentless, blindfolded sprint into a brick wall. If you're smart and remain focused on what's important, you can enjoy the best of everything that's on offer. All that's needed is a little routine.
I'm going to test this tomorrow, when I have a 'homeshirking' day. I've decided that atmospheric conditions will be such that there will be no mobile phone signal. Ravenous starlings will have pecked through the telephone lines, and an apprentice road worker will have dug through anything else that might enable the outside world to contact me. I am planning an author's day, defined by routine, output, and balance.
My plan for tomorrow is this: the day will begin just before dawn with a walk along the lanes near to home. I'll pause at my favourite stile in the hedgerow to watch the sunrise. I'll then sit on the stile and make notes for the writing I'll do later in the day. I'll return home and enjoy a pot of tea and a simple breakfast: bubble and squeak with two fried eggs. I'll then 'retire' to my study where I'll sketch out the storyboards for a few chapters, probe ideas and work up angles for my observations. 'Elevenses' will see me back in the kitchen making a brew, and then walking around the garden with a mug of tea in my hand. Then it will be back into my study to write the first draft of the chapter. Lunch will be a cheese ploughman's and a pint of ale at my local pub. While eating, I'll be reading and editing what I've written that morning. I'll then take a leisurely walk back to my cottage where I'll make another pot of tea before finalising the chapter. Afternoon tea will be taken in the garden, and I'll read aloud my day's output. If the weather's nice then I'll stay in the garden, making my final edits or drafting more ideas. Mrs H will return from work and then, after dinner, she and I will go for a walk along the river. We'll then come home to read our books before Mrs H heads to bed and I return to my study. I'll then write until I can stay awake no longer.
My plan is as idealised as it gets, and it will probably change once I start writing or get disturbed. (Never, ever, interrupt an author when he or she is 'in the zone', else you'll understand the real meaning of 'writer's nib'.) But the thought of tomorrow is enough to make my shoulders relax a contented smile appear upon my face. How nice it would be to exist like that. To write at one's pace, to see and experience that which matters while still meeting production schedules and the needs of a paying audience. And it can be done, as my artist friend has proved, if we stick to the routine and remember what's important.
Perhaps I should purchase that padded leather chair and order a supply of small and extremely hard to find pens? Maybe I should get some calling cards printed with the words 'Literary Genius' embossed upon them, and then phone my bank manager to prepare her for a tidal wave of royalty cheques?
No. Not just yet. First, I will start slowly, and then ease up as the day progresses.
---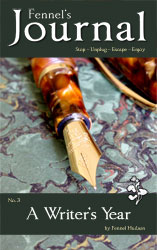 This is a sample chapter from Fennel's book A Writer's Year. 
​
Please also subscribe to the Fennel on Friday weekly email. You'll receive either a blog, video or podcast sent to you in time for the weekend.