New Book: A Writer's Year
Fennel introduces his new book A Writer's Year. It's written to encourage writers and aspiring authors to pursue their dreams.
Transcript
Hi, Fennel here from fennelspriory.com
If you know someone with a talent or passion for writing, then they might like my new book. It's called A Writer's Year, and it's available now in hardback and paperback. You can buy it from fennelspriory.com.
The book contains loads of encouragement and advice for writers and aspiring authors. It pays homage to the art of letter writing and celebrates the tools, craft and lifestyle of a professional writer. Ultimately it seeks to inspire writers to follow their dreams.
So if you know someone with a gift for writing, then this book is for them. It would make a great gift for Christmas, a birthday, or simply as a present that says 'I believe in you'.
It's called A Writer's Year, and it's available now at fennelspriory.com. The hardback costs £19.99 and the paperback is £9.99. 
More information, and free postage offer
A Writer's Year is the extended version (30% bigger) of the of the one I wrote in 2008 when I committed to becoming a full-time writer. So I've had great pleasure in bringing it up to date. It has a new opening chapter that tracks my journey as a writer, contains my writing-related stories together in one place, and includes my Golden Rules for writers.
Please consider it as a Christmas present for anyone you know that has a talent or passion for writing. Maybe they're already a writer, or perhaps they have a book in them that needs to be written. If you believe in them, then they'll appreciate the gift of this book.
Talking of Christmas, all my books will now be shipped post free. It will save you £4.00 per book, and will remain in place until the New Year. Please visit the Priory Shop to purchase the books.
---
​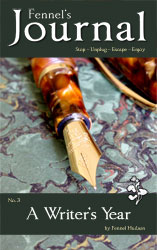 If you like this blog, you'll like Fennel's book A Writer's Year. 
Please also subscribe to the Fennel on Friday weekly email. You'll receive either a blog, video or podcast sent to you in time for the weekend.