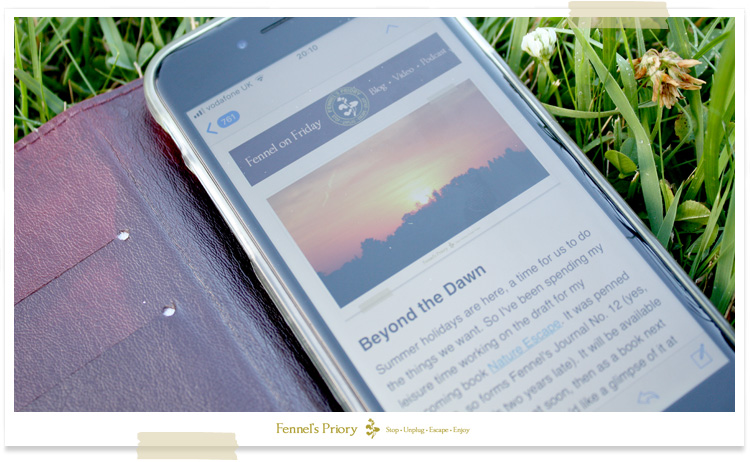 Fennel on Friday
Fennel introduces the new structure Fennel on Friday email.
What to expect
Fennel on Friday is a weekly email containing a short update from me and a link to a new blog, video or podcast. Sent at 8.30am each Friday, its purpose is to give you an enjoyable 'escape' in time for the weekend.
It's about to evolve
I've been blogging since 2011 and sending weekly Fennel on Friday emails since January 2016. After so many years of activity, the volume and scope of blogs on the Fennel's Priory website became overwhelming, which reminded me of something I was told in 2014.
Damming the streams
Back in 2014 I met up with our friend Jorrit Jorritsma who co-owns Millican travel bags. He and I talked about creativity and, seeing how he'd grown his business infinitely quicker than me, I asked him how he'd done it.
"The secret," he said, "is not to do too many things at once. We creative folk have a tendency to have lots of ideas and then pursue them all. Whilst this is great fun, it ultimately dilutes our energies. We end up like the alluvial river that splits into too many channels. The current slows in each until the streams become virtually static. Hence why we creative types should 'dam the streams' of our creativity to increase the flow in the most important one that will deliver the greatest impact. Then, when this stream has reached the ocean, we can open up the dams elsewhere to release a torrent into their channels. The energy builds, not stalls."
It's obvious: focusing on the most important thing brings the best results, especially in small teams. But dams can sometimes take a while to build, especially when one has to change the habits of a lifetime to build them.
It's taken me four years to build my dams (or at least realise the importance of constructing very sturdy ones). I looked at the themes of my blogs, which had grown to 14 categories covering things as diverse as country clothing to self-help psychology, and realised that I would have to dam the streams.
Something for everyone?
My website statistics revealed that my readers were interested in four key areas:
updates on my publishing activity, and guidance about writing
outdoors, wildlife, nature
country living, escapism, and the pursuit of one's dreams
traditional-style fishing
I condensed the Fennel's Priory blogs, merging all the content into the four key areas. These are the categories that now show on the website.
New structure for 2018
The Fennel on Friday emails will henceforth reflect these four categories. As there are four weeks in a month, it makes sense to feature one subject each week, with a monthly rotatation:
Week 1
Writing & Publishing. 

Book news, events and updates from Fennel's Priory. Inspiration and guidance for aspiring writers. 

Praise for the handwritten letter.
Week 2
Week 3
Rural Lifestyle. Country living, life in the slow lane, pursuing one's dreams of a quiet life outdoors.
Week 4
Traditional Angling. A celebration of old-fashioned, seasonal, uncompetitive, pleasure fishing for all species.
Content, how you want it
I'll continue to provide you with blogs, videos and podcasts each week. My videos and podcasts are by far the most popular, so it's likely that I'll be doing more of these and saving my long-form writing for magazine articles and books. My written blogs, therefore, will be a mixture of words and photographs. I hope this will add to your experience.
Please subscribe to Fennel on Friday
If you haven't done so already, please click the 'subscribe for updates' link on this page to sign-up for and receive the emails. You'll only ever be emailed Fennel on Friday, so no spam or nuisance contact will be sent. In the rare case that you don't like what you get, each email will contain a link to unsubscribe. (Further details can be found in our Privacy Policy.)
Here's what it looks like
An example of a 'Week 1' Fennel on Friday email can be seen here: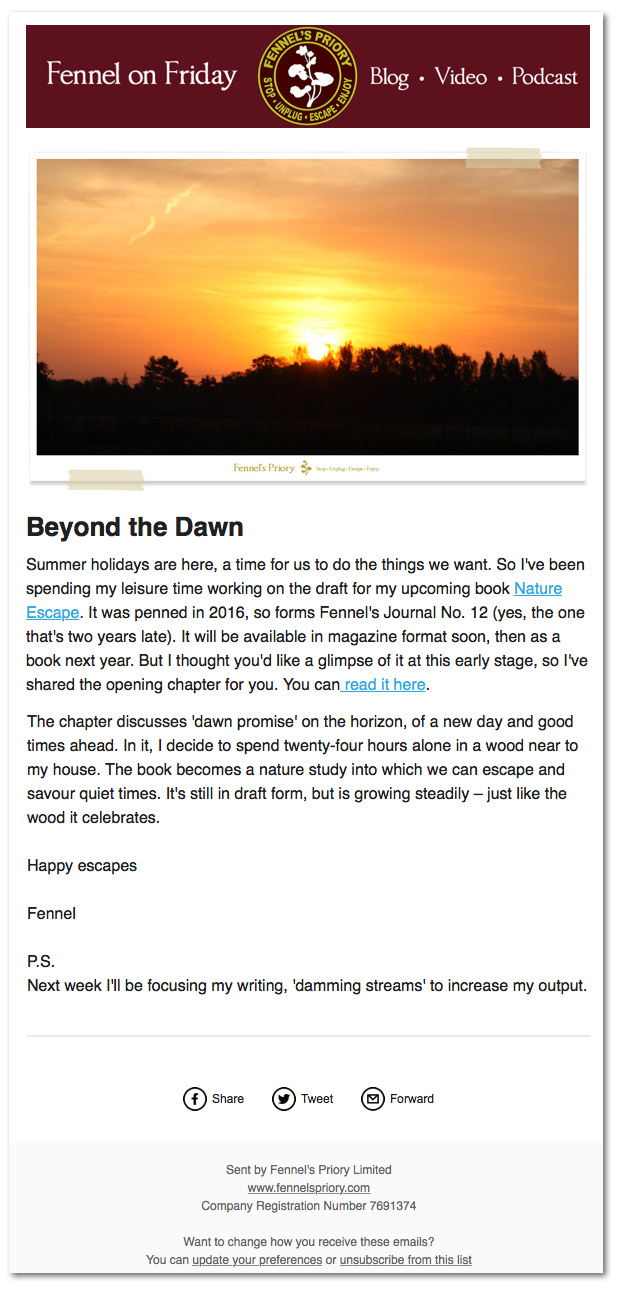 ---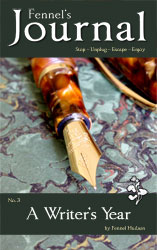 If you like this blog, you'll like Fennel's book A Writer's Year.
Please also subscribe to the Fennel on Friday weekly email. You'll receive either a blog, video or podcast sent to you in time for the weekend.