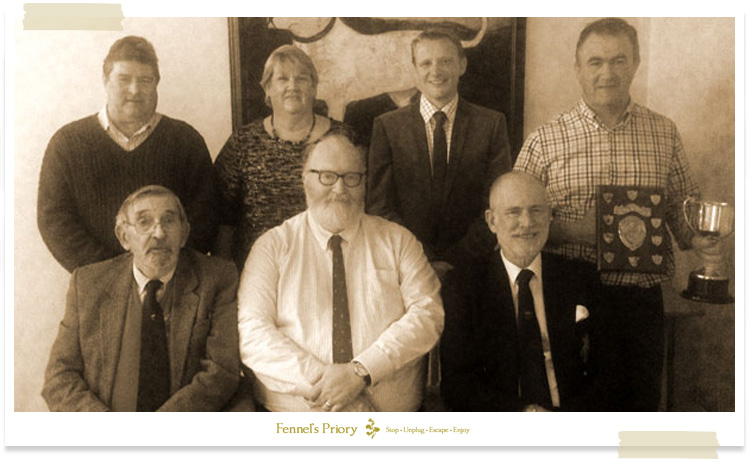 Cariad: The Tregaron AA Speech
On Friday 27th February 2015, Fennel gave the after-dinner speech to Tregaron Angling Association at their annual awards dinner. The event was attended by the Association's best anglers, including several members the Wales International Team. The Association's Patron – legendary angler and author Moc Morgan – was Fennel's host on the Head Table, and many of the riparian owners of Tregaron AA's waters were in attendance. His sponsors for the evening – Committee Member Peter Whipp and Chairman Donald Patterson –weren't quite sure what to expect, other than they'd read Fennel's blogs and Journals and liked his philosophies about life. With a brief of "Just talk for twenty minutes, about anything you like", Fennel took a deep breath, stood up, and gave a heartfelt presentation. It resulted in a standing ovation from Moc Morgan and an extended applause from the audience.
Here is a transcript of Fennel's speech, shared with you as a way of solidifying his love for Tregaron Angling Association and its waters, and to encourage you to go there too. Stay at Y Talbot hotel, fish the lakes and rivers, and connect with something that might just change your destiny too.
---
Good evening! "What do you call an Englishman talking to a room-full of Welsh anglers – about fishing in Wales? Answer? 'Brave?' 'Foolhardy?' In all honesty: 'totally terrified!' This is my first-ever after-dinner speech, which I've been building up to for a long time. Actually, I was terrified. But not any more.
Halfway through our dinner tonight I overheard a word spoken at our table. Moc and his wife Julia were talking in Welsh, and Julia said the word "Cariad" to catch his attention. My ears pricked up and I had to ask her what it meant. When asked why, I explained that my wife (whose family is from Wales) had asked me to buy her a ring for her birthday with the word 'Cariad' engraved upon it. Julia then explained that cariad meant 'love'. (No wonder my wife had asked me to purchase the ring.) This gave me a warm feeling, and reminded me of my love for the people around me.
So, in an entirely heartfelt way, I can say that I'm delighted to be here; that it's an honour to be speaking to you; and with your permission I'd like to talk to you about three things: firstly, about my "Cariad" for Wales, and especially my "Cariad" of fly-fishing in Wales; secondly to tell you the story of how I came to fish your waters last year –and why it was truly life-enhancing experience; and thirdly to say thank you for several things.
But before I do, I need to address a question that I'm sure is on everyone's minds: "Who is this fella and where did the committee dig him up from?" Well, this being the Annual Dinner of an angling association, surely your speaker must be a super-accomplished angler? Perhaps he's fished for his country, or is a skilled fly-caster or fly-tier? Perhaps he features regularly in all the leading angling magazines and has is own television show? Sadly, I'm none of these. I'm an average angler, and a very lazy one at that. I don't catch much at all. In fact, the last thing I was photographed holding was a rubber wellington boot. And it wasn't even a big boot. It was a child's wellie that didn't put up much of a scrap at all.
But I am a lucky angler. I was fortunate to be born into an angling family (and by the age of two was tied to a rope and allowed to crawl about the riverbank while my parents fished in front of me). During my 40 years of fishing I've been blessed to meet and fish with some famous anglers. So I can at least offer you some 'fame by association'.
But if there's such thing as a 'big fish in a little pond' then I am at least a minnow in a shallow puddle, or perhaps a stickleback in a shot glass. I've done things my own way, on my own terms. I'm a lifestyle author who's written eleven books, four of which are about fishing. I contribute blogs to various websites and write the occasional article for the press. This has given me a readership of a few thousand people, a third of whom are in America. But they're not necessarily anglers. They're people from all walks of life, who seek the rural ideal and an opportunity to escape the mad pace of modern living.
My name's Nigel Hudson. But I prefer to be called Fennel. Fennel's the nickname I've had for over 20 years. It comes from an unfortunate and rather pungent accident with a handful of garden herbs and a bucket of fishing bait. But that's another story. What's more important is that the nickname stuck and gave rise to a host of Fennel-associated names such as 'Fennel's Priory' – my company name – and Fennel's Journal – my series of magazines and books. Fennel is also my name within angling's Golden Scale Club – a so-called 'secret' organisation of the top twenty-one traditional anglers. It's headed up by Chris Yates and has, over the years, included many highly respected fishers and authors – most famously Richard Walker and Bernard Venables.
Bernard was my childhood hero. He wrote Mr Crabtree Goes Fishing and founded Angling Times; was Editor of Creel magazine and wrote twenty-five books. It's said that he and Richard Walker were the two most influential anglers of the 20th Century. And I got to meet him! Not only that, he and I became good friends.
During the last six years of his life, Bernard took me under his wing. He mentored me as an artist (especially in his brush and ink technique) and opened my mind to a great many philosophies about life and nature. (When you get to live well into your nineties, you've seen a lot of life, of change, and have been able to draw some strong conclusions. He, the grand master, and I his young apprentice, developed a great friendship. Such is the magic when one seeks to listen and learn.)
I owe a great deal to Bernard. Much of my writing today picks up on Bernard's teachings. In fact, my Fennel's Priory motto was inspired by his words. The motto: 'Stop – Unplug – Escape – Enjoy' is central to everything I do and everything I write about. It hints at the need to take time out from our busy lives to appreciate what's important – to savour the things that make us feel truly alive. Bernard taught me about the importance of valuing life. In fact, if you'll allow me, I'd like to quote some of his words – as written in the editorial of the very first edition of Creel magazine:
"Our times are strange times, with a sort of fever on them. Men, who should have their feet on living soil, are shut up in sky-offending towers of flats; great towns sprawl and breathe foul fumes, not air. Crafts die and machines are master; cold plastic replaces the honesty and nature of wood. We, citizens of the chemists' era, must search with a kind of panic for those rooting tendrils that should unite us to our true origins."
Those words were written in 1964. Here we are, fifty years later, knowing that the message is truer now than when it was written. Children today are immersed in a world of pixels – a virtual world of that's 'instant' and dramatic. It's far removed from that of angling, where patience is a virtue and the hunter's craft relies more on intuition and skill than technology. Both can create our fantasies, but only one has a 'fast-forward' button to speed us through the boring bits. So our actions to 'Stop – Unplug – Escape – Enjoy' need to be proportionately bigger today – and with greater commitment – if we are to balance out the pressures forcing us to live our lives through a computer or television screen.
But what's all this got to do with fishing? Well, angling – whatever the discipline (be it game, coarse or sea) is perhaps one of the greatest opportunities to find escapism through nature. It's always an adventure. There's always an element of the unknown – of secrets waiting to be unlocked and big fish waiting (or rather challenging us) to be caught. And this, for us, is where the 'escape' part of our Priory motto comes in. As the natural history author C. Henry Warren said:
"It must always be true that for some of us 'the sources of creation' are nearest where we can watch the slow procession of the seasons and share in the quiet lives and activities of the countryman."
This is where – and why – I envy you. Think about it for a moment. You're here, members of Tregaron Angling Association with access to some of the best fly-fishing water in Britain: places that are a source of not just of creation but inspiration. Take me for example: my day job takes me all round the world. I've worked in three continents this week alone, and travelled up from London this morning. All the time I am yearning to be at places like the ones on your doorstep. Coming here is a pilgrimage, a homecoming, and it's the envy of my friends. If you don't believe me, take their word for it.
Last July, a friend of mine named Thom Hunt asked me if I could take him fishing. Thom's a television presenter (Channel 4's River Cottage, Three Hungry Boys, Countryfile) and he needed somewhere to escape the fast-paced madness of the media world. He is also one of the UK's leading exponents of 'Rewilding' – were people are reintroduced to their primeval roots. (Thom runs 7th Rise, a rewilding centre in Cornwall, which gives people the opportunity to unwind in a woodland setting, and – with no access to a mobile phone or other technological distractions – they can reconnect with the nature around and within them. As one of the country's leading experts on wild food, Thom shows them how to forage, hunt and cook their meals. And he's a seriously good angler, too; so fish is regularly on the menu.)
No small ask, eh? Here's a guy who makes his living teaching others how to connect with wild places. He's travelled all over the world; not just surviving but flourishing in the world's most extreme locations: Arabian deserts, snow covered mountains, and the untouched forests in Scandinavia. He lives what he preaches. And he's committed to the cause. So how do you give him something he's not experienced before?
Thom's brief to me was simple:
"Take me to the remotest place you know; somewhere rugged – where adventure and danger still exists – and where the trout are truly wild. Where we can camp on a mountain, cook on an open fire, eat our catch, be the only people in sight, and find the sort of freedom only our ancestors knew."
Hmm. I figured that the estate lakes near my Cotswolds home wouldn't quite 'cut it'. I considered changing the brief to fishing for wild carp in the mountain lakes near Builth Wells (something I'm known for), but Thom wanted to fish for trout. This pleased me. Whilst many of my readers assume I'm a coarse fisherman (because of my association with the Golden Scale Club), I've always principally been a flyfisher. I only fish with bait on two or three days per year. The rest of the time I'm casting a fly. The time will soon come – probably by tomorrow morning – when I hang up my coarse rods for good and only ever angle for game fish.
And so, with the brief of fishing for trout in a wild location, I decided to return to the waters of my youth – to where it all began.
This part of Wales is very special to me. It's where I've spent the happiest days of my life. In fact, I probably spent more time here growing up than I did at home in the Midlands. Mom and Dad have a caravan near Devil's Bridge and, with Dad being a teacher, I was blessed with being able to spend ten weeks' of school holidays here every year. And Dad's a fly fisherman too, so he and I would be off fishing most evenings.
I caught my first fish from this area of Wales. I was five years old and the brown trout, which took a clumsily-retrieved Devon Minnow, weighed a whopping one-and-a-half-pounds. I can proudly say that it was DEFINITELY wild. Caught from Dinas Reservoir, it had the characteristic stumps where its pectoral fins ought to be, which I believe is a genetic trait in the Dinas fish..?
(As an aside: has anyone fished at Dinas? Wonderful isn't it? Not a tourist or stocked trout in sight. Yeah, right. I might joke about the place, but I had some super fishing there at dusk, twitching a deer-hair sedge through the rafts of cigarette butts that lay in the wind lanes, and stepping over the beer cans so not to make too much noise…)
Dinas was where I learned to fly fish. And as my fly-casting improved, Dad would take me to the Aberystwyth Angling lakes of Rhosgogh, Frongogh and Rhosrhydd, and to the mountain lakes around Talybont. We also enjoyed the 600-acre vastness of Nant-y-moch reservoir with its wild brownies and feral 'monsters' that would hunt the margins at nightfall. But we never fished the rivers. And so to this day, I've never caught a sewin…
It occurred to me that I could take Thom to the distant point of Nant-y-moch – far away from passers-by – where we could discreetly pitch a tent and 'disappear' for a weekend. But, much to my delight, I was presented with an altogether better option.
Peter Whipp had read my Journals and knew I'd like the remoteness of the Teifi Pools. He heard that I was visiting the area to fish for wild carp, so he invited me over – via the Abergwesyn Mountain Pass (what a route that is!) –and took me for a drive up to the lakes.
Visiting new waters is almost always exciting. There's so much anticipation for how they will look, how they will 'feel', and what angling challenges they will present. Hands are rubbed together at the prospect of pitting one's wits against a new opponent, and shoulders are stretched as one relaxes amidst new and beautiful scenery. But this was nothing compared to what I felt when I saw the Teifi Pools for the first time.
All I could – and can – say is "Wow – wow – wow – wow!!!" They are incredible. UTTERLY amazing. Stunning. Perfect in every way. Exactly what I'd always dreamt about. An opportunity to gaze out across a vast horizon and see only mountains, moorland and lakes. And not a single human being in sight. It's where we can, as I call it, get 'close to God'. If it's escapism Thom wanted, this is where he'd get it.
I took a photo of the lakes on my mobile phone and sent it, along with a comment saying "Heaven on Earth", to Thom. He replied, asking "Where are you? Cairngorms or Iceland?"
This puts it into perspective, doesn't it? That this relatively undiscovered part of Wales compares to some of the best-known – and most desirable – fishing in the world. But I'm biased. I love mountains and mountain lakes. If you have to hike there and hike back, then you've earned the right to 'be' at such places. As Ian Niall wrote: 
"Some climb mountains simply to say they have climbed them and a few, a very few, look for yesterday and a sort of timelessness that is to be found in places that haven't changed since man walked the earth."
But as the mountaineer Hervey Voge said:
"The mountains will always be there, the trick is to make sure you are too."
So Thom and I came and fished. We stayed in a tent, and fished hard. Gale-force winds literally swept us off our feet; it didn't matter. It was absolutely freezing; it didn't matter. I didn't catch; it didn't matter. Thom, however, DID catch. He caught two fabulous trout, each weighing about two pounds. One of them was an incredibly dark fish that appeared as old as the lake itself.
We had the best of fishing. And then, about to hours before sunset, we came down from the mountains to escape the wind and fish the river. Here we caught dozens of small browns, during a classic evening rise on the Teifi. We took a brace of fish, which Thom filleted and then fried in butter with new potatoes and shallots. It was a divine meal. (In fact, whenever I'm asked what fishing means to me, I often think of this meal and the adventure we had.)
Fishing the Tregaron waters had a dramatic impact upon Thom and I. We still talk about it, and are hoping to return later this year. But the takeaway for me? It was an image. THE image: of mountains, moorlands and lakes stretching as far as I could see. So intimidating, so bleak; yet so intimate and inviting. It reminded me of the old tourist advert for Alaska – the one filled by an enormous snow-covered mountain. When you got up close to the poster you could see a tiny black dot upon the mountain. When you got even closer you could see that the dot was a man skiing. And the slogan on the poster read: 
"Alaska: when you arrive you feel small; when you leave, you feel really big."
Which brings me onto the thank you I promised earlier.
I'd like to say thank you for inviting me to your annual dinner; thank you for asking me to speak; thank you for my best fishing trip of my life; thank you for the dreams of what I hope to achieve this coming year; but most importantly of all THANK YOU FOR YOUR FRIENDSHIP.
As my friend Peter Wheat wrote in his book 'Angling Down the Years': 
"The best catch in fishing is friendship. It shines throughout the fishless hours; it makes dry the heaviest rains; it lifts the darkest of spirits; it fills the air with honest laughter. An angler walking in the company of a true friend is certain of success; that of joy to his soul."
And for that, I thank you.
Post script:
Following the speech, and while talking to the landowners whose farms include the land around and above Teifi Pools, Fennel said: "There are special and very rare moments in life when one is immediately aware that what is happening around us is going to have a dramatic and lasting impact on the rest of our days. By the end of my speech to Tregaron AA I knew that destiny was calling to me – not just for the fishing, but also to become part of the community. The Welsh have a saying: "Croesco cynnes" which means 'warm welcome'. This is what I experienced. Whilst open arms welcome, open hearts make us want to stay."
---
This is a sample chapter from Friendship, Fennel's Journal No. 11
If you like the work of lifestyle and countryside author Fennel Hudson, then please subscribe to Fennel on Friday. You'll receive a blog, video or podcast sent direct to your email inbox in time for the weekend.