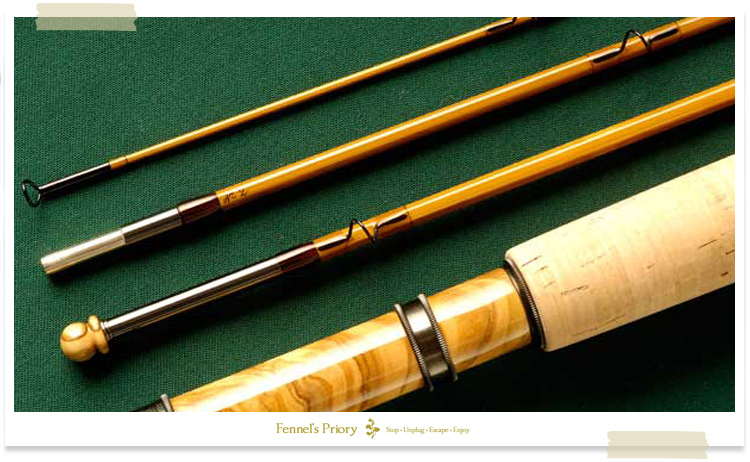 Extract from the Edward Barder Interview
The following is an extract from the Edward Barder Interview in the Traditional Angling Edition of Fennel's Journal.

Why Edward Barder is the best split cane rod maker
In starting this article I thought about the rod's I own – the vintage ones and the ones commissioned from new. There are about thirty of them, all made from 'split cane' bamboo. There are fly rods and coarse (bait fishing) ones. As much as I would have liked to reminisce about how well the rods perform and what fish they've caught, the thing that came most vividly to mind was the experience of dealing with the rodmaker – how well they understood my needs, how clearly they communicated with me during the two years it took for each rod to be delivered, the quality of the rod and what level of follow-up service they offered.
Let me be clear. There are good split cane rodmakers and there are bad ones. The bad ones (fortunately few and far between) will milk your love of vintage things and leave you holding little more than a £1,000 beanpole. You'd gladly get rid of it for a tenth of the price. The good ones will make you feel like you're the happiest person alive and give you an experience (both in purchasing the rod and using it) that will rank amongst your fondest memories. Edward Barder proudly delivers the latter.
---
Edward Barder and Fennel
I first became aware of Edward Barder in 1992 when Chris Yates wrote about his rods in the book The Secret Carp. Now legendary rods were mentioned: The Barbus Maximus, Carpcrawler, Bishop and Merlin were described with adulation by Britain's leading traditional angler. I took notice and started saving my pennies. Twelve months later and I sharing a beer with Edward and Chris at the AGM of the Golden Scale Club. I was immediately impressed by Edward's passion for bamboo rods and his first-hand knowledge of the best rods of the last 100 years. Chris remarked about Edward's unfaltering attention to every detail and, whilst I bought them both a pint, he suggested that Edward and I should meet up and discuss rods for my carp and barbel fishing.
Edward and I met one week later, when I cycled from Lambourn to Newbury. Edward put the kettle on and we discussed rods. The short of the story is that I ordered a Barbus Maximus rod – an 11ft 9in two piece rod with detachable handle (the new Barbus Maximus rod is a two piece rod). My respect for Edward's rod-making skills was such that I also entrusted my grandfather's cane rod with him to restore. I received the completed rods two years later. The Barbus Maximus was the best coarse fishing rod I ever owned (then or since) and my grandfather's rod was presented in better condition than when it was new. (It has since become something I have listed in my will as one of my most treasured possessions.)
Edward Barder and I have 'positive history'. I trust him implicitly to deliver on his reputation of making the best split cane rods available. As such I have no hesitation in recommending him as the Priory rodmaker of choice – if you can afford him. Here is the issue for many buyers. Edward's rods are not cheap. A coarse rod will cost in excess of £1200 and a three piece (spare tip) fly rod will cost £1900. That's a lot of second-hand cane rods or, even more so, fibreglass or carbon rods. But can you really put a price on perfection? I have obsessively high standards and expect the highest quality, regardless of price. If you want a cheap rod, buy carbon. You may pay £600 or more for the very best carbon rod, but its quality will still be cheap compared to craftsman built split cane. It will most probably be mass produced with a manufacturing cost of £50 or less: the carbon rod's price tag is set by the brand rather than the craftsmanship that went into building it. Modern cane rods are different. They require 60 hours or more to build. For a craftsman such as Edward this is time well spent, as the result is a bamboo rod of unsurpassed quality. Edward takes pride in his workmanship; for that, we are grateful. An Edward Barder rod is more than a fishing tool. It is a totem, a declaration of our identity as a traditional angler and a connoisseur of bamboo rods.
I thought you'd appreciate hearing Edward's view of modern split cane rods, the industry and skills needed to make them. And so, on an otherwise rainy day, I popped along to Edward's workshop at Newbury to discuss the magic that goes into making the very best split cane rods. Here's a summary of that discussion.
---
The Edward Barder Rod Company, Newbury, Berkshire.
Edward Barder's workshop on the bank of the river Lambourn in Berkshire has changed little in twenty years. The timber structure is unassuming yet welcoming and the greeting you receive when you arrive (provided you have an appointment) makes you know immediately that you are in the presence of someone committed to his craft. Edward has an aura of authority, yet his humility and dry sense of humour put you at ease.
Fennel Hudson: The industry sounds tough. Can you explain further?
Edward Barder: Cane rods are not mainstream and therefore appeal to a minority. Would-be rodmakers should acknowledge the demanding quality expectations of the split cane connoisseur. The romantic charm of the split cane cottage industry may sound appealing, especially after reading a book (usually Garrison and Carmichael) or being encouraged by friends. But it is like any other business. Competition prevails.
Fennel Hudson: My guess is that it's the knowledge and skill of the rodmaker that makes the difference, rather than the equipment he uses. Is this correct?
Edward Barder: A rodmaker should be steeped in the historical aspects of rod making. How can you have confidence in your quality if you don't have experience of the best rods of the past and present?
Fennel Hudson: How did you go about learning this?
Edward Barder: I made it my business to understand what makes excellent, highest quality tackle. I worked in the tackle trade – at Hardy's – to appreciate the workmanship in the best quality split cane rods: what they should and shouldn't do. I talked to old rodmakers and their contemporaries; I wrote to every notable US rodmaker, read every US and UK book and article on rod-making that I could find; I went to every tackle auction I could until I'd seen all the best rods. I studied hard until I knew the standards that had to be achieved. Only then did I do my own thing.
---
The full interview with Edward Barder is available in the Traditional Angling edition of Fennel's Journal. In the magazine version he talks about:
Modern split cane rodmaking
The quality of bamboo rods today
What it's like to work as a full time rodmaker
How to make a commercial success of making split cane rods
The accuracy and quality standards to be achieved
Why users of split cane rods are such connoisseurs
The appeal of split cane bamboo
Milling versus hand-tapering
The skills and knowledge required to be the best rodmaker
Thoughts on tapers
Edward's contemporaries
Advice for the would-be rodmaker
Edward's criteria for selecting a split cane rod.
---
The essence of Barder's genius
While talking to Edward Barder it became clear that his focus on quality surpasses the mere aesthetics that you or I might be content with. Whereas I'm a sucker for first impressions and an emotional purchase, Edward's emphasis is on creating a rod that will do the job for which it is designed. He is a practical and logical man. His rods have to be structurally sound and of tapers that will make them a joy to use. The result is a series of rods that Edward has designed based upon twenty years of rod making experience, impressive angling skills (he once held the river Kennet barbel record) and thorough 'on the bank' testing. His fly rods in particular have tapers that surpass many of the cane rods in use today and – depending on your tastes – many of the modern carbon rods, too.
Edward has earned his reputation as the best split cane rodmaker. When purchasing his rods, you're not just buying bamboo, cork and metal; you're buying a lifetime's research and experience. Some people may baulk at paying nearly two thousand pounds for a fishing rod. But consider: if you wrote to a world-class craftsman and asked them to make something just for you, how much would you table to get their attention? Considering that quality split cane rods will, if properly cared for, last for over 100 years, Edward Barder offers exceptional value for money.
---
This is the abridged version of a chapter from Traditional Angling, Fennel's Journal No. 6
If you like the work of lifestyle and countryside author Fennel Hudson, then please subscribe to Fennel on Friday. You'll receive a blog, video or podcast sent direct to your email inbox in time for the weekend.