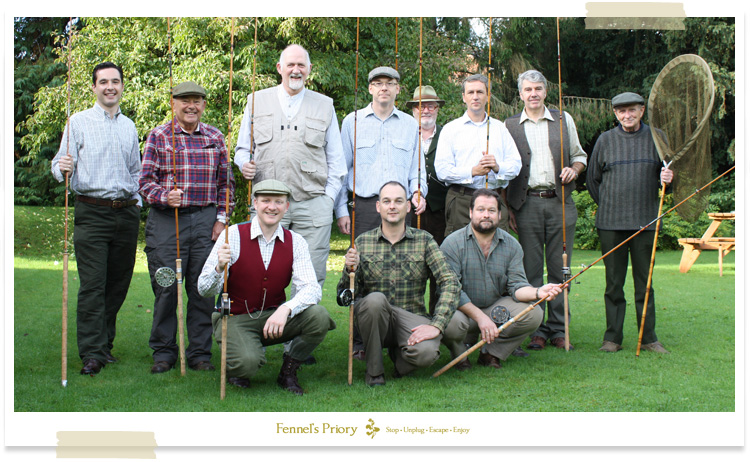 A Roar from the Red Lion
If you've read the Meaningful Life and Lighter Side editions of Fennel's Journal, you'll know that life hasn't always been rosy for me. I've had some traumatic but pivotal experiences that have helped me to appreciate the beauty of life. The lows, however impactful, have always been followed by inevitable highs. Highs of my and our making. One such high  – perhaps the best in recent years – was felt during the first official gathering of the Friends of the Priory. 
Held during the weekend of 4-6th October 2013 at the Red Lion hotel at Bredwardine in Herefordshire, the event marked an anniversary, a birthday, and a new beginning. It was one of those occasions when everyone sensed that it was going to be, and was, special. Every handshake, hug, smile and laugh had meaning beyond its apparent intention or reaction. This was a coming together of friends. Friends bound by a love of simple and beautiful things, of quiet outdoor places, of unspoilt nature, timelessness, good food, real ale and a slow pace of life. Friends who knew the value of friendship; friends who would travel from all over the country to just 'be' together; who sought simply to relax and then feel their quickening heartbeats when they saw each other. Their friendship, our friendship, was  – and remains – what counted.  We were there for each other.
Being there for each other was, without doubt, the primary goal of the event. But the location and date had extra significance for me.
Herefordshire, if you don't know, is a county on the border between England and Wales, where the unspoilt and idyllic River Wye flows through wild and timeless countryside. It's a naturalist fisherman's paradise. It calls to us: "Come hither; explore; be free!" It's where my adventures tend to begin, where my footsteps lead longingly westward into Wales and where I remember how good life can be. It's also home to a rather special hotel.
The Red Lion is one of England's most famous fishing hotels, being located on the banks of the Wye at the halfway point of The Moccas Fishery. This four-mile stretch of river is famed for the quality of its spring-run salmon, which average 15-20lb and have – in the past – run to 45lb. The river here is characterful and diverse, with gravel shallows, mini-islands, weedy and streamy runs, deep pools, slow water over bedrock and meandering bends with their classic undercut banks. At anything from 20-60 yards wide, the river lends itself to Spey-style fly fishing and spinning – this being a spate river where water levels rise and colour quickly after rainfall. The fishery is also known for the quality of its coarse fish. There are specimen pike, chub and barbel. It's the latter which, in recent times, has become the Moccas fishery's claim to fame. It is, alongside its peers on the Hampshire Avon, the country's premier barbel fishery. Sure there are other rivers containing bigger barbel, but nowhere compares to the scenic beauty – and overall experience – of fishing the River Wye at Bredwardine. Given that we Friends of the Priory pride ourselves on being free spirits, the River Wye was the obvious choice for our first gathering. But the river and the hotel are intrinsically linked to the Priory story.
The 4th October 2013 was exactly ten years and one month after a dramatic event triggered the creation of The Priory. The 4th September 2003 (a day I will never remember but could never forget) was when my previous life ended. From that moment on I sought to rediscover and recreate an earlier and more authentic version of myself. I can't remember much of what happened at the time (only when I resurfaced as Fennel, as chronicled in the Journal) but I do remember being able to keep going, in a greatly reduced capacity, working for a friend who owned a company selling fishing bait online. I was the company's frontman, responsible for promoting products to anglers. This involved giving talks to angling organisations such as The Barbel Society and presenting prizes at their fish-ins. One such fish-in was at the Red Lion where great fun was had and many friendships born. It remains a vivid and happy memory. Returning to the Red Lion, and fishing for barbel (something I'd not done for a decade), would connect my earlier and current life. I'd be able to hold up my hand and say, "Yes, that was me. But this is me now. The real me. And you are among my closest friends."
I believe that time should not be measured in the passing of years, but rather by what one does, what one feels, and what one achieves. Live life to the full and you can feel more alive in one day than in a whole year of partial or non-living. Time well spent is time reflected. You get to live it twice, once as it happens and again in memory. Experience it with friends, and you get to relive it again and again in conversation. This makes us wise.
As the ancient Greek philosopher Epicurus wrote:
"Of all the things which wisdom provides to make us entirely happy, much the greatest is the possession of friendship."
Of course, friendship is never something to be owned or controlled; it's given freely. Which is why I was delighted to see so many of my friends at the Red Lion for our event in 2013. Together, with a ceremonious roar, we celebrated our friendship. We are the  Friends of the Priory! The hotel and fishery was exclusively ours for the weekend; the weather was summer-like and the river was in excellent form. Adventures would be had. Fish would be caught. Tales told, beers drunk and food eaten. The finest company in fine location and on fine form. 
Fifteen friends attended. They were greeted using their normal names: Bob and Glenda Brookes, John Haynes, Lauren Hudson, Dave Bowen, Tim Pike, Shaun Harrison, David Hudson, John and Annette Summers, Stuart Harris, Andy Batchelor, David Preece, Stephen Cullen, and Dave Burr. But then (in traditional 'Boys Own' fashion) were bestowed with their Priory names and Friend of the Priory certificates. They would henceforth be known as Brookes and Good Lady, Hermit, Mrs H, Rabbetts, Vintner, Bengal, Hamlet, Stan and The Missus, SK, Crowquill, Hartington, Durham, and Weobley.
And what of the event itself? Well, as you'd expect, it was a relaxed and social affair with no pressure or eagerness to go fishing. More time was spent in the bar and restaurant. When it was finally time to go to the river, when the second day had come, breakfast was eaten and the sun was high in the sky. While the ladies shopped and lunched in Hay-on-Wye, the gentleman anglers spread out along the fishery to waggle their bamboo rods, cast out, drink tea and sleep. And not necessarily in that order…
Four barbel were caught, along with twelve chub, two eels and two trout. (I caught up with old friends and plenty of sleep, but nothing else.) Brookes caught the best barbel of the day: a near-seven pounder; and Hamlet caught the most fish: eight chub and two eels, all taken from the swim that Brookes had intended to fish had he not woken with gazelle legs and a desire to run two miles downriver. (Hamlet's chub catch was disputed, however, as he caught the same fish four times from the same spot. The chub, which had a liking to luncheon meat, seemed compelled to return to the cigar smoke drifting from the swim. We named it Winston – after Hamlet's brand of cigars that day – and reminded the captor that it is more sporting to unhook one's fish before returning it to the water.)
Without prompting, all the anglers and ladies were back in the bar for 7pm. Eager to taste rabbit stew, venison fillet, quail breasts, wild boar sausages, homemade pies and duck faggots, they talked mostly of food before reporting the activities of their day. Weobley had done a fabulous job guiding the Friends to the best swims; Hermit had caught a barbel on this, his birthday; Crowquill had caught a barbel; Rabbett had been watching kingfishers, sandpipers, kestrels and dippers, and Stan had been counting leaping salmon. The ladies had discovered a 'titillating' ceramic figurine in an antique shop; Hartington and Durham had 'fished in the midst' but had not been seen all day; Vintner had been seen moving swim in a Chinook helicopter; and rumour had it that a pack of bloodthirsty cows had hunted down and eaten two of our crew. (It turned out that the scoffing and mooing noises heard downriver were SK and Bengal truffling their way through two of the best cakes ever seen on the riverbank. The cakes were the prize catch of the day, with everyone asking for the recipe.) 
We feasted and drank until the early hours. Some of us were still awake at dawn the following day, to witness a spectacular sunrise. The beacon rose luminous in a shroud of mist, and called us back to the river. But we stayed put, waiting for our friends to rise and breakfast to be served.
Fishing can always wait. It is, and was, more important for us to be together during our times of friendship.
---
This is a sample chapter from Friendship, Fennel's Journal No. 11. You might also like Traditional Angling, Fennel's Journal No. 6
To stay updated with the work of lifestyle and countryside author Fennel Hudson, please subscribe to Fennel on Friday. You'll receive a blog, video or podcast sent direct to your email inbox in time for the weekend.