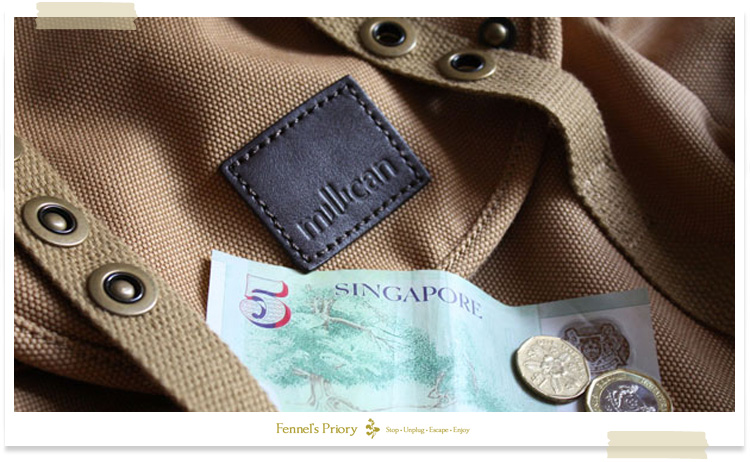 Lifetime Guarantee
I am writing this from the Botanic Gardens in Singapore, while taking a break from an otherwise hectic trip to the Central Business District of the city. Matthew the Daypack is here with me, keeping me grounded while I recover from a thirteen-hour flight and a hotel whose top floor is shaped like a luxury cruise liner. I'm sitting beside Swan Lake, in the southern corner of the gardens, watching terrapins, koi carp and snakes swim together. Lush tropical plants surround the lake, each growing against a backdrop of futuristic skyscrapers. I half expect to see hover-cars flying overhead, or the USS Enterprise taking off into the afternoon sky. For this is the place where man really does 'boldly go'.
I'm six thousand miles from home, but it feels more like six thousand years. I am, after all, a traditionalist most out of place in this ultramodern environment. Yet this morning, when I took the elevator to the 54th floor of my hotel, the pure rush of living startled me awake (the journey took ten seconds and made my ears pop twice). Which is why Matthew is here, held tightly for comfort. But am I looking after it, or it me?
Matthew, as you may know, is the adventure bag from Millican that encourages me to look within and see beyond. It gives me confidence to travel past the limitations of local geography or preconception. It's the thing that allows me to escape and be free; that somehow takes me higher – be it in an aeroplane 35,000 feet up in the sky, or to the elevated delights of being in The Garden City, where a man can steam press his suit just by being outside. (It might be winter in the UK, but the temperature here in Singapore is thirty degrees centigrade and the humidity is a clothes-drenching ninety-eight per cent.)
Matthew is also a rogue. It gets me into all sorts of 'good troubles' (the kind that always seem funny in retrospect). For here am I, entirely out of my comfort zone, trying to figure out how to drink tea from cups without handles (I'm informed that the louder the slurp, the greater my appreciation of the tea); I'm puzzling why I was so naïve to pack tweed jackets for my trip, and whether I should – or could – keep a straight face while stomaching the local delicacy of Durian fruit (which looks and smells like rotten eggs pickled in skunk spray and smothered in prickly lard). Ultimately I'm admiring the man who sat next to me on the flight here.
Arnold Chong (as we shall call him) is the well-travelled businessman with a watch so expensive that it had to be handcuffed to his wrist. He brought his own slippers for the flight and a packet of Yellow Gold Tea Buds for refreshment. Being somewhat of a tea fanatic, I asked him about the gold-coloured leaves.
"How do they get the leaves looking that gold colour?" I asked, as I nosed forward.
"Not looking." He replied, sternly. "And not colour. They are gold. Real gold. For me."
"It's okay, I don't want any." I said, defensively. "I'm just intrigued by them, that's all."
"Here, take a look," he said, as he leant over and held out some tealeaves for my inspection. "Each tea leaf is individually hand painted with gold. They're only available in Singapore."
"Wow!" I exclaimed, sitting back in my chair. "How much?"
"A hundred US dollars per gram." 
"That's outrageous!" I replied, in a high-pitched and effeminate tone. "Do they taste any better?"
"Not really," he replied, "but they look good for business trips. For home, when I treat myself, I drink Da Hong Pao. That is delicious. But it should do. It costs me thirteen-hundred dollars a gram."
"Thirteen hundred dollars, for a gram of tea? And I bet it takes more than a gram to make a cuppa."
"Oh yes. Several pinches are needed."
"Like when I saw your watch." I joked. "I had to pinch myself to check I wasn't dreaming."
"You like? I like too. It is a Louis Moinet Magistralis. It cost me eight-hundred-and-sixty thousand dollars."
"Cor. Though I'm not surprised. That's an awful lot of bling on your wrist."
"It's not the gold and sapphires that make it so expensive, but the workmanship and – something else. Take a look at this."
Arnold pointed to the moondial on the face of his watch.
"See that there?" he said. "That contains a piece of the Dhofar 459 lunar meteorite. It's an actual piece of the moon. A part of this watch literally is out of this world. It's been to a place we can only dream of; something that nearly everyone on the planet has seen, but so very few have touched. And I own it, at least part of it. It's a constant reminder that reaching for our dreams requires us to first lift up our hand to see and feel what's closest to us. And, of course, it's got a lifetime guarantee."
I thought of Arnold's tealeaves and watch, and the amount of money he'd invested in his dreams. His efforts brought rewards, reminding him that life should be meaningful and of high quality. For did he not, at the end of his description of the watch, mention its lifetime guarantee?
When we purchase luxury things, we launch the metaphorical boat of hope – holding onto something that gives us purpose and identity.
We seek an emotional guarantee: that there's always time for life, defined by quality living in pursuit of our dreams. And that's what Millican bags mean to me. It's why I'm holding Matthew so tightly, and writing these words to you. They're about endurance, for sure. But mostly about adventure, and all it will bring. That, by its very promise, is what I call a 'Life Time' guarantee.
---
This article was published by Millican as part of their 'Bags for Life' campaign. It also features in The Lighter Side, Fennel's Journal No. 10
If you like the work of lifestyle and countryside author Fennel Hudson, then please subscribe to Fennel on Friday. You'll receive a blog, video or podcast sent direct to your email inbox in time for the weekend.