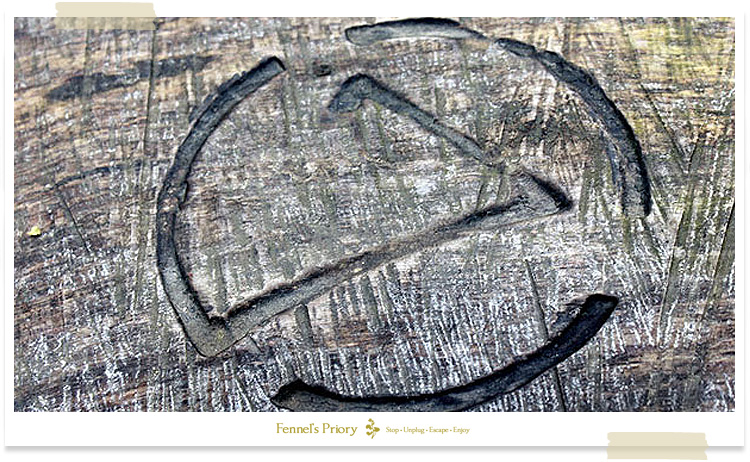 7th Son
I am writing this at 7am on Friday 14th March. I should be fishing (today being the last day of the traditional coarse fishing season) but instead I am at home, surrounded by boxes and awaiting the arrival of a team of removal men. They're coming to transport the contents of my house to my new home in the Cotswolds. A new life beckons. A cottage life, where I will return to my rural roots, to seek out pleasant pastures and build new dreams. But before I move, I want to tell you how and why I'm so excited to be starting this new life.
Mrs H and I moved to urban Oxfordshire in 2008 as part of our relocation 'down south' (sounds like gender reassignment, and it proved to be just as uncomfortable). The building we chose was a million miles in character from the cottage we desired. It was town house, purchased 'off plan' and erected in less time than in takes for an oil painting to dry. But it didn't matter. Our plan was to stay there for no more than 12-18 months, while we got settled in to our new jobs and found somewhere better to live. Alas, shortly after we moved in, the property market crashed and we were hit by a dramatic reduction in the value of our house. This put us into negative equity and killed any plans of moving quickly. 
We made the best of it, staying put while waiting for house prices to rise. We endured the unfamiliar and jarring sound of police and ambulance sirens, the foul language and vandalism from teenagers exiting the local nightclub, and deafening roars every twenty minutes of the day and night as aircraft took off from the nearby RAF base. We coped by spending as little time in the house as possible. We viewed potential cottages and farmhouses, and eventually put our house on the market. We found a new place to live, and awaited completion of the chain. It took time. We waited. But living like this – for six years – took its toll.
Fennel, the traditionalist and countryman, was not meant to be stuck in a sterile, dry-lined, urban box. I couldn't cope with being so isolated from the countryside and wildlife that defines my existence.
Sure, fields and woods were only a short walk away, and the River Windrush flowed just a hundred yards from my door, but the claustrophobia of living in a town – where every time I exited my house I was confronted by 77 windows (each with twitching curtains and neighbours who seemed interested only in watching, judging, and outdoing me) – had become a viper's kiss that numbed me into submission. Fennel, with all his writing and observations about the pressures of modern life, had found his own life on hold.
Then, during this recent wet and dismal winter, I locked myself away and sank into an all-consuming depression.
Like a plant without sunlight, I paled and withered from sight. I stayed indoors, cursing the tarmac streets that were devoid of leaves but strewn with litter.
Through a two-inch gap in my study curtains, I stared timidly at my townie neighbours. There was House Wong, whose one-syllabled reactions to my greetings had caused me to name him after my local fast food takeaway; there wobbled Chicken Drumstick, a hugely overweight lady with thunderous thighs and slender ankles who had three pizzas delivered at 11am daily; there shuffled Mrs Stroppup, hoovering her garden path; there snuffled Little Miss Scrubpig, whose house was uncarpeted because she preferred her two lurchers to defecate indoors; there limped Roger the Rentboy, the middle-aged businessman whose nocturnal grunting with a string of gay lovers had caused Mrs H and me to lose many an hour's sleep; there, with legs astride and hands on his head, stood Cabbageface, whose purple cheeks contorted every time a car was parked outside its allocated spot; and there, reflected in the window, was the face of a man going slightly mad.
Something had to be done. I couldn't continue with this urban mania. Unable to connect to my imagined Eden known as The Priory, I sought my escape elsewhere. I phoned my friend Thom Hunt, whom I'd been introduced to following my Infinite Pie interview, and asked for his help. Specifically, I asked him to weave some of his 'rewilding' magic. (Thom runs 7th Rise, a venue in Cornwall that enables us to reconnect with nature and relearn the hunting, fishing and foraging skills of our ancestors.)
I visited Thom at The Lost Cottage, 7th Rise's scenic location on the banks of the River Fal near Truro. This 300-year-old building is surrounded by fifteen acres of woodland, has no vehicular access, no running water, no central heating, no phone line, and – most importantly – no neighbours for miles. It is remote, basic, isolated and enchanting. (To use a modern expression, it is extremely 'cool'.) It offers everything – and lacks nothing – of value. It benefits from being at one with its surroundings – very much an 'outside in, inside out' sort of place – where bats and shrews are welcome inside the cottage, and two-legged guests are welcome to explore the surrounding woodland.
Thom and I spent two days together, walking through the woods, collecting and chopping firewood, sitting in the cottage and drinking tea, eating splendid meals and engaging in deeply philosophical conversation about life, nature and one's sense of self. (If Maslow created a 'hierarchy of needs' then we created something that took the ladder higher and broader, considering humanity as part of the natural world, rather than superior to it, and hence opening up much debate as to how a real connection with nature is both physiological and self-actualizational. As Richard Louv said in The Nature Principle:
"The more high-tech our lives become, the more nature we need to achieve natural balance."
During my time at 7th Rise, I felt a growing sense of relief that I was free from the clotted arteries of my urban claustrophobia, where houses placed just thirty feet from one another had caused me to write a whole Journal about why we need gardens and green spaces to keep us alive. I was also free. Free from technology (mobile phones, tablets and laptops are banned at 7th Rise), free from the stuffy rooms of my townhouse, free from sirens and the roar of jet engines, free from streetlamps that robbed the night sky of stars, and free from neighbours who believed that eye-contact was something reserved only for would-be muggers. For the first time in six years I was able to completely fulfil my motto of 'Stop – Unplug – Escape – Enjoy'.
I rested, relaxed, breathed, and absorbed the charm of 7th Rise. I went to sleep gazing out across the River Fal and up at a starlit sky; I heard the dawn chorus, felt the breeze, and was warmed by the delicate rays of winter sunshine. I felt alive. Gone was the urban slump, and with it a void that was rapidly filled by a newfound passion for life. Feeling strong and with clear purpose, I was ready to forgive and forget six years of urban slog. As I stood upon the natural harbour next to the river, I closed my eyes, rolled my head on my shoulders, breathed deeply, and then reached down and collected a pebble from the ground. I wrapped the part of my persona known as 'Nigel' around the stone. I opened my eyes and then ceremoniously threw the stone far out into the river, to sink and be washed from memory.
Fennel had returned, a '7th Son' with the power to heal his wounds, and a gift of sight – to see and know that good things are there, to be appreciated and savoured. There is, after all, only one life: one self and one time 'to be'. As Roald Dahl wrote:
"I began to realize how important it was to be an enthusiast in life…if you are interested in something, no matter what it is, go at it at full speed ahead. Embrace it with both arms, hug it, love it and above all become passionate about it. Lukewarm is no good. Hot is no good either. White hot and passionate is the only thing to be. …Above all, watch with glittering eyes the whole world around you because the greatest secrets are always hidden in the most unlikely places. Those who don't believe in magic will never find it."
I turned from the river and looked up, to view my surroundings with new eyes, to listen with new ears, and to feel the bold heartbeat within me. A silver winter sun was low on the horizon, dazzling me and casting long shadows through the wood; songs of chaffinches, blue tits and robins trilled from the treetops; the wind roared about the branches, making them sway as if rocking on the tide; lichens looked bright upon the bark, making the trees appear ethereal; humus at my feet smelled rich and spring-like, and was carpeted by lemon-yellow primroses whose scent reminded me of sherbet and honey. There was so much life in this wild and magnificent place, even at this cold tail end of winter.
I had felt the osmotic power of nature lift my spirits, and yet I sank to my knees – not in despair but to thank our maker for such simple yet treasured creations. I prayed that my future would be defined by my love of nature – that wildlife would surround me and that I would be part of it. I asked for a natural life, 'on and of' the land. For this life, I had learned, is the most meaningful. I had experienced the beauty of 'wild' once again, and realised that it's a simple thing, easily lost; much like faith or one's identity, but essential in connecting to the True Beauty of this world.
That was two weeks ago. Today, I am still Fennel. It is he, or rather me, who writes these words. I am alive, impatiently awaiting a fresh, new beginning. Soon the doorbell will ring. It will signify the end of my time here, and the start of a new and brighter life where everything will be so much closer to the natural world. It is my future, my 7th Rise, my Priory, my lighter side.
---
Taken from The Lighter Side, Fennel's Journal No. 10
If you like the work of lifestyle and countryside author Fennel Hudson, then please subscribe to Fennel on Friday. You'll receive a blog, video or podcast sent direct to your email inbox in time for the weekend.