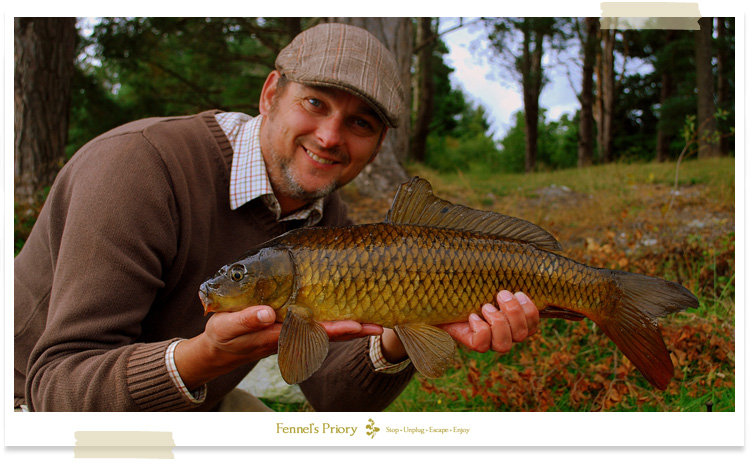 The Wildest of Carp
If you thought that angling is all about catching big fish, or big bags of fish, then think again. There's a branch of the sport where size and weight of fish is irrelevant. Here, enthusiasts carry historic maps instead of scales and measure success based upon the age of the strain of fish they discover. So, if you want to catch something special, which fights pound for pound harder than any other fish, then old varieties of carp – known as wildies – are for you.
Finding wildies is tricky. They live in waters that have miraculously escaped predation and the introduction of modern breeds of king carp. You need to find a lake that's several hundred years old, which has not been stocked in recent times, and which has been allowed to become an overgrown and virtually inaccessible sanctuary for these fish.
Those who know of such waters keep them secret. There are, however, some pools that are more widely known. Two of the best are in the Builth Wells area of mid-Wales. The first is  Pant y Llyn, set high in the mountains, and the second is the valley lake of Llyngwyn. These were the waters chosen for last weekend's annual gathering of The Wild Carp Enthusiasts: a group who seek medieval strains of carp in the remotest of places. These pleasure fishermen use old tackle, drink real ale and enjoy 'getting away from it all' in timeless places. It's why I'm part of their group and why we gathered at our chosen campsite and spent as much time drooling over each other's canvas tents as we did discussing tactics for the fishing. But we did have a plan. We would split into two groups, each fishing one lake, then reconvene at the campsite to compare catches. Whoever caught the oldest looking fish would win a bottle of single malt, and anyone who caught too many fish would have to sleep with Dave, who snored.
And so, on Saturday morning, four anglers (Scott, Lee, Paul and Trevor) headed off to Pant y Llyn while the rest of us (Matt, Nigel, Dave, Gordon, Stu and me) went to Llyngwyn. My group arrived at 'The White Lake' to see the shallows painfully clear, windswept, and devoid of fish. A cold gale was gusting in from the north, pushing the carp out of their usual bay into deeper water. Matt and Gordon decided to bait up the bay and await the return of the carp, whereas Stu, Nigel and Dave opted for a roving approach. As Llyngwyn is also a trout fishery, I was given the task of catching everyone's lunch. So it was out with the fly rod and off to the far end of the lake for me.
Stu and Nigel managed a carp apiece on floating crust and I quickly caught four trout on a dry fly before spotting a cruising carp, which I cast to. The fish rose and took the fly, I struck and hooked the fish, then saw my reel blur as the fish stripped my fly line down to the backing. The carp smashed me in a weed bed almost instantly and I was left sobbing into my hands. I then heard the clutch of Stu's Hardy Altex singing out. I looked up to see his rod bent and his line towing behind a bow wave that was cutting through the water at incredible speed. The fish ran thirty, forty and then fifty yards before Stu could clamp down on the reel. The carp thrashed violently on the surface before boring deep and thumping away at the rocks on the bottom of the lake in an attempt to dislodge the hook. Stu managed to lift it and coax the fish back towards him and into the net. At five pounds or so, the carp had fought like one three times its size.
With storm clouds building over the mountains, we decided to retreat to the shelter of some lakeside pine trees. Wind whipped the water, the sky darkened and the air temperature dropped. Swim selection after this would primarily be a case of finding somewhere sheltered to escape the elements. Tactics remained simple: freelined bread, sweetcorn or luncheon meat, occasionally weighted with an acorn-sized blob of plasticine or Edam wax if fish were spotted further out. Nigel caught another wildie off the top; Gord and Dave each managed to stalk a carp on bread flake, but Matt's float remained motionless. My chance came at dusk, when the wind lessened and a day's worth of breadcrust drifted in to the shore. Three carp were feeding along the margin and a carefully placed cast proved the downfall of a thick set, golden scaled and dark finned wildie.
Returning to camp that evening, we compared results with the party who'd ventured up the mountain to  Pant y Llyn. Scott was man of the moment, having caught five carp on float-fished sweetcorn, but Stu had caught the oldest looking fish. So the two of them had to share both the victory and the booby prize. Fortunately for Scott, Stu doesn't drink whisky and lucky for both of them, Dave had left early. So Scott got a round of applause – and a peaceful night's sleep – while the rest of us shared out the booze and reflected upon our day's fishing.
Hiking up a mountain, camping under canvas, watching stars and a mist-hazed moon while sitting around a log fire; fishing for wildies in lakes where the shore is rocky and where the wind cuts across as a constant biting gale and the rain falls horizontally; it's a long way from the tree encircled, reed fringed and lily studded pools of England. But it's all part of the adventure, the escapism, and the reconnection with nature that this fishing represents. It is fishing in the wildest of places, for the wildest of carp.
---
If you like this blog, then you might like Wild Carp, Fennel's Journal No. 4
To stay updated with the work of lifestyle and countryside author Fennel Hudson, please subscribe to Fennel on Friday. You'll receive a blog, video or podcast sent direct to your email inbox in time for the weekend.