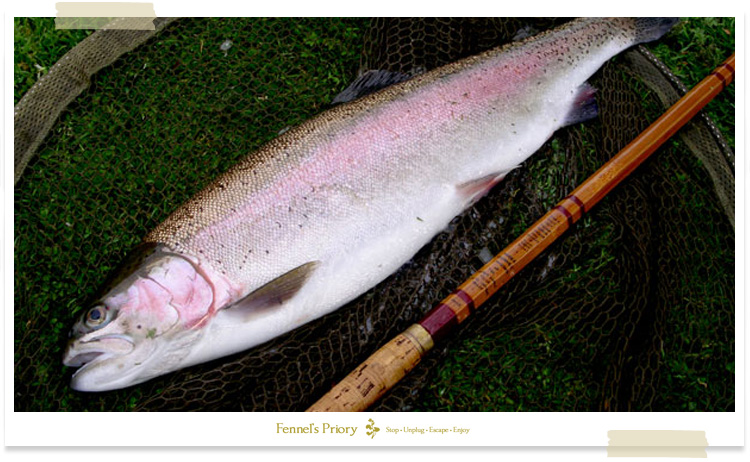 All Laid Out
Choosing to become a fly fisher, or at least returning to fly fishing after spending too many years stewing in a bait bucket of my own making, makes me feel rather like I'm washing away the crust of groundbait from my fishing tackle to reveal the beauty of what lies beneath. Things look refreshingly bright when they've had a good clean, don't they? Reels shine, rods glisten and tweeds take on a contented but confused look, as if saying, "You're not going to make an honest jacket of me, are you?" My perspective of angling is similarly renewed. A walk along the river will see me studying the shallows rather than deep pools and my drive to work has become so much more risky. (Whenever a bug hits the windscreen I end up examining it rather than washing it away with the wipers. "Ah, lacewing: nice. Mayfly: I ought to go fishing tonight. Cigarette butt: oh, blummin' litter bugs.")
Fly fishing encourages us to dream – of rose-tinted sunsets and lazy spring days when swallows swoop and the hedgerows are blossomed in brilliant white.
William Caine summed it up for me when he wrote: "My spirit winged its way through infinite leagues of space until I saw below me a pleasant valley where a clear stream meandered among the water meadows". This is where fly fishing takes us – to a place of mind and to the clear waters where the trout rise. So why, for the love of God and all that's beautiful in this world, am I sitting beside a water-filled hole with my hand over my eyes and my first clenched around this pen?
Two weeks ago I was sitting at work and dreaming of the start of the river trout season that, hereabouts, begins on the first of April. A fly fishing colleague came up to me and said, "Hey, Fennel, how about a day's stillwater trout fishing to get your arm in for the coming season?" Sounded promising. "Okay," said I, "where shall we go?" "It's all arranged," he replied, "I've booked us a corporate day at a specimen trout fishery. Just don't bring any of your usual nancy-girl fishing tackle with you; the trout there are BIG so you'll need to tool up and get serious."
Tool up and get serious? It sounded like an invitation to the Male Strippers' Annual Chess Tournament.
I didn't fancy the idea of wearing a posing pouch and standing beside a lake 'twiddling my pawn', so I decided that if I were to go, then I'd fish as I always do and hang the consequences. I agreed to the invitation and waited for the day to come.
I arrived at the fishery at nine o'clock. The car park was already full of an impressive array of those huge and gleaming 'on road' 4x4 motorcars that never see mud but can, if their drivers are especially adventurous, mount curbs and park on gravel driveways. Next to the car park was a timber lodge complete with café, shop, toilets and even a purpose-built 'filleting room' (which, on closer inspection, housed a dustbin full of fish guts and carcases of trout that looked like they'd been mauled by grizzly bears).
If this wasn't alien enough, when I turned to look at the lake, I saw, coming towards me, an angler pushing a wheelbarrow. It contained two enormous trout. Their heads and tails were flopping over the sides with a look of sadness that told me they'd been promised a five-star break but had ended up in a youth hostel in Bognor.
"Finished already?" I asked as the angler reached the car park. "Had these two on my first two casts," he replied, "twenty-two and twenty-four; a rainbow and a brown; I'm off back to the lodge to purchase another ticket." Twenty-two and twenty-four? This was supposed to be trout fishing and not carp fishing. Forty-six pounds of trout caught in just two casts? That's more weight of fish than most anglers catch in a year, and yet he wants to catch more? Ours is not to question why, but sit awhile then make a sigh.
After introducing myself to the fishery manager and collecting my permit, I gathered my tackle from the car and walked down to the lake. There were thirty swims from which to fish and twenty-eight of these were already taken. My colleague opted to fish a vacant swim near to the lodge (he's never far from a bacon butty and a freshly-made mug of tea) and I headed to the far end of the lake where, it seemed, the proximity of trees made casting difficult.
Most of the anglers I passed on the way cast long lines with unflinching accuracy. I say most, because one angler, bless him, was obviously new to fly fishing and, with each challenging cast, displayed the expressions of a man chewing a pineapple-flavoured bumble bee. The most expert-looking angler was wearing metallic pink sunglasses and a camouflaged T-Shirt. (A fashion faux pas, for sure, but not nearly as bad as the gent fishing next to him whose T-Shirt bore the picture of a trout and the caption 'Take me to your leader'.) Anyway, the expert angler had an interesting method of retrieving his line. From a crouching position and with his rod tucked under his arm, he retrieved using a double-handed 'figure of eight' movement at a speed faster than a Frenchman untying his shoelaces inside a brothel. I needed to muscle up and be brave. It was only fishing, after all, and nothing a few press-ups and limbering stretches couldn't solve.
I reached the swim and, as is my usual style, sat down and observed the water while drinking a cup of tea.
There were fish moving all over the lake. Big bow waves and bulging swirls. I concluded that, ignoring the size of fish and all the artificiality of a stocked lake, this was just fishing, still casting a fly to a rising fish and connecting with the hunter's instinct. As it turned out, it was trout on demand.
I'd been sitting down for three minutes, no more, when I became aware of activity near the fishing lodge. The fishery manager had left the building, got into his pickup and was driving towards me. Had my company cheque bounced? Was there a rule that forbade bamboo rods? Were my wellies too muddy? Perhaps it was against the rules to bring one's own tea?
The truck worked its way round the lake, eventually pulling up alongside me. The fishery manager wound down the window.
"I noticed you weren't fishing. Is sport no good?"
"Erm, sport's fine, I was just taking it easy."
"So you've not caught any yet?"
"No."
"Not even a bite?"
"No, but…"
"Well we can't have you sitting around looking dejected."
Dejected? I was enjoying a lovely cup of tea. 
The man got out of his truck, grabbed a net from the back and ushered me towards some osiers at the rear of the swim. We pushed through the willows and there before us were three stock ponds boiling with fish.
"You don't want me to fish here do you?"
"No, no. I just wanted to show you my babies."
Babies? These fish were massive.
"How big?"
"Smallest's fourteen pounds, but there are some bigger fish in there to keep you anglers happy."
I gasped, then made that long, blowing gesture usually reserved for expensive car repair bills.
"Come on," said the manager, "get yourself ready." He then scooped up a net full of fish, carried them over to my swim, and dumped them into the lake with all the finesse of a publican emptying bottles into a recycling bin. The fish, bewildered by the experience, just milled about within ten feet of the bank.
"All yours!" said the manager.
What was I supposed to do? This was unsporting 'ducks in a barrel'. I looked down at these poor creatures. Theirs would be a short life. No catch and return. Just a short swim before being hoicked back out and clonked on the head. They were creatures destined for the Dustbin of Shame.
I couldn't do it. It wasn't sporting and it wasn't me. It was a transaction; money buying fish. There was no 'reading the water', no earning an apprenticeship.
The pleasure of angling was bypassed in a rush for pellet-reared 'Frankentrout' so large as to dupe the angler into believing in their 'successes'.
And a policy that frowns upon an angler sitting back and soaking up the atmosphere? What's all that about? One might as well return to work and order one's fish online. I picked up my rod, net and creel and walked away from the swim. I heard a scurry of footsteps behind me and, within minutes, the screeching of reels. 
Who was the real victor here? It certainly wasn't me. I was flattered by the generosity of the fishery manager and the hospitality of my employer, but having so much laid out was like attending a banquet set for someone else. Sadly, the banquet – the obsession with big fish – was cholesterol blocking the heart of an otherwise healthy sport.
I understand that these fisheries fill a particular need, but as an ex-girlfriend once said to me, "I don't care about your persuasions, you're not filling my niche!" 
As with that girl, it was time to go in search of my true love. 
---
This is a sample chapter from Fly Fishing, Fennel's Journal No. 5
If you like the work of lifestyle and countryside author Fennel Hudson, then please subscribe to Fennel on Friday. You'll receive a blog, video or podcast sent direct to your email inbox in time for the weekend.