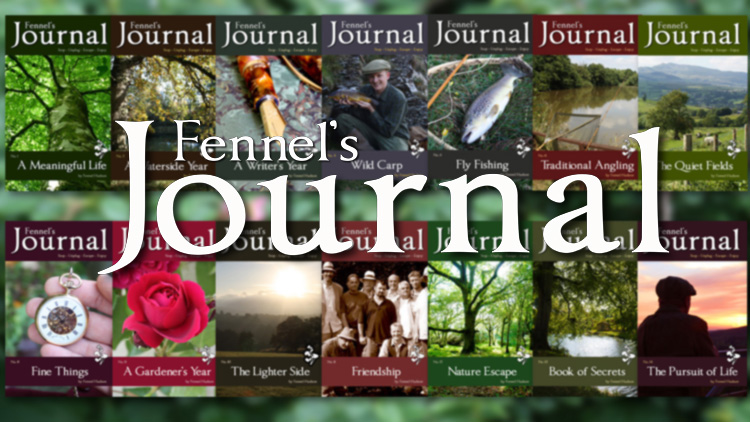 Fennel's Journal Extended Editions - Publishing Schedule
2017 marks the 21st Anniversary of Fennel's Priory and Fennel's Journal. To celebrate, we're bringing out extended books of each Journal. You'll be able to purchase hardbacks, paperbacks, and Kindle eBooks; then audiobooks and non-Kindle eBooks. We'll even be doing leatherbound collectors' anthologies.
Here's the publication order of the extended editions of Fennel's Journal. It's subject to change, but is what we're currently working to.
---
Phase 1 – Hardbacks, paperbacks, Kindle eBooks, and the remaining magazines
---
Phase 2 – Classic Edition Anthologies
A Traditional Angling Year – The best fishing stories from Fennel's Journal – June 2019
---
Phase 3 – Audiobooks, other eBooks
A Meaningful Life – November 2018
A Waterside Year – December 2018
A Writer's Year – January 2019
Wild Carp – February 2019
Fly Fishing – March 2019
Traditional Angling – April 2019
The Quiet Fields – May 2019
Fine Things – June 2019
A Gardener's Year – July 2019
The Lighter Side – August 2019
Friendship – September 2019
Nature Escape – October 2019
Book of Secrets – November 2019
The Pursuit of Life – December 2019
---
Phase 4 – Classic Edition Anthologies
The Right Side of Happiness – The best lifestyle stories from Fennel's Journal – April 2020
---
Please subscribe to Fennel on Friday to be kept updated of Fennel Hudson's book publishing, and to receive a weekly blog, video or podcast sent via email in time for the weekend.